Bill Clinton's secret message to whites
In a departure from the rest of the Democratic convention, the former president subtly addressed his speech to the people Hillary struggles the most with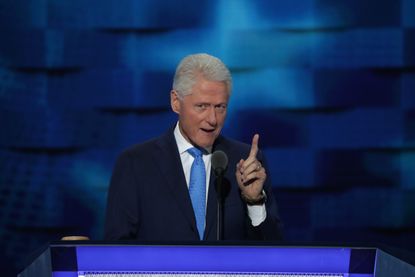 (Image credit: Alex Wong/Getty Images)
Sign up to our 10 Things You Need to Know Today newsletter
A free daily digest of the biggest news stories of the day - and the best features from our website
Thank you for signing up to TheWeek. You will receive a verification email shortly.
There was a problem. Please refresh the page and try again.
Former President Bill Clinton did something Tuesday night that no other speakers at the Democratic convention have been able to do convincingly. Though the speech may have appeared to be addressed to Sanders voters and other progressives, he framed his arguments in a way subtly designed to appeal the working-class whites who are Donald Trump's core voters. If Hillary Clinton wants to come out of the convention with a convincing lead, she should take heed of how he did it.
Skip over the first 90 percent of the speech, a mind-numbing description of the Clintons' marriage of two minds that never persuasively gestures toward either hearts or bodies. The perverse purpose of this portion of the speech was to let America know: It's okay to elect her even if you don't feel passionate about her. She's intelligent, she's diligent, and she's loyal, and you'll appreciate those qualities when the chips are down more than some other qualities that might do more to get your blood pumping. Skip to the peroration.
Here's how the important part begins:
Subscribe to The Week
Escape your echo chamber. Get the facts behind the news, plus analysis from multiple perspectives.
SUBSCRIBE & SAVE
Sign up for The Week's Free Newsletters
From our morning news briefing to a weekly Good News Newsletter, get the best of The Week delivered directly to your inbox.
From our morning news briefing to a weekly Good News Newsletter, get the best of The Week delivered directly to your inbox.
As someone who's argued that loyalty should be the key theme for the Clinton campaign, this brought a smile to my face. But it's worth noting as well that loyalty is also a cardinal virtue among Appalachian whites. Moreover, suspicions of disloyalty are precisely what have made Barack Obama uniquely unpalatable in this region. Bill Clinton is taking this tack not only because it's a good one for his wife, and because it connects her personal story to her qualities as a candidate in an effective way, but because it's a good way to speak to the voters she's having the most trouble with.
This may be the most important sentence of the whole peroration, but not because of the content. He's talking about the primary against Sanders, but the argument works equally well to puncture the magical nonsense claims of the Trump campaign. But what's really important is how the argument is being made. Bill Clinton is talking to voters in West Virginia. He's talking to them, not about them. He's not reducing them to psychology or sociology. He's giving them agency. What they think matters. What they do matters. And it's their choice. They have to decide whether they are going to let themselves be played for sentimental fools or not.
It's sad to realize how infrequently Democrats in the Obama era have talked this way, particularly to this constituency.
The most important word in this section is "if," and the application of that conditional is instructive. Clinton isn't saying to native-born American citizens that they should welcome immigrants. He's saying to undocumented immigrants that if they love America, then they should try to stay. He's not saying that Christian Americans should avoid prejudice against Muslims. He's saying to Muslim Americans that if they love America, then they should join the fight against America's enemies. He's not saying to white Americans that black lives matter. He's saying to African Americans that if they are afraid of police violence, then they should work to reduce violence generally, both by and against the police.
Implicitly, Clinton is assuming some of the key premises of the archetypal Trump voter. There is such a thing as "America" that can be loved or not, and that the condition of entry to a political coalition is demonstrating that love. The job that the police and the armed forces do is inherently noble, and even those who fear being on the receiving end of state violence can only join the coalition to reduce it if they first acknowledge its essential nobility of purpose. He's challenging the people who Trump's voters likely view as the ones making demands to instead become allies of the sorts of folks implicitly assumed to already be in the fight, because we already know they love America.
It's a vision of broad national unity across a multiracial and multicultural nation. But it is a vision that builds that unity on a core implicit identity of Americanness that must be chosen, even earned. Which, as it happens, is just how lots of white folks back in Bill Clinton's part of the country tend to view the matter.
Finally, we get this:
The inter-generational divide has been a fixture of politics in the Obama era, and while Hillary Clinton has struggled to win over the youth vote, Trump's constituency skews decidedly in an older direction. And, as has been noted before, there's an ethnic dimension to that divide: Americans over 65 are much whiter, while the under-30 cohort is significantly browner. One source of conflict in American politics — and particularly the politics of immigration — is the awareness that a good chunk of the next generation of Americans are not the children of the prior generation.
Clinton's speech bridges the generational divide by speaking explicitly in natalist terms. The old need to care more about future generations than the young, because their own personal futures will soon come to an end. Thinking about future generations, though, usually means thinking about their own children and grandchildren. And Clinton, implicitly, is saying that this is okay. To a contingent of Americans who are particularly worried about their own children's prospects, that permission is a gate you must pass through to even get a hearing.
Bill Clinton was able to give this speech because he's Bill Clinton, son of Arkansas, a state where white Democrats are nearly extinct. If I were a voter from other parts of the Obama/Clinton coalition, everything about this section might rankle. Why should one slice of the American community get this kind of implicit veto on American identity? Why should we flatter their pretensions? Why should we be chasing voters in one tribe who are so hostile to the other tribes in our coalition, who don't represent either the demographic or economic future of the country, and who can't even organize effectively for their own interests?
Well, one answer is a practical one. Hillary Clinton is going to lose the states of Appalachia by overwhelming margins, likely by larger margins than even Obama did — and Obama, in his 2008 landslide, lost them by larger margins than John Kerry did in his 2004 loss. But these voters don't just live in Kentucky and Tennessee, but in states Clinton needs to win, like Pennsylvania and Ohio. To win decisively, Clinton needs to maintain or increase the turnout among non-white voters, achieve a historically high percentage for a Democrat of white college-educated voters (which she may well do). But she also needs to limit the gains Trump makes among white non-college educated voters. This kind of language is what can help with the last goal, the one she's having trouble with.
And there's a deeper reason. This is a particularly identity-focused election, but every election, to one degree or another, is about identity. Donald Trump is telling a story about American identity that is exceptionally ill-suited to the country that actually exists, much less the country that is emerging. That story is a corrective, though, to the failed ideological stories told by the past two administrations, one a story that put Christian religiosity at the core of American identity, and another that put progressivism at the core.
If the Democrats are to be able to speak to America as a whole, and have a chance of becoming a true majority party and not just capturing the presidency from time to time, they will need a way of talking about American identity that is neither exclusively ideological nor narrowly ethno-national. Their audience for any such message will have to include the most nationalistically minded among the American tribes.
And the starting point for speaking to anybody is learning to speak their language. Even if your aim is to change it.
Continue reading for free
We hope you're enjoying The Week's refreshingly open-minded journalism.
Subscribed to The Week? Register your account with the same email as your subscription.