Why Obama thinks he can peel Republicans off Trump
A plea to Republicans of good conscience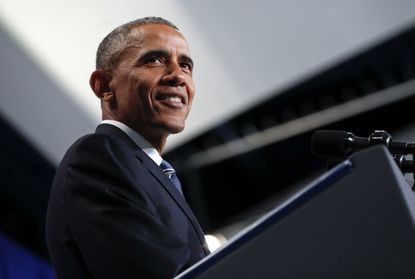 (Image credit: AP Photo/Pablo Martinez Monsivais)
Sign up to our 10 Things You Need to Know Today newsletter
A free daily digest of the biggest news stories of the day - and the best features from our website
Thank you for signing up to TheWeek. You will receive a verification email shortly.
There was a problem. Please refresh the page and try again.
There were always two ways to think about Donald Trump's relationship to the Republican Party.
The first is that Trump is an aberration, someone who seized control of a party he never truly belonged to with a combination of celebrity, good timing, and the kind of irresistible magnetism we usually associate with car crashes or giant tire fires.
The second is that Trump is actually the logical end-point of the GOP's recent history, the beast that the party birthed and raised itself, now grown to devour its host. His xenophobia, his racism, his proud ignorance, his contempt for the very idea of governing, all these are merely slight exaggerations of the ugly impulses the party has fostered among its own voters. So naturally when presented with it in a pure, uncut form, they chose Trump over a bunch of faint-hearted imitators.
Subscribe to The Week
Escape your echo chamber. Get the facts behind the news, plus analysis from multiple perspectives.
SUBSCRIBE & SAVE
Sign up for The Week's Free Newsletters
From our morning news briefing to a weekly Good News Newsletter, get the best of The Week delivered directly to your inbox.
From our morning news briefing to a weekly Good News Newsletter, get the best of The Week delivered directly to your inbox.
The question of which interpretation of Trump is more accurate has already occupied commentators and will one day occupy historians. But it's also a choice that the Democrats have to make in this election. How do you characterize Trump when speaking to the voters? Do you say that he and his party should be rejected together, one hideous tumor to be excised? Or do you say that Trump is so ghastly, so threatening that even Republicans should turn away from him?
President Obama has, not surprisingly, chosen the latter course. In his speech at the Democratic convention, he said, "what we heard in Cleveland last week wasn't particularly Republican — and it sure wasn't conservative. What we heard was a deeply pessimistic vision of a country where we turn against each other, and turn away from the rest of the world." And in a press conference on Tuesday he went further, imploring Republican politicians to reject Trump in the wake of his fight with the parents of a Muslim-American soldier who died in Iraq. "The question I think that they have to ask themselves is: If you are repeatedly having to say, in very strong terms, that what he has said is unacceptable, why are you still endorsing him?" he said. "What does this say about your party, that this is your standard-bearer?" In other words: Reject Trump, my Republican friends, for it's the only way to save the GOP.
He might be trolling — saying this precisely because he knows it will make it more difficult for Republican politicians to reject Trump (few things are more dangerous for a Republican than taking Barack Obama's advice). But the real audience he had in mind was probably moderate voters, both independent and Republican, who might be convinced to vote for Hillary Clinton. He's saying to them: I know you're already conflicted about Trump, so it's OK to vote for Clinton and still consider yourself a Republican in good standing.
And Trump is sure working hard to make the argument for him. As if all his attacks on various minority groups up until now weren't enough, now he has actually gotten into a seemingly endless argument with a family whose son was killed in Iraq, leading him to be roundly condemned by one member of his party after another (even if almost all of them are still endorsing him). That too sends a signal to moderate Republicans. If members of their own party are lambasting Trump, then it must be reasonable for them to cross party lines, just this once.
Smarter candidates than Trump have understood that reaching across the middle requires reassurance, saying to those voters that a vote for you is something they can feel good about. You probably remember George W. Bush's "compassionate conservatism," but if I asked you what it consisted of in terms of policy, I'd bet you couldn't tell me. That's because there was almost no substance behind it; it was mostly about posing for pictures with African-Americans and Latinos. But its real target was white moderates; it assured them that Bush wasn't like those hard-hearted Republicans they'd gotten used to, and they could vote for him without worrying that he'd turn out to be Jesse Helms or Strom Thurmond.
There's absolutely nothing reassuring about Donald Trump, to moderates or anyone else. He has none of Bush's grasp of the power of carefully crafted symbols to win over voters in the middle. So even if the number of Republican voters who actually defect to Clinton stays relatively small, Trump may have increasing problems assembling an electoral majority. Republicans alone won't do it, but each new controversy seems designed to push anyone who isn't a loyal Republican away.
That may be why Hillary Clinton is showing surprising strength in some places a Democratic presidential candidate has no right to perform well. At least some polls have shown Clinton neck-and-neck with Trump in red states like Arizona, Georgia, and even Utah (Mormons seem to have a particular dislike for Trump). Clinton doesn't need to win any of them in order to prevail, but if Trump doesn't hold them (and win a bunch of genuine swing states to boot), he's done for.
Clinton and Obama may have concluded that Democrats and key constituency groups like African-Americans and Latinos are pretty much locked down, now that they've watched Trump in action for a year. They don't need to be persuaded, they just need to be shepherded to the polls. The voters in the middle, on the other hand, might require a little more convincing. And if arguing that Republicans of good conscience should turn away from him — which means acknowledging that there are Republicans of good conscience — then that's what they'll do.
Continue reading for free
We hope you're enjoying The Week's refreshingly open-minded journalism.
Subscribed to The Week? Register your account with the same email as your subscription.
Sign up to our 10 Things You Need to Know Today newsletter
A free daily digest of the biggest news stories of the day - and the best features from our website
Paul Waldman is a senior writer with The American Prospect magazine and a blogger for The Washington Post. His writing has appeared in dozens of newspapers, magazines, and web sites, and he is the author or co-author of four books on media and politics.