4 lessons from Trump's tax returns
America's tax code is already in sorry shape, but Trump's America would be a dog-eat-dog hell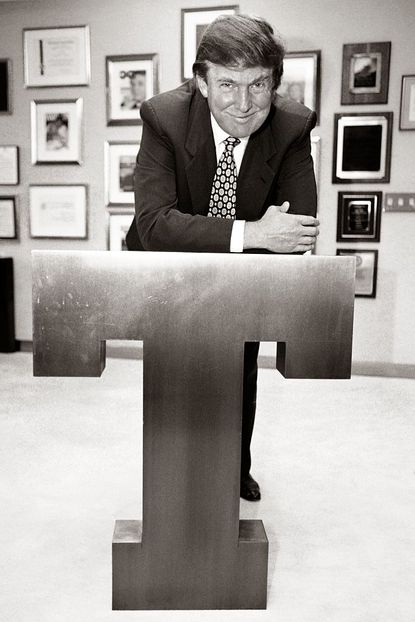 (Image credit: TIMOTHY A. CLARY/AFP/Getty Images)
Sign up to our 10 Things You Need to Know Today newsletter
A free daily digest of the biggest news stories of the day - and the best features from our website
Thank you for signing up to TheWeek. You will receive a verification email shortly.
There was a problem. Please refresh the page and try again.
At last week's presidential debate, Hillary Clinton listed off a few possible reasons why Donald Trump is the first presidential nominee in decades who refuses to release his tax returns: Maybe Trump's taxes would reveal he's not so rich after all, or he's not so charitable, or he owes enormous amounts of debt, or he's paid nothing in federal taxes.
Turns out, more than one of those suppositions is likely true.
As The New York Times revealed, Trump took a tax deduction for a whopping $916 million in losses in 1995. This "net operating loss" would have allowed Trump to offset taxes on an equivalent $916 million of other forms of income in the ensuing years using a "carry forward" provision. That means he could basically wipe out the federal taxes he would have had to pay for the next 15 odd years.
Subscribe to The Week
Escape your echo chamber. Get the facts behind the news, plus analysis from multiple perspectives.
SUBSCRIBE & SAVE
Sign up for The Week's Free Newsletters
From our morning news briefing to a weekly Good News Newsletter, get the best of The Week delivered directly to your inbox.
From our morning news briefing to a weekly Good News Newsletter, get the best of The Week delivered directly to your inbox.
What can we learn from this? Here are four lessons:
1. America's tax code is a horrible mess of loopholes favoring the wealthy. There's that whole "net operating loss" and "carry forward" thing. But there's plenty more. Most of Trump's companies are "pass-through" entities. That means their profits, rather than being subject to the high corporate income tax rate, pass through as regular income to their owners. Hence Trump's ability to apply these tax provisions to his personal income.
Intense lobbying by the real estate industry has also wrangled provisions out of Congress that allow mega-developers like Trump enormous leeway in defining operating losses — interest payments, real estate taxes, depreciation, and more — and then shuffling them around so the timing of the losses maximizes the tax break.
This is all perfectly legal.
Needless to say, the tax code would never allow a single mom scraping by on $35,000 a year to get away with something like this.
2. Trump exploits America's schizophrenia about business. The individualistic cultural mythos of American capitalism looks askance at taxes and regulation. You're personally responsible for the goods you help create, and thus entitled to keep the benefits for yourself. But the flip side of that ought to be that you're personally responsible for the costs as well.
America, however, is pretty schizophrenic about business. We laud the entrepreneurial, risk-taking spirit of capitalists when they succeed. But when they fail, as we've seen with the financial crisis and even the recent Wells Fargo scandal, corporate leaders plead ignorance, painting themselves as glorified bureaucrats overseeing vast enterprises whose actions no one person could possibly be held responsible for. And while millions of Americans are outraged, we more or less let the titans of finance get away with this.
Trump dances back and forth across this line like no other, using the tax code to socialize his losses and privatize his gains. In his response to the Times' revelations, he argued that he has a "fiduciary responsibility to his business… to pay no more tax than legally required." But University of Chicago law professor Daniel Hemel pointed out that a "fiduciary responsibility" is the obligation a CEO or management has to the shareholders who actually own the company. Trump owns all his companies himself. So when we say he's socializing his losses and privatizing his gains, his really is the operative word.
3. Trump is a terrible businessman. Trump insists that his business prowess is the only thing that can turn America's economy around. But Trump is actually an incompetent businessman. These new tax revelations show him personally losing almost a billion dollars in a single year.
This shouldn't really be a surprise. Trump's business history reveals him to be a consummate grifter, relentlessly exploiting the grey zone between his personal finances and companies' finances to offload the costs of his failed gambits onto others — and protected from his failures by the tribal back-scratching and insularity of the investor class. Trump's one genuine talent is not building sustainable businesses; it's selling snake oil and getting away with it.
4. Trump's America would be a nihilistic, dog-eat-dog hell. To call Trump a "genius" for avoiding taxes — as former New York mayor Rudy Giuliani did — is to suggest that the entire enterprise of American government is a thorough waste, and the best anyone can do is contribute to it as little as possible. It is also to say that all our efforts to improve our quality of life and provide Americans with dignified lives exist at the mercy of the wealthy, and that the best any of us can do — indeed, what we're supposed to do — is scratch and claw for ourselves as best we can, everyone else be damned.
Is that the America we want to live in?
Continue reading for free
We hope you're enjoying The Week's refreshingly open-minded journalism.
Subscribed to The Week? Register your account with the same email as your subscription.
Sign up to our 10 Things You Need to Know Today newsletter
A free daily digest of the biggest news stories of the day - and the best features from our website
Jeff Spross was the economics and business correspondent at TheWeek.com. He was previously a reporter at ThinkProgress.