Why TrumpTV would thrive
If Trump builds it, they will come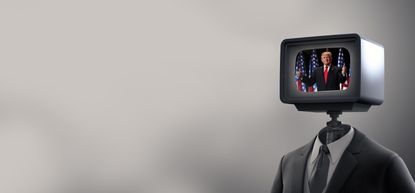 (Image credit: Illustration | Images courtesy Mopic / Alamy Stock Photo, Getty Images)
This week the Financial Times reported details of what many suspected already: Anticipating an electoral loss, Donald Trump and his crew may try to launch some kind of media network. And why not?
Trump himself is a creature of television and the campaign proved he could generate ratings like few other septuagenarians. He is now working closely with Steve Bannon, an executive of the right-wing Breitbart news site. And even if TrumpTV doesn't work as a home for a conspiratorial populist news network, it could be passed down to Ivanka Trump and her media scion husband and be transformed into an aspirational lifestyle property. There are lots of possibilities.
Of course there are the unique business challenges of launching a cable network, and these are complicated further by Trump's determination to put in as little of his own capital up front as possible and to be the first one taking money out of the ventures that bear his name. But TrumpTV seems like a decent bet to me.
Subscribe to The Week
Escape your echo chamber. Get the facts behind the news, plus analysis from multiple perspectives.
SUBSCRIBE & SAVE
Sign up for The Week's Free Newsletters
From our morning news briefing to a weekly Good News Newsletter, get the best of The Week delivered directly to your inbox.
From our morning news briefing to a weekly Good News Newsletter, get the best of The Week delivered directly to your inbox.
A Trump network would fit into a media ecosystem that is becoming more fragmented and fractious. With the proliferation of so many new sources of news and social platforms, it is harder than ever for a citizen to use media to remain in contact with reality itself. That's true even for people who work in media and spend all their time creating it. So instead of doing all that work curating a stream of perfectly balanced news and opinion sources, many of us are doing the easier thing that happens to be a lot more self-indulgent: We're seceding into self-sustaining information ghettos.
Comb through the social media feeds of the friends and relations you had before the great socioeconomic sort of college and career intervened in your life. Some of them are posting notes from an imagined bunker, fearing the day in the near future when roving gangs of Trumpian populists start beating up members of their friends and family. Scroll down a little further, and there is a relative who believes Black Lives Matter is a domestic terror organization, aided by Clinton, and already racking up a body count.
All of them have some scraps of reality with which to justify their fears. But the worldviews we construct are more pessimistic because they are assembled from so many disconnected and partial sources. We are like people trying to construct a picture of our world from shredded magazine fragments. No wonder the result, for many of us, looks as menacing as a ransom note.
Even the fact that everyone else is starting to live in a bubble increases the general feeling of anxiety. We even start to believe that the more enthusiastically we participate in life as information ghetto defined everything in it, the more our ghetto can be confused by others for reality itself.
Some people go so far as to "fix" reality when it presents a false picture. Believing the world is full of menace, yet existing within an institution for conveying privilege, college students concoct fake hate crimes against themselves. As soon as the news reports broke that a Republican headquarters was firebombed in North Carolina, those who believe the vast bulk of malice belongs with Republicans spread conspiracies that it was a false flag attack.
One reason the tempo of this kind of behavior seems to have increased is because the egalitarian ethos is sinking deeper into our civilization and inspiring in individuals a mania for distinction and relevance. There is a psychological comfort in believing yourself unique, even if the best you can do is perversely imagine yourself as uniquely persecuted and victimized by the government or some majoritarian monster. If Leviathan or the patriarchy or the Russians are dead set on crushing you like a bug, that at least affords you some distinction in life. You weren't just some guy with an okay job, and some creditors who watched TV until dead.
Of course a TrumpTV network could thrive in this touchy, aggrieved environment. And it would occasionally provide real value merely because certain types of media outlets tend to stumble on certain kinds of true stories. We live in a world where The National Enquirer can sometimes break campaign altering stories alongside conspiracy theories involving Elvis and extraterrestrials.
In a modern mass democracy, the media increasingly takes on the role of a clerical class. We turn the raw input of reality into what we think are edifying "stories," and try to convey people toward wherever "progress" is taking them, their eschatological destiny. But America is a land with a genius for creating new sects and even cults.
If Trump builds it — a big if — they will come.

Continue reading for free
We hope you're enjoying The Week's refreshingly open-minded journalism.
Subscribed to The Week? Register your account with the same email as your subscription.