How Donald Trump spectacularly failed his supporters
His campaign has been a fantastic waste of time, enthusiasm, resources, and ideas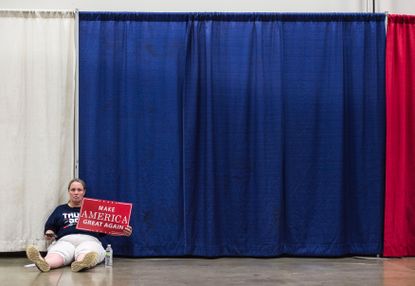 (Image credit: MOLLY RILEY/AFP/Getty Images)
Sign up to our 10 Things You Need to Know Today newsletter
A free daily digest of the biggest news stories of the day - and the best features from our website
Thank you for signing up to TheWeek. You will receive a verification email shortly.
There was a problem. Please refresh the page and try again.
At the start of his campaign for president, Donald Trump began to articulate a vision of American nationalism aimed at reviving the fortunes of the white working class. His core supporters believe that liberal immigration and trade policies are hurting them economically and culturally, so Trump promised to build a wall and reset the terms of global trade. No more, he swore, would their concerns be suppressed by the Republican Party's Wall Street and Ayn Rand wing.
Everyone on the American right comforted themselves that Trump would flame out like Pat Buchanan or Mike Huckabee. And yet, seeing the enthusiasm of his supporters, they were afraid to challenge him directly. So Trump quickly began to dismantle his 16 Republican opponents. He made fun of their lack of spirit and hammered the party's disastrous foreign policy record, until all that was left standing between him and the nomination was the deeply detested Ted Cruz.
But since that time, Trump has done little else but fail his supporters.
Subscribe to The Week
Escape your echo chamber. Get the facts behind the news, plus analysis from multiple perspectives.
SUBSCRIBE & SAVE
Sign up for The Week's Free Newsletters
From our morning news briefing to a weekly Good News Newsletter, get the best of The Week delivered directly to your inbox.
From our morning news briefing to a weekly Good News Newsletter, get the best of The Week delivered directly to your inbox.
He stopped any attempt at further articulating his challenge to the establishment. His revolt should have been the vehicle by which a class of experts inserted themselves into the political fray. But this just hasn't happened at all.
He had some thought-out policy preferences on immigration, mostly borrowed from Sen. Jeff Sessions (R-Ala.). He took the language of enforcement through attrition. But, occasionally, his older, more liberal positions on immigration would peek out. He would praise touchback amnesty, or even assert that America was too hot for American workers.
On foreign policy, Trump would veer back and forth between more pacific and hawkish visions. Some days he would imply that America wasn't capable of distinguishing between enemy and friend in the Middle East, and should stop wasting time trying. At other times, he would promise to jump back in to major conflict, create "safe zones" in Syria, and take the oil to boot.
On the economy, Trump never articulated anything beyond his complaint about NAFTA and TPP. They are bad deals, he would say. And he promised to send his business friends to renegotiate new ones. Lots of commentators seeking out Trump's appeal have begun to see how the advocates of trade liberalization in the 1990s over-promised and under-delivered, Pressed on details, Trump said he would proceed by "feel" in his negotiations.
No campaign can roll out every single detail of a policy, but they can articulate their approach to an issue, and usually point to the experts who would formulate a policy. But beyond a few interviews with Peter Navarro, no one has described what kind of trade policy Trump would pursue. Does his policy team believe in the analysis of Ralph Gomory and William Baumol? Would he pursue a better balance of trade through competitive currency exchange, the way the Chinese and even the Germans do? We have no idea.
Further, even though he implicitly challenged the entitlement-slashing, privatization politics of most conservative Republicans, Trump seems to have given up on domestic policy as well. His campaign just defaulted to the old Republican guard of supply-side economists. It seems Ivanka Trump got a little help coming up with a paid maternal leave policy. But otherwise, these are slender reeds. The utter failure to connect some policy substance to his successful political positioning means that Trumpism is far more likely to die on the vine in the next political season. The rest of the political class — the people that would have to fill out an administration and make it work — will look back on Trumpism as a series of emotive gestures, mostly unconnected to actual governance.
And finally, Trump is just failing to be a "winner" for his constituents. He has run a shambolic, underfunded campaign. He has wasted energy, time, and resources in pointless fights with other Republican leaders, or with sympathetic surrogates of the Clinton campaign. He has failed to do the basic building of a campaign infrastructure, or the necessary work of modernizing the GOP's digital and field operations. A successful political leader leaves new infrastructure and networks behind him. The Trump effect on the GOP is to degrade its electoral machinery.
It's been a fantastic waste of time, enthusiasm, resources, and the electoral opportunity of running against an unpopular Democrat. And it will leave nothing behind but bitter feelings, increased ill will in the Republic, and a Hillary Clinton presidency that is more powerful than it would have been otherwise.
Continue reading for free
We hope you're enjoying The Week's refreshingly open-minded journalism.
Subscribed to The Week? Register your account with the same email as your subscription.
Sign up to our 10 Things You Need to Know Today newsletter
A free daily digest of the biggest news stories of the day - and the best features from our website
Michael Brendan Dougherty is senior correspondent at TheWeek.com. He is the founder and editor of The Slurve, a newsletter about baseball. His work has appeared in The New York Times Magazine, ESPN Magazine, Slate and The American Conservative.