Liberals think history is on their side. They couldn't be more wrong.
It's time for self-righteous liberals to wake up from their dogmatic slumber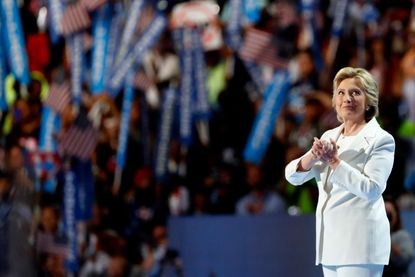 (Image credit: Aaron P. Bernstein/Getty Images)
All people who passionately devote themselves to politics believe that their convictions are the right ones, the ones that most closely align with the public good as they conceive of it. But not all people who passionately devote themselves to politics believe that their convictions are bound to prevail in the fullness of time, as the culmination of capital-H History itself.
But many self-righteous liberals believe this.
You can see it in the way they're responding to Donald Trump's stunning upset victory in the presidential election (along with accompanying Republican victories in the House, Senate, and elsewhere in the country). They see it as a shocking and appalling setback, yes, but also one that in the longer term they are bound to reverse. The racists, sexists, bigots, and xenophobes managed to eke out a victory this one time. But this is but a hiccup in the inexorable unfolding of justice. Everyone knows the good guys (meaning themselves) are sure to win in the long run, which means, just as surely, that the bad guys glorying in temporary triumph will soon die off or get deposited on the trash heap of history, enabling the forward march of progress to resume its rightful course.
Subscribe to The Week
Escape your echo chamber. Get the facts behind the news, plus analysis from multiple perspectives.
SUBSCRIBE & SAVE
Sign up for The Week's Free Newsletters
From our morning news briefing to a weekly Good News Newsletter, get the best of The Week delivered directly to your inbox.
From our morning news briefing to a weekly Good News Newsletter, get the best of The Week delivered directly to your inbox.
Not to put too fine a point on it, but this is nonsense, the purest fiction.
This doesn't mean liberal goals are unworthy of devotion. But it does mean that there is nothing — nothing at all — to guarantee that those goals will ultimately win out. History doesn't have sides. Liberals aren't on its leading edge, and Trump voters aren't wallowing in its atavistic backwash waiting to be dragged down by the undertow. Yes, since the end of World War II, liberal ideas and institutions and goals have usually come out on top and spread widely throughout the world. But there is no evidence that these things are bounds to prevail in the long term. None.
The reason why it's so important for liberals to rouse themselves from their dogmatic slumber is that it is their historical dogmatism, their certainty in progressive triumph, that inspires them to insult, denigrate, mock, and denounce millions of Americans who stand on other sides of our nation's political and cultural divides. Why bother to treat them with a base level of respect if you suspect that they and their onerous, ignorant prejudices are bound to die out any day now? We are the future waiting to be ever-more-fully born; they are the dead weight of a rapidly dying past.
But the past isn't merely dying out in the blind unfolding of purposeless time, these liberals believe. The dying out is in some sense inevitable. Those old habits and beliefs, no less than those who stubbornly hold onto them, actually deserve their pitch-dark fate, their humiliation, their ridicule, and maybe even a swift kick in the teeth. Because that's what happens when the arc of history bends toward justice. The narrow-minded bigots suffer and expire so the righteous citizens of the world can flourish and thrive.
Imagine for a moment what your life might be like as a unemployed middle-aged white woman in a small town in a rural part of a Midwestern state. Your quality of life has been declining since the biggest employers in town closed up shop after the passage of NAFTA. Things got far worse after the financial crash hit in 2008. You voted for Obama and hoped he might change things, making your life marginally better. But instead, things have only gotten worse. Job losses have continued. Family and friends are unemployed, living off of disability checks, purchasing groceries with food stamps. Some are addicted to pain killers, with an old high school friend recently dying in an overdose. Bills, including for health insurance under ObamaCare, keep going up and up.
Meanwhile, Obama has spent his second term enforcing environmental regulations that could close the coal mine in the next county over, working on another trade deal that you fear will only decimate your town even more than it already has been, and circumventing Congress to admit more low-skilled labor into the workforce, where these immigrants will compete with long-time residents for the very few entry-level jobs that can still be found in your corner of the state. And now Hillary Clinton has doubled down on Obama's immigration goals and offered very little by way of policy that gives you hope for improvement.
Instead, Clinton keeps ranting about the racism, sexism, and bigotry of Donald Trump — and now she's been caught on tape calling his supporters "deplorable." You'd been tempted by parts of his message, like when he promised at the Republican convention to be your voice, bring back good jobs, and improve your lot in life. But you didn't seriously consider supporting him until Hillary Clinton talked that way about your Trump-supporting parents, brother, and neighbors. They'd always said that things would never get better as long as the elitists out East spit in your faces. Maybe they were right after all.
Is this woman on the losing side of history? If she occasionally uses crass, insensitive language to talk about members of minority groups (with whom she rarely interacts), does that make her deplorable?
Liberals need to relearn how to talk to people like this and give them hope — and to persuade them that they don't view with contempt and disgust everyone who's moved by a sometimes crass populist message. They also need to make a much more concerted effort to mount arguments against those who disagree with them about more fundamental issues than how to fine-tune the multiple knobs and levers of the welfare state and global economy. From the U.K. to the European continent to (now) the United States, populists are on the march. If liberals fail to make an effort to respond to their challenge, they run a serious risk of being swept away for good by the populist tide.
Could it happen? Of course it could. Nothing in history is inevitable.

Continue reading for free
We hope you're enjoying The Week's refreshingly open-minded journalism.
Subscribed to The Week? Register your account with the same email as your subscription.