Donald Trump and the unprepared populists
Trump shares with Brexit a mundane but insidious challenge: staffing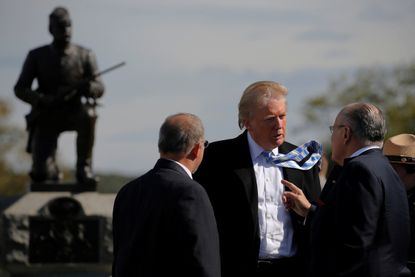 (Image credit: REUTERS/Jonathan Ernst )
With Donald Trump's election, the United States joined the U.K. in a bold experiment. Can populist reform occur against the wishes of the political class?
It's an uncertain thing. Brexit and Donald Trump were yoked together as symbols of a populist revolt against globalization. These were ideas and candidates that were not supposed to win. In fact, many news stories assumed that their defeat was not just inevitable but educative. The media's tone was that these elections would show that a certain form of politics was dead, and that the losers needed to reconcile themselves to the winners. But it didn't turn out that way.
And that presents a new problem. Having overcome the electoral hurdles, Brexit and Donald Trump now face a far more mundane but insidious challenge: staffing.
Subscribe to The Week
Escape your echo chamber. Get the facts behind the news, plus analysis from multiple perspectives.
SUBSCRIBE & SAVE
Sign up for The Week's Free Newsletters
From our morning news briefing to a weekly Good News Newsletter, get the best of The Week delivered directly to your inbox.
From our morning news briefing to a weekly Good News Newsletter, get the best of The Week delivered directly to your inbox.
The British and American states are still operated by a class of people who are overwhelmingly, though not unanimously, opposed to populism. Brexit and Donald Trump had some genuine support in the political class. But they also received lots of fake support as well. Republican politicians and insurgent Tories hid their private doubts and offered public support because they wanted to be identified with a populist crusade, especially one that they believed would almost certainly fail.
In Britain the cause of Brexit is being led by Prime Minister Theresa May, who campaigned for Remain. The immense diplomatic hurdles of Brexit are supposed to be leapt over by former London Mayor Boris Johnson, who seemed to have joined the Brexit campaign only for the political benefit of attaching himself to a romantic and reckless movement. Perhaps as a form of punishment, May has asked him to transform himself from the playful, shambolic mascot of London to the U.K.'s most consequential foreign minister since Anthony Eden. He has promised to make a "Titanic success" of Brexit. Daily Mail columnist Peter Hitchens had warned Brexiteers that they may have made a fatal error in winning a referendum without creating and electing a political party that was committed to their goal.
And in the United States, Donald Trump won the election with a promise of populist economics and some hints at a more peaceful foreign policy. But his Republican partners in Congress are working on a supply-side agenda of massive tax cuts for the wealthy. They don't have plans to make good on his promise "to take care of people" who can't afford health care, or to re-industrialize the Rust Belt, even if it means tariffs or confronting our trading partners on their currency devaluation.
Staffing up an administration is difficult for any transition team, but for Trump it is proving immensely difficult. His support among Republican elected officials was hardly genuine or deep. His ability to attract the finest policy minds on the right is practically non-existent. His foreign policy advisers during the campaign were D-listers and cranks. His policy repulsed neoconservative thinkers who wanted to use American power to spread democratic values. But instead of attracting sober realists, he has brought on hawks who are just indifferent to democratic values, men like John Bolton or retired general Mike Flynn. Almost everyone else who thinks about foreign policy seriously seems to be afraid to step out and help him, for fear of participating in a botch-job or disaster. It is difficult to execute on policy that you don't believe in. And it is almost impossible to do a good job of it when you believe the policies are actively harmful.
These are serious times, too. Britain's economic and political strength has for centuries depended on it being a major maritime and trading power. A bad deal on trade with the EU or with other major trading partners will cause an economic disaster. A truly bad one will injure London's hard-won status as a major financial center, as it bleeds major banks to Frankfurt, Paris, or Dublin. It also has to manage the reintroduction of some kind of economic border within Ireland, potentially jeopardizing a civil peace that has been very valuable to the Isles.
The stakes are even higher for America. The very fact of Donald Trump's election puts the NATO alliance into a more insecure position. And the fall of Estonia's government in the last week to a pro-Moscow party promises to heighten the tension. Making any substantive shift on the European alliance was always going to be a tricky business. Doing it with voluble cranks, rank amateurs, and salty belligerents will be dangerous.
But we're going to get on with the experiment anyway. Populist voters demanded change. Let's see if governments offices packed with competent establishmentarians and a few amateur revolutionaries can deliver.

Continue reading for free
We hope you're enjoying The Week's refreshingly open-minded journalism.
Subscribed to The Week? Register your account with the same email as your subscription.