What happened to America under previous 'hands-off' presidents? Civil war and financial collapse.
Why Franklin Pierce and Calvin Coolidge should be cautionary tales to Donald Trump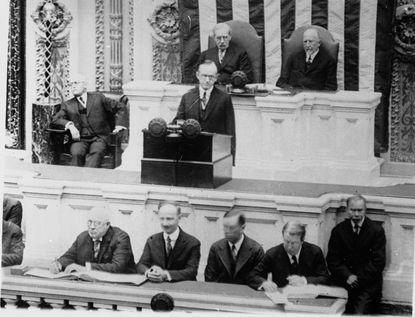 (Image credit: AP Photo)
Sign up to our 10 Things You Need to Know Today newsletter
A free daily digest of the biggest news stories of the day - and the best features from our website
Thank you for signing up to TheWeek. You will receive a verification email shortly.
There was a problem. Please refresh the page and try again.
We don't yet know what kind of president Donald Trump will be, but early indications suggest he will be very comfortable delegating responsibilities. The man who once reportedly offered a rival the chance to be the most powerful vice president in history, in charge of both foreign and domestic affairs, is already outsourcing things like daily intelligence briefings and keeping factories open to Vice President–elect Mike Pence.
There is some precedent for treating the presidency like the chairman of the board instead of chief executive of the enterprise. George W. Bush, for example, ceded an unusually large amount of policymaking and power to his vice president, Dick Cheney, and other subordinates — think "Heckuva Job Brownie" and Hurricane Katrina — while his predecessor, Bill Clinton was less likely to think of himself as delegator-in-chief and much more prone to immersing himself in policy and the politics of governing.
In fact, this has been a consistent partisan pattern since Woodrow Wilson, says Paul Goldman at the Richmond Times-Dispatch: Democrats employing a "detailer-in-chief presidential management model," and Republicans relying on a "delegator-in-chief formula." But there's a decent chance Trump will make Bush look like a policy wonk and a helicopter president.
Subscribe to The Week
Escape your echo chamber. Get the facts behind the news, plus analysis from multiple perspectives.
SUBSCRIBE & SAVE
Sign up for The Week's Free Newsletters
From our morning news briefing to a weekly Good News Newsletter, get the best of The Week delivered directly to your inbox.
From our morning news briefing to a weekly Good News Newsletter, get the best of The Week delivered directly to your inbox.
So what happens if Trump does end up being what Scott Galupo calls "the president of pomp," acting as a rubber stamp for policy he's farmed out to Pence and the GOP leaders in Congress? Instead of trying to peer into the future, let's look at what happened when past "hands-off" presidents led the country.
There are several presidents who resonate in some way with Trump, from big-picture America booster Ronald Reagan to Gerald Ford, the never-elected president who entered office due to happenstance and was, as Paul Goldman says, "eventually seen by many as not merely a hands-off delegator, but as an over-his-head figurehead who needed [Secretary of State Henry] Kissinger and others to keep him from making mistakes." Depending on how things shake out, he could end up like Warren G. Harding, whom Goldman described as "more interested in his mistresses then management — as subsequent scandals showed."
But the first president we'll look at is Harding's vice president, Calvin Coolidge, who took over when Harding died suddenly in 1923 and won his own term a year later.
The Coolidge scenario
"Silent Cal" Coolidge was a business-friendly, tax-cutting, anti-regulation conservative perhaps most famous for his quote, "The chief business of the American people is business." Coolidge favored "a hands-off leadership style and a restrained view of the executive, delegating tasks to his Cabinet, leaving most issues to the states to resolve," says David Greenberg at the University of Virginia's Miller Center of Public Affairs. "Coolidge himself was not versed or deeply interested in world affairs. To handle international issues, Coolidge looked to Treasury Secretary Andrew Mellon, Commerce Secretary Herbert Hoover, and his secretaries of state."
To his admirers, like Reagan and the business site CheckWriters, this shows that Coolidge "was no micromanager," and his famous habit of "empowering his Cabinet officials" meant his "Roaring '20s White House was never bogged down by process" and therefore "functioned like a well-oiled Model T Ford." And that was probably true in his first two years, when he vigorously worked to clean up Harding's scandals and wowed the press with his knowledge and engagement — reporters gave him a standing ovation after his first presidential press conference, says Robert E. Gilbert, a political scientist at Northeastern University.
But in June 1924, after he clinched the Republican nomination but before he was elected to his first and only full term, Coolidge lost his beloved younger son, Calvin Jr., to sepsis from a blister the 16-year-old got playing tennis on the White House lawn. President Coolidge sunk into a deep depression, Gilbert writes in Fordham Law Review, but "of greater importance was that Coolidge largely abandoned his presidential responsibilities after his beloved son died." He continues:
Coolidge did not seek re-election to a second term, and in 1929, less than a year after he left office, the stock market crashed, kicking off the Great Depression. His policies both fueled the Roaring '20s and clearly contributed to the crash, Greenberg writes. "His fiscal policy encouraged speculation and ignored inequality, as the flow of dollars into the pockets of the wealthy helped tip the healthy investment of the mid-1920s into the gambling that followed. His hands-off regulatory policy took its toll especially in the financial arena, where the dangerous practice of margin trading was allowed to flourish unrestrained. And for all the heady growth of the 1920s, Coolidge's policies exacerbated the uneven distribution of income and buying power, which led to the overproduction of goods for which there were not enough affluent consumers."
In a 1995 survey, political scientists and historians ranked Coolidge 31st out of the 39 presidents they graded, just two slots above William Henry Harrison, who died after only 30 days in office. Franklin Pierce, our next subject, was ranked no. 35.
The Pierce debacle
Like Coolidge, Franklin Pierce's term (1853-1857) began in an era of prosperity and seeming tranquility — and with the tragic loss of a beloved son, 11-year-old Benny, whose head was split open when a train the family was riding on derailed in New Hampshire. Benny had been the couple's last surviving son of three, they doted on him, and both president and first lady sunk into deep depression after his death. "While Franklin Pierce took the inaugural oath, his wife huddled in a hotel room, writing apologetic letters to her dead son," says Jean H. Baker at the Miller Center of Public Affairs.
Pierce, a "dark horse" candidate who narrowly won victory over his Whig opponent, was already kind of an electoral fluke, and his "administration was affected greatly by the president's grief," Gilbert writes in Fordham Law Review. He explains:
The main problem confronting him was the deep North-South division over slavery, and the consequences of Pierce's vacillating, laissez faire governance were not trivial. Along with purchasing parts of New Mexico and Arizona (at the behest of his war secretary, Jefferson Davis), Pierce did push though and sign one major law, the Kansas-Nebraska Act, the brainchild of Sen. Stephen Douglas. "The act was one of the most influential pieces of legislation in American history," Baker explains.
The Kansas-Nebraska Act repealed the Missouri Compromise and allowed some territories to decide whether to allow slavery or not. This led to a rush into Kansas by both pro-slavery and abolitionist settlers, and clashes, earning the territory the sobriquet "Bleeding Kansas," a precursor to the Civil War. Jefferson Davis, who would go on to lead the Confederate States of America, wasn't Pierce's only controversial Cabinet member, either. "By handing patronage to politicians with extreme political viewpoints, Pierce quickly alienated his party's moderates," Baker writes.
"It could be said that Franklin Pierce had little business being president, but in a nation fragmenting over slavery, only a bland, affable political lightweight was palatable to the electorate," Baker concludes. "Yet the irony of Franklin Pierce's administration is that a man less than qualified to be president was behind one of the most far-reaching pieces of legislation in American history."
Trump, like all presidents, wants to be consequential, and Pierce did, too. He sought a second term to fix the problems he left in his first, but his party, the Democrats, dumped him for James Buchanan — the only president to be denied re-election by his own party.
The world is very different now than it was in the 1850s and 1930s, and so is the presidency. Presidents today have many more ways to make their mark on the world, up to and including sole power over nuclear weapons that can instantly kill millions of people. And every president is different than the ones who came before, though Trump seems more different than most.
Trump may not delegate as much as it appears now, but if he decides to be the delegator-in-chief, there are some upsides, at least for him. The problem with a Democratic detailer-in-chief is that "the president takes political ownership of problems and mistakes that the Republican hands-off approach keeps away from the Oval Office," Goldman writes in the Richmond Times-Dispatch. Still, at least the "Democratic president is always seen as trying to solve problems, whereas a Republican chief executive is vulnerable to appearing out of touch, or at least insufficiently concerned."
Donald Trump has certainly promised a lot. He'd better hope his Cabinet of rich outsiders is up to the task. We should probably hope so, too.
Continue reading for free
We hope you're enjoying The Week's refreshingly open-minded journalism.
Subscribed to The Week? Register your account with the same email as your subscription.
Sign up to our 10 Things You Need to Know Today newsletter
A free daily digest of the biggest news stories of the day - and the best features from our website
Peter Weber is a senior editor at TheWeek.com, and has handled the editorial night shift since the website launched in 2008. A graduate of Northwestern University, Peter has worked at Facts on File and The New York Times Magazine. He speaks Spanish and Italian and plays bass and rhythm cello in an Austin rock band. Follow him on Twitter.