Flawed news is not fake news
A look at the deleterious chicanery of calling real news fake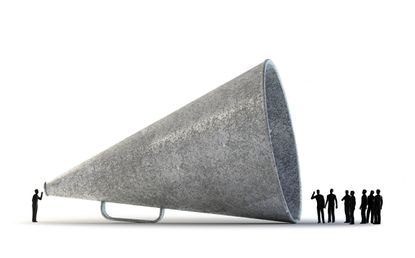 (Image credit: Mopic / Alamy Stock Photo)
Sign up to our 10 Things You Need to Know Today newsletter
A free daily digest of the biggest news stories of the day - and the best features from our website
Thank you for signing up to TheWeek. You will receive a verification email shortly.
There was a problem. Please refresh the page and try again.
America has a fake news problem. And it's being exacerbated by the right's long-running distrust of the mainstream media.
In the early days of the conservative movement, many on the right led an often justifiable effort to highlight very real signs of liberal ideological bias in mainstream news outlets. But since then, this obsession with media bias has become an impulse, a tick, a reflex so sensitive to stimuli that it's in a constant state of reactive spasm. Visit any right-of-center website or blog — or follow leading conservative writers, or really any politically engaged conservative, on Twitter — and you're bound to encounter regular eruptions of furious outrage aimed at the mainstream media for its supposedly pervasive bias, double standards, blind spots, errors, and expressions of outright disdain toward conservatives.
Might the constant drumbeat of abuse hurled at journalists — recently echoed and amplified at campaign rallies by the victorious Republican nominee for president — contribute to making conservative voters more inclined to doubt the veracity of professionally edited reporting and analysis, as well as more likely to believe in the nonsense generated and publicized by "fake news" sites? Incontestably so.
Subscribe to The Week
Escape your echo chamber. Get the facts behind the news, plus analysis from multiple perspectives.
SUBSCRIBE & SAVE
Sign up for The Week's Free Newsletters
From our morning news briefing to a weekly Good News Newsletter, get the best of The Week delivered directly to your inbox.
From our morning news briefing to a weekly Good News Newsletter, get the best of The Week delivered directly to your inbox.
But most conservatives who train their fire on the mainstream media do so in the name of the truth. Most really do believe that many journalists are biased and that they could and should be doing a better, fairer job of nailing down the facts and covering the political scene. This means that their criticism of the media is perfectly compatible with — nay, that it presumes and upholds — the crucial distinction between real and fake news.
The same cannot be said for the growing number of professional and freelance media critics on the right who've taken to labeling as "fake news" any example of mainstream journalism that shows any sign of bias, sloppiness, or error. So if a news outlet incorrectly reports that African-American teenager Michael Brown said "Hands up, don't shoot!" before he was shot and killed by white officer Darren Wilson in Ferguson, Missouri, that counts as fake news. As does the discredited and retracted Rolling Stone story about a gang rape (that never took place) at the University of Virginia. As does a post-election Newsweek feature that quotes essays pre-written by journalists when they assumed Hillary Clinton would prevail in the November election.
Let me be blunt: This is pure sophistry — the use of rhetoric and reasoning for the express purpose of manipulation and deception. It is crucially important to the civic health of our nation that the distinction between fake news and every other kind of news, however flawed and misleading, be stringently upheld.
Doing so isn't difficult. It's extremely simple, in fact. Genuinely fake news can be defined by a single attribute: It intends to deceive. Real news does not.
Here's some fake news: "Pope Francis shocks world, endorses Donald Trump for president, releases statement"; "WikiLeaks CONFIRMS Hillary sold weapons to ISIS... then drops another BOMBSHELL! Breaking news"; "FBI agent suspected in Hillary email leaks found dead in apparent murder suicide."
None of those news items are real. They're all fake. The people who wrote those stories never thought they were reporting actual events that had actually happened. Their intent was always to fabricate and deceive.
Compare such mendacity to the supposed "fake news" example that right-wingers on social media highlight so frequently: the Michael Brown "Hand's up, don't shoot" claim. It's true that this false story was widely circulated by mainstream news outlets in the days following Brown's death. It's also true that it contributed to the outbreak of (sometimes violent) protests in Ferguson and elsewhere over the following weeks and months.
That's bad, obviously.
But it doesn't mean that the media outlets that spread the story were trying to deceive their readers and listeners by spreading information they knew to be lies. On the contrary, they were covering the news as they understood it at the time, relying on the statements of "Witness 101" (Brown's friend Dorian Johnson) after the shooting. The Department of Justice report on events in Ferguson, released months later, made clear that Johnson's claims were contradicted by ballistic and DNA evidence, as well as by testimony of other witnesses. He either intentionally lied or inadvertently distorted the truth, and journalists accepted his statements as fact.
Once again, that's bad, and it had terrible consequences. But it was a mistake. An example of sloppiness. It might even be treated as a case study of journalists displaying confirmation bias — accepting the truth of witness statements that would have been subjected to greater scrutiny if they didn't confirm prior assumptions (like that white cops resort to deadly violence too quickly in their confrontations with black male suspects).
Concede it all. Go ahead and skip over the rest of the DOJ Ferguson report, which confirmed that black residents in the city do, in fact, face a multitude of injustices in their dealings with the police. Disconnect Brown's fate from the numerous other deaths of unarmed black men at the hands of white police officers in communities around the country in the months surrounding the shooting. All of it should contribute to our efforts to make sense of the racial issues that so deeply divide the country. But none of it is significant in assessing whether the press should have treated as true (without corroboration) Johnson's incendiary claims about what happened at the moment Brown was shot and killed. There is no excuse or justification for that.
But that doesn't make it "fake news." Reporters didn't make things up out of whole cloth, concocting fictions out of thin air and then peddling them as facts. That is what producers of genuinely fake news are doing every day on multiple media platforms, and it is categorically different than what happens when a news outlet shows insufficient vigilance in applying standards of skepticism to eyewitness testimony or the claims of sources. A journalist aims at the truth and sometimes falls short of it. A producer of fake news aims to spread lies for the sake of advancing an agenda, reaping profits, or both.
In blurring the line between real (albeit flawed) news and fake news, right-wing commentators are engaging in obfuscation. In the process, they actively contribute to the same epistemological chaos of which fake news is both a cause and a symptom. They need to stop.
Continue reading for free
We hope you're enjoying The Week's refreshingly open-minded journalism.
Subscribed to The Week? Register your account with the same email as your subscription.
Sign up to our 10 Things You Need to Know Today newsletter
A free daily digest of the biggest news stories of the day - and the best features from our website
Damon Linker is a senior correspondent at TheWeek.com. He is also a former contributing editor at The New Republic and the author of The Theocons and The Religious Test.