The crushing anxiety behind the media's fake news hysteria
Here's why the media is flipping out over fake news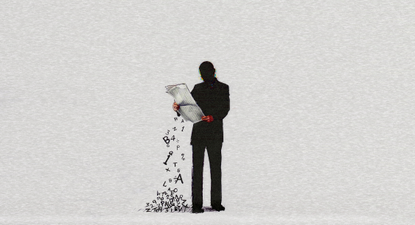 (Image credit: Illustration | Gary Waters / Alamy Stock Photo)
Sign up to our 10 Things You Need to Know Today newsletter
A free daily digest of the biggest news stories of the day - and the best features from our website
Thank you for signing up to TheWeek. You will receive a verification email shortly.
There was a problem. Please refresh the page and try again.
One of the most fascinating phenomena in culture is moral panics. Whether it's witches in post-Reformation Europe or razor blades in apples (remember that one?), a sudden panic spreads like a meme and convulses society. Those who keep level-headed are left dismissed and befuddled.
Moral panics aren't completely random, of course. Very often they reflect a deeper anxiety, at least among a certain group of people.
All of which brings me to the latest moral panic, at least among the American media elite: "fake news."
Subscribe to The Week
Escape your echo chamber. Get the facts behind the news, plus analysis from multiple perspectives.
SUBSCRIBE & SAVE
Sign up for The Week's Free Newsletters
From our morning news briefing to a weekly Good News Newsletter, get the best of The Week delivered directly to your inbox.
From our morning news briefing to a weekly Good News Newsletter, get the best of The Week delivered directly to your inbox.
Fake news is a cancer that is destroying democracy, we're told. Fake news enabled Donald Trump to steal the election. Fake news is being orchestrated by Steve Bannon, or else money-grubbing hucksters, or else Vladimir Putin.
Now, many moral panics have a grain of truth in them. For example, when Europe erupted with a moral panic over witchcraft — almost-exclusively female faith-healers who appealed among other things to supernatural forces — had been a cultural tradition in many regions since well before the advent of Christianity. Fake news and viral conspiracy theories have been with us since the dawn of time, and fake email chains went viral long before Mark Zuckerberg got his first dial-up line, let alone started Facebook.
But this only poses the question: Why now? If "witches" had been around forever in Europe, why did Europe erupt in a moral panic during and after the Reformation? If fake news has been around forever, why are journalists suddenly fretting about it destroying democracy?
Historians still debate the cause of the witchcraft moral panic. The scholar David Bentley Hart sees in the cultural fascination with witchcraft (and its flip side of the coin, alchemy, which grew in popularity among luminaries such as Isaac Newton during the same era) an avatar of the modern urge to become "master and possessor of nature," as was put by the founder of modern philosophy, René Descartes. It was an urge that played itself out through the Scientific Revolution but also, it is less often noted, through a burst of fascination with the occult.
Hart also points out that the Roman Catholic Church had historically been a bulwark against popular-level attempts to persecute witches, and that the Reformation had greatly lessened its influence. In Catholic doctrine, God created the universe through the Second Person of the Trinity, who is the Logos, or God's rational mind, and therefore the universe obeys rational laws. While supernatural events may occur, they are exceedingly rare and "one-off," and so the Church consistently dismissed stories of things like magical spells and potions as old wives' tales. Meanwhile, the Protestant emphasis on literal interpretations of the Bible and distrust of philosophical theology provided fertile terrain for the idea that magical forces are always at play.
Today, elite journalism sometimes feels like the morrow of the Reformation. Something great and terrible — the Catholic Church, the media establishment, and oligopolies that controlled the content and distribution of news — has been smashed, and we fear the terrible, supernatural forces that have been unleashed as a result.
For if it is the case that there is more fake news around than before, and that people are more susceptible to conspiracy theories than before — and that is a big if, especially when stories on the pernicious effect of fake news are long on anecdote and short on data — it only begs the question of why people have become so susceptible to fake news in the first place.
Maybe blame Facebook? Or maybe blame the fact that, I dunno, journalists haven't been doing their jobs.
The examples of journalistic incompetence are so broad and so deep that I don't even know where to begin. To take a recent example, how about that paragon of fact-driven journalism PolitiFact, which rated "mostly false" Donald Trump's assertion that Hillary Clinton wanted "open borders," even though a speech where she had said "I dream of open borders" had just leaked. Remind me who's doing fake news again?
But it goes beyond the (omnipresent) liberal bias. There are whole blogs dedicated to chronicling how often the press screws the pooch in its religion coverage, which is a problem not of political bias exactly, but certainly of bias. Or how about how from the moment Trump won the Republican nomination, whole swathes of the press suddenly awoke to discover the fact that America's white working class had been hit hard by globalization, technological change, drug addiction, and other phenomena, and hurriedly sent its Brooklyn-based college graduates on safaris to discover what, exactly, that strange species believed and did.
And then there are straightforwardly false stories, like Rolling Stone's Virginia rape article, or the Duke lacrosse rape case — fake news that only seems to get its drum beaten when it just happens to conform with the worldview of the enlightened progressive left.
The bottom line is this: If some nice church lady is more likely to believe Breitbart than The New York Times or CNN, there are a lot of factors at play, but certainly one of the most important ones — more important than Facebook's algorithms — is that The New York Times and CNN and its confrères have worked very hard for decades to destroy their credibility with her.
I write this not to "bash" the media. I'm proud to call myself a journalist, and I care deeply about truth in reporting, and in everything else.
It's the most normal, human impulse in the world. We don't want to look in the mirror. When our flaws are exposed, we want to blame someone else. Anyone else. Moral courage is the capacity to take the hard look in the mirror and to, to coin a phrase, take the beam out of your own eye before you try to take the mote out of someone else's.
Or, you know, you could go burn a witch.
Continue reading for free
We hope you're enjoying The Week's refreshingly open-minded journalism.
Subscribed to The Week? Register your account with the same email as your subscription.
Sign up to our 10 Things You Need to Know Today newsletter
A free daily digest of the biggest news stories of the day - and the best features from our website
Pascal-Emmanuel Gobry is a writer and fellow at the Ethics and Public Policy Center. His writing has appeared at Forbes, The Atlantic, First Things, Commentary Magazine, The Daily Beast, The Federalist, Quartz, and other places. He lives in Paris with his beloved wife and daughter.