Donald Trump's frighteningly unbound foreign policy
He's not going to be an "America First" isolationist. The real danger is he'll be a muscular unilateralist.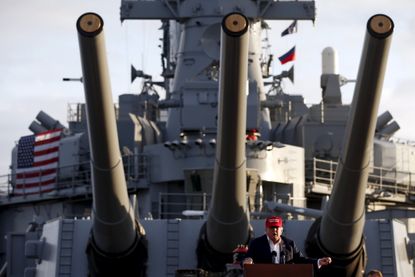 (Image credit: REUTERS/Lucy Nicholson)
Sign up to our 10 Things You Need to Know Today newsletter
A free daily digest of the biggest news stories of the day - and the best features from our website
Thank you for signing up to TheWeek. You will receive a verification email shortly.
There was a problem. Please refresh the page and try again.
The world is a messy, frightening place. Russia's ambassador to Turkey was just gunned down in public — and on camera. An 18-wheeler plowed through a crowded Christmas market in Berlin. Aleppo remains gripped by fear and death. And Donald Trump is about to become commander-in-chief of the most powerful military in human history.
But will he use it?
Neoconservative hawks, liberal internationalist champions of using force to defend victims of injustice, and paleoconservative critics of armed intervention don't agree about much. But they appear to be on precisely the same page about the likely shape of Trump's presidency, which they say will herald a sharp turn away from American engagement abroad and the greatest resurgence of isolationism since the 1930s.
Subscribe to The Week
Escape your echo chamber. Get the facts behind the news, plus analysis from multiple perspectives.
SUBSCRIBE & SAVE
Sign up for The Week's Free Newsletters
From our morning news briefing to a weekly Good News Newsletter, get the best of The Week delivered directly to your inbox.
From our morning news briefing to a weekly Good News Newsletter, get the best of The Week delivered directly to your inbox.
There are good reasons for this consensus. Trump obviously isn't a neocon, and he expresses contempt for liberal internationalist norms. Then there's his fondness for the slogan "America First," which harkens back to the name of the isolationist organization (the America First Committee) founded in 1940 to urge the U.S. to stay out of World War II. That the group's spokesman, Charles Lindbergh, expressed considerable enthusiasm for Adolf Hitler's Germany strikes an additional ominous parallel to the Trump campaign's ties to the so-called alt-right.
But that doesn't mean the parallel is especially illuminating. There is no evidence at all that Trump intends to be an "isolationist" in the sense of withdrawing from the wider world and hunkering down behind the border wall he's promised to build. On the contrary, from his post-election statements about China and Taiwan to his comments during the campaign about America's approach to fighting Islamic extremism and its dealings with allies, Trump sounds like a man quite eager to engage very actively with the world. So actively, in fact, that what proves to be distinctive about his approach to foreign policy is far more likely to be its lack of restraint than an effort at national isolation.
Indeed, to the extent that Trump fulfills the fears of liberal internationalists by disengaging from NATO, the U.N., and other institutions of liberal order around the globe, it will be a result not of his desire to turn the country into the Fortress America for which paleocons sometimes pine, but rather a reaction against the myriad constraints those institutions place on the action of presidents.
Trump tends toward post-ideological authoritarianism. He bristles at limits. He wants maximum freedom of movement for himself — to act, to negotiate, to strike deals, to prevail. Institutions limit that freedom, as do expectations, obligations, rules, and norms, all of which the international order built by the United States in the years following the Second World War imposes on presidents. Which is why Trump may well step back from many of them, weakening them greatly in the process.
This won't be the first time a president has decided to disregard international norms. Far from it. The history of postwar international affairs is a story of the U.S. creating or encouraging the establishment of binding norms and institutions that presidents and the intelligence agencies under their control have frequently acted to circumvent. Think of the Nixon administration's actions in Laos and Chile. Or the way the administration of George W. Bush broke from the Geneva Conventions in interrogating terrorism suspects — a temporary deviation from established norms to which Trump has vowed to revert as president.
The post-9/11 Bush administration serves as an instructive guide and partial contrast to Trump in other ways as well. Bush's defiance of the U.N. in choosing to invade Iraq in 2003 — and his decision to cobble together an ad hoc "coalition of the willing" to nominally join America in toppling Saddam Hussein — may be the closest the U.S. has come over the past century to the unbound militarism Trump appears to favor. (This assumes, of course, that Trump will bother forming coalitions at all before going to war.) In this respect, super-hawk John Bolton (U.N. ambassador under Bush and currently under consideration for the number 2 position in the Trump State Department) is a perfect bridge between Trump and the previous high-water mark of muscular unilateralism.
That doesn't mean Trump will govern as a neocon. A neoconservative is someone who believes in the goodness of American military might — for the U.S. itself, but also for all freedom-loving people and nations of the world, and for the world as a whole. (That makes Bush's second inaugural address, with its wildly ambitious goal of "ending tyranny in our world," the peak of neocon influence in an administration that was overflowing with hawks of various stripes.)
By contrast, Trump, like Bolton, seems not to care very much about what's good for other countries or the world. He wants what's good for us, full stop. That makes him a foreign policy "realist" singularly devoted to pursuing America's national interest — albeit with few or any restraints or limits on how we pursue that interest. That means we'll be much less likely than we have been in the past to depose or challenge dictators in the name of democracy, and also less likely to refrain from "taking the oil" from countries where we're militarily engaged.
The change from the style of the Obama administration will be dramatic. With the American armed forces currently engaged militarily in at least six countries simultaneously (in Iraq, Afghanistan, Yemen, Syria, Libya, and Somalia), Obama's approach to foreign policy can hardly be described as restrained. Though the term remains apt in certain respects. In Syria, Obama has resisted strong pressure to intervene more aggressively, and our means of intervening elsewhere have mostly been limited to drone strikes, as well as training and arming local combatants. That keeps our public profile low, permits a degree of plausible deniability, and limits the likelihood of American casualties.
None of that is likely to pertain when President Trump decides to throw America's weight around the world.
If we had reason to trust Trump's judgment, his free-wheeling approach to foreign policy could prove a salutary change, since our moralism and ideological commitments have led the U.S. to make lots of mistakes down through the years. But we have no reason at all to trust Trump's judgment. A foreign policy based on his reading of our national interests as viewed through the lens of his own obsessions, vindictiveness, and pursuit of personal vendettas could well lead to a sharp increase in global instability. It might even bring us into direct military confrontation with another major power (China, most likely) for the first time since the early 1960s.
Don't fear Trump the isolationist. Fear Trump the militarist.
Continue reading for free
We hope you're enjoying The Week's refreshingly open-minded journalism.
Subscribed to The Week? Register your account with the same email as your subscription.
Sign up to our 10 Things You Need to Know Today newsletter
A free daily digest of the biggest news stories of the day - and the best features from our website
Damon Linker is a senior correspondent at TheWeek.com. He is also a former contributing editor at The New Republic and the author of The Theocons and The Religious Test.