Why Donald Trump's Sprint deal is one big bait-and-switch
One-off dealmaking just isn't a workable strategy for repairing America's labor force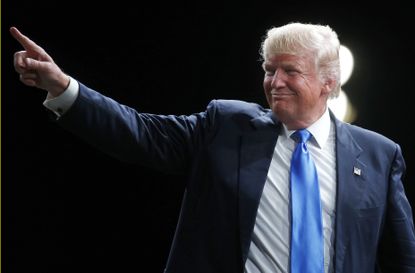 (Image credit: REUTERS/Carlo Allegri)
Sign up to our 10 Things You Need to Know Today newsletter
A free daily digest of the biggest news stories of the day - and the best features from our website
Thank you for signing up to TheWeek. You will receive a verification email shortly.
There was a problem. Please refresh the page and try again.
Donald Trump isn't even president yet, but already his job-creation magic is in full swing. Or so he'd like us all to think.
On Wednesday, Trump went in front of reporters at his Mar-a-Lago resort in Florida and claimed credit for Sprint's recent decision to keep 5,000 jobs in the United States, and for the 3,000 jobs that OneWeb — a satellite internet company — plans to create here, as well. "I just spoke with the head person," Trump declared, referring to the Sprint deal. "He said because of me they're doing 5,000 jobs in this country."
This all follows Trump's announcement a few weeks ago that he'd convinced Carrier, an Indiana manufacturer, to keep hundreds of jobs in America instead of outsourcing to Mexico.
Subscribe to The Week
Escape your echo chamber. Get the facts behind the news, plus analysis from multiple perspectives.
SUBSCRIBE & SAVE
Sign up for The Week's Free Newsletters
From our morning news briefing to a weekly Good News Newsletter, get the best of The Week delivered directly to your inbox.
From our morning news briefing to a weekly Good News Newsletter, get the best of The Week delivered directly to your inbox.
It's not entirely clear just how much credit Trump deserves for the Sprint and OneWeb turnarounds. Analysts' observations and interviews with OneWeb's founder, Greg Wyler, suggest SoftBank — a Japanese behemoth that's a heavy investor in OneWeb and owns a controlling stake in Sprint — has been planning a $50 billion investment to create 50,000 American jobs for months. The president-elect may largely be taking credit for something that would've happened anyway. Following his talk with reporters, Trump told them to get further details from his spokeswoman, Hope Hicks. "She didn't respond to a request for comment, and Sprint didn't respond to follow-up questions," Bloomberg reported.
But even if none of these new developments would've happened without Trump, there's a deeper problem with the president-elect's dealmaking. Let's put these numbers in context: The American economy is constantly creating and destroying jobs. On net, the economy needs to create about 150,000 jobs more than it destroys every month just to keep up with population growth. To repair the damage from the Great Recession and raise workers' wages, it needs to create something around 250,000 jobs per month continuously for years. It did not perform nearly well enough in 2016.
We don't know what SoftBank's timeline is for those 50,000 jobs. But Trump would have to push through job creation many times that scale every month for the entirety of his presidency to have a prayer of seriously changing workers' livelihoods.
So flurries of one-off dealmaking just aren't a workable strategy for repairing America's labor force. Indeed, to make the deals happen, Trump usually needs to buy companies off, either by offering tax breaks or by agreeing to lay off regulatory enforcement and trust-busting. (Sprint is seeking to merge with T-Mobile, a deal the Obama White House scuttled, but that the Trump White House may well allow.)
What's needed is a holistic reform of national economic policy: the systemic transfer of power from business owners and investors as a class to workers as a class. That means things like raising the minimum wage, rebuilding unions, reforming corporate governance, enlarging the welfare state, providing worker-friendly benefits like paid leave, and direct government investment in enough job creation to force employers to compete for scarce workers, rather than workers competing for scarce jobs.
The Republicans don't want this; their entire agenda rests on transferring even more power to the wealthy.
For much of the corporate elite that makes up the GOP donor class, their interest in keeping workers powerless is rather bloodless: They make bigger profits when labor is as cheap and compliant as possible.
But for Trump, the allure is more primal and primitive. Certainly he likes making money, but there's no evidence he's particularly good at it. By all accounts, Trump is much more concerned with the social aspects of business power: He wants to cultivate personal loyalty, punish and humiliate critics, dole at favors, and receive adulation from the masses in response. "Because of me they're doing 5,000 jobs in this country," as he put it.
Trump's vision for himself is much closer to a kingpin or mafia godfather — and thus much more comfortable with showmanship, gift-giving, and bread-and-circuses — than your average Republican corporate titan.
The crucial thing to realize is that Trump's desire to be a beneficent strongman also requires keeping the working classes powerless.
Sure, Trump may use taxes and tariffs to make importing inputs and outsourcing jobs way more expensive. But the Republicans will happily put up with that in exchange for massive cuts to domestic income and capital gains taxes, gutting the welfare state, sweeping deregulation, and more.
The remaining question is how Trump himself can keep American workers powerless while putting on the show of being their benefactor. That's where the Sprint, OneWeb, and Carrier deals come in. They won't help workers as a class. But what they will do is very publicly place Trump himself at the center of the action — the strongman bestowing the workers with largesse. So long as those workers remain powerless and Trump keeps doing his deals, he can keep up that show. That his deals will inevitably fail American workers is a feature, not a bug.
There's a lesson in there for Trump's opponents in the Democratic Party: Sure, you can criticize the economic efficiency or the effectiveness of his deals, or rail against the crony capitalism they necessitate. But to really cut to the core of why Trumpism fails, you must commit to helping workers reclaim genuine power for themselves — to demand better wages, more jobs, and better working conditions. Remind workers that Donald Trump wants them powerless, and forever at the mercy of his own good graces.
Continue reading for free
We hope you're enjoying The Week's refreshingly open-minded journalism.
Subscribed to The Week? Register your account with the same email as your subscription.
Sign up to our 10 Things You Need to Know Today newsletter
A free daily digest of the biggest news stories of the day - and the best features from our website
Jeff Spross was the economics and business correspondent at TheWeek.com. He was previously a reporter at ThinkProgress.