The political brilliance of Donald Trump's protectionism
Millions of Americans have rejected the neoliberal economic agenda. Enter Trump.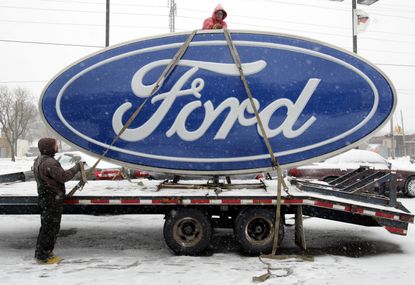 (Image credit: REUTERS/Rebecca Cook)
Sign up to our 10 Things You Need to Know Today newsletter
A free daily digest of the biggest news stories of the day - and the best features from our website
Thank you for signing up to TheWeek. You will receive a verification email shortly.
There was a problem. Please refresh the page and try again.
America's 45th president is going to be a staunch protectionist.
Indeed, of all the things Donald Trump has proposed that would break from the post-Reagan bipartisan (neoliberal) consensus in favor of open markets, free trade, and lenient immigration policy, none looks likelier to materialize than a move in the direction of protectionism. That means the imposition of import taxes and other trade barriers, formal and informal disincentives for businesses to move jobs overseas, and other elements of a federal industrial policy. The likelihood that Trump will pursue such policies has already provoked a severe pushback from liberal and conservative pundits, as well as from the Republican speaker of the House.
The anti-protectionist case is powerful: Trump's "America First" actions would likely raise prices and slow growth while doing little to revive the nation's waning manufacturing sector, the decline of which is already well underway and caused far more by automation and other technology-driven increases in productivity than the shipping of jobs overseas.
Subscribe to The Week
Escape your echo chamber. Get the facts behind the news, plus analysis from multiple perspectives.
SUBSCRIBE & SAVE
Sign up for The Week's Free Newsletters
From our morning news briefing to a weekly Good News Newsletter, get the best of The Week delivered directly to your inbox.
From our morning news briefing to a weekly Good News Newsletter, get the best of The Week delivered directly to your inbox.
But the anti-protectionist case is also wrongheaded. Not in economic terms, where the arguments and evidence are strong, but in political terms.
One way of thinking about the neoliberal agenda that over the past four decades has dominated the Western world (and through the international institutions the West controls, much of the developing world as well) is that it represented the triumph of economics in policymaking — and ultimately the construal of the common good in overwhelmingly economic terms. Economists tend to favor economic growth, and its benefits sound enormous, even crucial — in creating jobs for growing populations; in raising wages for workers; and in providing revenue to fund the ever-expanding welfare states that clean up the negative externalities produced by the constant dynamic churn of capitalism's creative destruction.
But if recent history has taught us (or reminded us of) anything, it is that while growth is measured in the aggregate, human communities exist in the particular — in this place, inhabited by these families, whose members go about their lives working in these jobs, sending their kids to these schools, and attending services at these churches. In the aggregate, the U.S. has experienced respectable growth over the past four decades, but the benefits of that growth have been enjoyed unevenly. For those with college or more advanced degrees, especially those who attend elite universities on the coasts, the benefits have been considerable. But vast swaths of the country have languished or declined, with communities plagued by vanishing or persistently absent jobs, stagnating or falling wages, the collapse of upward mobility, and widespread violence, drug addiction, disability, obesity, and suicide.
So what's the solution? One reason neoliberalism in both its center-right and center-left variations has proven so powerful for so long is that it offers a formidable answer: There simply is no solution besides more of the same open-market and business-friendly policies to spur more and faster growth. (The center-left version of neoliberalism then adds job training to help workers from declining industries make themselves more competitive for whatever jobs remain or are being created in a given place.)
Workers need to be scrappy, resilient, nimble, flexible, mobile. If you're laid off from a job that didn't require a college degree, you need to go back to school. If jobs in manufacturing vanish, you need to switch to service work. If there are no jobs at all, you need to move someplace else. If you're a man who wants the kind of job traditionally held by men, you need to get over it and take a job traditionally held by women.
Those all sound like perfectly acceptable economic solutions. And if human beings were purely economic creatures, unattached from their histories, communities, regions, experiences, and sense of self and self-worth, they might be content to adapt themselves constantly and continually throughout the most productive years of their lives to compete for the chance to earn a livelihood.
But human beings aren't purely economic creatures ready and willing to adapt themselves constantly and continually throughout the most productive years of their lives. Which is why, however economically acceptable the neoliberal solution might be, increasing numbers of voters are rejecting it.
What would it mean to begin crafting policies with more than purely economic considerations in mind? In the past week, France has provided an example with its new labor law giving workers the "right to disconnect" from email when they leave the office. Though some have defended the law in economic terms, by claiming that giving workers additional down time will make them more productive during their hours in the workplace, the reality is that halting all work-related activity afterhours will almost certainly decrease overall productivity.
The real case for the policy can be found in a vision of the common good that goes beyond narrowly economic considerations to encompass a more comprehensive view of what enables a human being to thrive — including family, leisure, physical activities, hobbies, civic engagement, and other forms of communal interactions outside of the economic imperatives of the workplace.
Protectionism is most defensible in identical terms — as a means of tempering the drive toward ever-greater economic efficiency in the name of improvements in overall quality of life. It does so, in concrete terms, by using an array of incentives (including punitive taxes, regulations, and, in Trump's case, presidential browbeating via Twitter) to get businesses to bring extra-economic considerations to bear on their decisions about when and how to downsize, lay off workers, outsource jobs, and make other communally disruptive changes.
As a neoliberal myself, I worry that these taxes, regulations, and effusions of verbal abuse from the president of the United States will make the American economy increasingly sclerotic over time. French workers might enjoy more benefits than American workers, but they also endure an economy that produces so few jobs that the unemployment rate has averaged 9.26 percent over the past 20 years. It's hard to see how that could be considered an improvement over the American status quo.
But doing nothing, or just a little more of what we've been doing for the better part of the past four decades, simply isn't acceptable. Too many people are too unhappy with where they've ended up as a result of those policies. If Trump manages in even a marginal way to improve people's lives by pushing back modestly against the purely economic imperatives of recent years, then, despite his multitude of faults, he will have done some good.
Continue reading for free
We hope you're enjoying The Week's refreshingly open-minded journalism.
Subscribed to The Week? Register your account with the same email as your subscription.
Sign up to our 10 Things You Need to Know Today newsletter
A free daily digest of the biggest news stories of the day - and the best features from our website
Damon Linker is a senior correspondent at TheWeek.com. He is also a former contributing editor at The New Republic and the author of The Theocons and The Religious Test.