Was the Women's March a revolution — or a self-indulgent dead end?
In some ways, the Women's March was an enormous success. But it also dangerously feeds liberal fantasies of false heroism.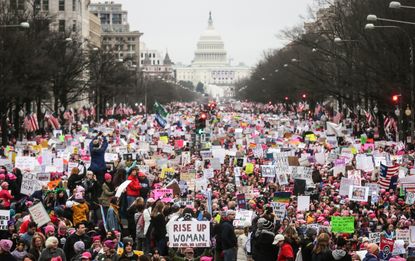 (Image credit: Mario Tama/Getty Images)
Sign up to our 10 Things You Need to Know Today newsletter
A free daily digest of the biggest news stories of the day - and the best features from our website
Thank you for signing up to TheWeek. You will receive a verification email shortly.
There was a problem. Please refresh the page and try again.
It can be immensely cathartic to band together with hundreds, thousands, and even millions of like-minded people in solidarity around a shared political cause. In a nation of 320 million or so people, each individual voice (even in the age of social-media amplification) is far too quiet to be heard by more than a tiny fraction of the country. When large numbers join in unity, their voices get magnified, their message broadcast widely. And when the protest is mirrored in dozens — hundreds! — of similar marches throughout the country and the world, the feeling of empowerment can be palpable.
But it is only a feeling.
Ever since the 1960s, the American left has swooned for "street politics" — the adrenaline thrill and visceral romantic grandeur of mass mobilization in the form of protests, demonstrations, marches, chanted slogans, combative speeches, and camera-friendly home-made posterboard signs. Sometimes it fizzles. At other times — like at the Women's Marches across the country and world on Saturday — it's a huge, impressive success.
Subscribe to The Week
Escape your echo chamber. Get the facts behind the news, plus analysis from multiple perspectives.
SUBSCRIBE & SAVE
Sign up for The Week's Free Newsletters
From our morning news briefing to a weekly Good News Newsletter, get the best of The Week delivered directly to your inbox.
From our morning news briefing to a weekly Good News Newsletter, get the best of The Week delivered directly to your inbox.
But it's never an alternative to the comparatively prosaic, boring tasks of ordinary democratic politics: finding good candidates to run at all levels of government, knocking on doors, getting petitions signed, writing checks, volunteering, and showing up to vote on Election Day. If the Women's March inspires millions of Americans to become more engaged with that kind of ordinary politics, then it will have done enormous good. But if it merely feeds a longing for more protest marches, it will prove to have been a self-indulgent dead end.
At the moment, it's unclear which alternative will win out. On one side are those who have already begun the necessary and important work of attempting to channel the political energy surrounding the Women's March into ordinary political mobilization. Yet even here there are reasons for concern. The enormous size of the crowds last weekend feeds into the delusion of an "emerging Democratic majority," which breeds complacency, as if liberals and progressives are bound to prevail through sheer demographic attrition. Then there's the fact that the organizations leading the effort (many of them partners of the Women's March) are special interest groups that exist to further factional interests (many of them rooted in identity politics) rather than to forge the broad message that could galvanize a national effort to elect more Democrats.
Then there are the march fetishists, whose preference for protesting has been intensified by the peculiar awfulness of President Trump and the galling way he came to power (through winning the Electoral College while losing the popular vote by an enormous margin, and with apparent help of the FBI director and Russian government). The feeling of aggrievement has encouraged some progressives to think of themselves as "dissidents" forming a "resistance" and fomenting an "uprising." No wonder others talk of taking to the streets again, and soon.
This is flagrantly ridiculous. To talk in such grandiose terms about American liberals is both historically ignorant and gravely insulting to all those around the world who've risked something serious — jobs, safety, lives — in standing against actual dictatorships. President Trump may have authoritarian sympathies and flagrantly illiberal instincts. But the United States is still very much a democracy with regularly scheduled elections that are, despite the infuriating quirks of the 2016 vote, highly free and fair. Progressives need to be planning and organizing to win those elections, not receding into fantasies of false heroism.
Within limits, occasional marches might aid that effort by keeping opponents of the new administration engaged, but the left needs to be clear-eyed about the limitations and dangers of over-emphasizing protests.
For one thing, large rallies can give a distorted sense of how much progress is being made in the fight against the Trump agenda. The Women's March was a great success, with over 3 million participants around the country. That's a lot of people — but only a small portion of the nearly 66 million people who voted for Hillary Clinton last November, many of them from parts of the country where the biggest rallies were held last weekend. The Women's March most likely didn't represent much of a gain for Democrats over what they managed to achieve last year against Donald Trump's Republican Party. To win next time, they need to improve on that showing, and it's far from certain that protests are the best way to do that.
Especially when protests turn violent. It's great that the Women's March received so much positive coverage over the weekend, but those good feelings are unlikely to erase in the minds of middle American voters the televised scenes of masked thugs smashing store windows, lighting trash cans on fire, and torching a limousine on the streets of the nation's capital on Inauguration Day. The asinine rants of Madonna and Ashley Judd at the Women's March probably didn't help either.
Gathering many thousands of ideological compatriots and whipping them into a frenzy of impassioned camaraderie might have some value as therapy or a team-building exercise. But it won't do much to persuade those with different commitments to change sides, join a new cause, and help elect more Democrats to state houses, governorships, House and Senate seats, or the presidency.
For that you need ordinary, mundane politics — the kind that makes marching look like an exciting but frivolous distraction.
Continue reading for free
We hope you're enjoying The Week's refreshingly open-minded journalism.
Subscribed to The Week? Register your account with the same email as your subscription.
Sign up to our 10 Things You Need to Know Today newsletter
A free daily digest of the biggest news stories of the day - and the best features from our website
Damon Linker is a senior correspondent at TheWeek.com. He is also a former contributing editor at The New Republic and the author of The Theocons and The Religious Test.