Neil Gorsuch will stand firm on religious liberty. Here's why that matters.
This is a good a time to consider why religious liberty is so important to America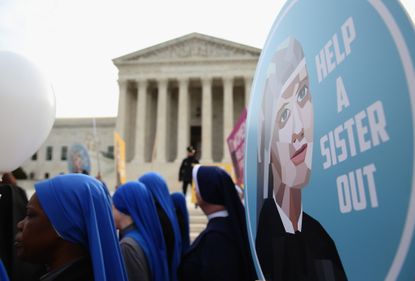 (Image credit: Mark Wilson/Getty Images)
This week, President Trump nominated Judge Neil Gorsuch for the Supreme Court. Gorsuch is a staunch defender of religious liberty, so no doubt, one of the many debates on the horizon will center on this concept. This is as good a time as any to consider why religious liberty actually matters.
Secular progressives and religious conservatives of various ilks (Christians, but also Jews, Muslims, and Hindus) have different views about sexuality. Secular progressives — or so many religious conservatives fear — are not simply content with having their views of sexuality respected by the common law; often, they also want to use the power of the law to force religious organizations to comply with those views.
This is not an idle concern, and it causes rifts in American culture and institutions all the time. Several years ago, Catholic adoption agencies in Massachusetts had to shut down because the government of Massachusetts insisted they place children with same-sex couples. More recently, a group of nuns called The Little Sisters of the Poor, who looked after the poor and sick, sued the Obama administration over its "contraceptive mandate," which required the group to provide contraceptive services to their employees. The nuns felt this violated their religious conscience.
Subscribe to The Week
Escape your echo chamber. Get the facts behind the news, plus analysis from multiple perspectives.
SUBSCRIBE & SAVE
Sign up for The Week's Free Newsletters
From our morning news briefing to a weekly Good News Newsletter, get the best of The Week delivered directly to your inbox.
From our morning news briefing to a weekly Good News Newsletter, get the best of The Week delivered directly to your inbox.
The position of religious conservatives is almost tautological in its simplicity. In any mission-driven organization, employees need to be on board with the mission itself, and the organization has a right to remove employees and associates who disagree with the mission. If I was on the board of Greenpeace, for example, and I believed and proclaimed that global warming is a hoax and that oil companies should turn baby pandas into fuel, I would be asked to resign, and that would be right. This is a concept that progressives understand in any context, except those that have to do with religion and/or sexuality. Witness the plaudits for fashion houses that refused to dress Melania Trump for her husband's Inauguration, or for preachers who opposed Trump on religious grounds.
But progressives should want to be a part of a country where religious liberty enjoys generous protections. Here's why:
1. It's in the Constitution
Religious liberty is often called the "first freedom." That's because it's in the First Amendment, which means it's pretty important. In his decision mandating same-sex marriage all over the country, Justice Anthony Kennedy nodded to the idea of religious liberty, but mischaracterized it, calling it the right to worship. The Constitution, meanwhile, protects the "free exercise of religion." This is an important distinction: In the Constitution, religious liberty doesn't extend merely to private beliefs or what goes on in church for an hour or Sunday (or synagogue on Saturday). Religious beliefs motivate people's actions in the public square.
This is no coincidence: The reason why there were so many Anglo immigrants in America to begin with was because they, or their ancestors, were part of religious minorities in Great Britain who had been oppressed by the monarchy. The notion of religious toleration, then, is at the heart of the American founding and of the American project.
2. It's how pluralism works
Enabling people to live together peacefully — people who not only have different political or social views, but completely different metaphysical views — is perhaps the driving force behind the entire project of liberal democracy. Pluralism is important not because it prevents conflict, but because it makes us all better off. Trump wants to "Make America Great Again." My slogan is "Keep America Weird." I don't share the same metaphysical beliefs held by the Amish, but the main reason why I love America so much is because I genuinely believe that diversity is strength, and America is pretty much the only place on Earth where the Amish can be Amish.
I live in France, where the notion of secularism has gone so overboard that, insanely, a majority of my fellow citizens want to make it illegal for Muslim women to choose to wear a veil. When I explain to my French Catholic friends that they should fight for Muslim women's freedom to wear the veil, if not because it's the right thing, then at least because their freedom to wear the veil is their freedom to object to abortion, I get uncomprehending stares.
I'm sincerely convinced that the reason why America doesn't have the sort of entrenched, networked Islamism that you see in places like the French suburbs is because American Muslims see no necessary conflict between their American and Muslim identity, and I find it amazing and wonderful that America is one of the best places in the world to be a Muslim — for many Muslim sects, it's a better place than Muslim-majority countries where the majority or the regime is a different sect.
Closer to home, Catholics in the United States have built countless hospitals and schools. Catholics don't get anywhere without producing amazing art of transcendent beauty. Letting Catholics be Catholics, letting Muslims be Muslims, makes America a better place for everyone.
3. Secularism is a religion
The last reason why secularists should support religious liberty is this: Secularism, by any sensible interpretation of the word, is a religion. It's a metaphysical worldview that makes arguments about the nature of ultimate reality and the nature of competing worldviews and that demands certain behaviors. Secularists might cringe or roll their eyes at this, but coming from me, it's the highest compliment I could give. And I believe in the religious liberty of secularists as well. But if secularism is a religion, then the Establishment Clause in the First Amendment must apply it to it, as well. A public square that only brooked the expression of secular progressive views, or used the law to punish public behaviors inconsistent with secular progressivism, would not be a public square shorn of religion, it would be a theocracy. And as a Christian, I oppose theocracy.
I'm really not saying this to be polemical or to petard-hoist anyone. On the contrary, I think the best way to achieve a pluralistic settlement that everyone can live with is to just admit that progressive secularism is a religion, and that like every religion, its adherents and institutions should have their right of free exercise respected — and no more.

Continue reading for free
We hope you're enjoying The Week's refreshingly open-minded journalism.
Subscribed to The Week? Register your account with the same email as your subscription.