Where was all this leftist energy during Obama's presidency?
If liberals had yelled loud enough, America might have universal health care. Don't forget it.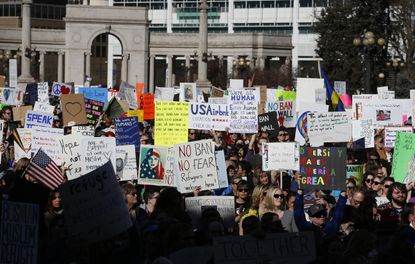 (Image credit: AP Photo/Brennan Linsley)
Heading into downtown Philadelphia on Saturday, I stumbled directly into a huge anti-Trump protest. It stretched back as far as I could see — certainly several thousand people at the least, and had been organized in a matter of days on Facebook, a participant told me. It was only one of dozens of such protests that have marked practically every single day of the Trump presidency.
Which got me thinking: Where was all this energy over the past few years?
Liberals standing up en masse for the rights of besieged minorities is inspiring and galvanizing, but it's also eye-opening. If popular pressure has helped stymie President Trump, it could also ensure universal health care and other goodies the next time a Democrat is in the White House.
Subscribe to The Week
Escape your echo chamber. Get the facts behind the news, plus analysis from multiple perspectives.
SUBSCRIBE & SAVE
Sign up for The Week's Free Newsletters
From our morning news briefing to a weekly Good News Newsletter, get the best of The Week delivered directly to your inbox.
From our morning news briefing to a weekly Good News Newsletter, get the best of The Week delivered directly to your inbox.
As Matt Yglesias argues, such protests (which also include lobbying and legal efforts) have already succeeded in forcing Republicans to back down on numerous points, including their plan to drastically weaken the Congressional Ethics Office, a mass privatization of public lands, and several details of Trump's immigration order.
The concept of "political gravity" — the influence and movement created by political effort writ large — has come under much discussion during Trump's short political career. It has often seemed that he was completely immune to the normal laws of politics, as he shrugged off scandal after scandal that would have been career-ending for any other politician.
On the one hand, Trump's rise really does demonstrate the considerable distance one can get with sheer confidence, bluster, and never admitting fault. On the other, Trump unquestionably benefited from a string of incredible good fortune, from the divided and incompetent Republican primary field, to the weakest general election opponent in generations, to a last-minute assist from the FBI. His antics got him tremendous attention, but also poisoned his general reputation — he is the least popular president at this point in his administration in generations.
What's more, the level of narcissism and facility with baldface lying necessary to sustain Trump-style shamelessness is extremely rare. Trump is still doing his usual stuff (most recently, attacking the legitimacy of the judiciary), but most Republican congressmen can't just ignore mass protests, thousands of constituent calls, and blistering legal decisions to the same degree. When social pressure is that intense, the vast majority of people can't tune it out.
So political gravity still exists. Republicans are formally politically dominant like few times in history, but their party, their agenda, and their president are all quite unpopular. Even in a democracy as rigged as this one is, it's going to be tough to get their ideas through under such circumstances.
But imagine an alternate history of 2009, where liberals and leftists came out in identical numbers as today — not to protest President Obama, but to demand more from him. Democrats are if anything more susceptible to constituent pressure than Republicans; in 2009 they panicked badly at smaller expressions of discontent from conservatives. If there had been this level of lefty mass action demanding a bigger stimulus, a more aggressive health care reform, paid leave, and so on, it undoubtedly would have paid off — perhaps even restoring economic health in time to prevent Democrats from being obliterated in the 2010 midterms.
As we're seeing today, mass protests are much easier to whip up around an outrage that is planned or already happening. But they're not impossible to ignite with a positive agenda. One great failing of the Obama presidency is how he actively quashed mass organizing efforts (viewing groups like Obama for America as "a tiger you can't control," in the words of Marshall Ganz), and how his mesmerizing charisma convinced all too many liberals that the only thing America needed to fix the damage done by George W. Bush was vote in 2008 and let Obama handle it from there. A disastrous error for both parties, it turns out.
It does seem that this lesson is finally sinking in, though. Now instead of commanding the easy respect of liberals, the few remaining high-profile Democrats are scrambling to stay ahead of their base's enraged hostility towards Trump. Leftist organizations are being flooded with recruits, and new protests are happening all over the country.
But if liberals want to restore the damage Trump and congressional Republicans are going to do, much less finally get things like paid leave and universal health care, they will need to keep that pressure up the next time one of their own is in power.

Continue reading for free
We hope you're enjoying The Week's refreshingly open-minded journalism.
Subscribed to The Week? Register your account with the same email as your subscription.