Defense Secretary Mattis has been everything Trump skeptics hoped for
Who's been a good Mad Dog?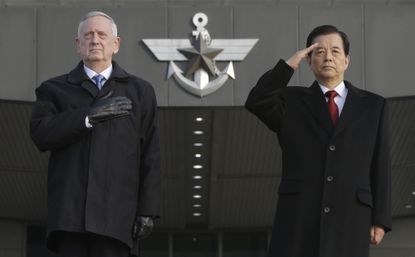 (Image credit: AP Photo/Ahn Young-joon, File)
President Trump's first month in the White House has been a chaotic mess. Between National Security Adviser Michael Flynn's ouster to the ill-advised and ineptly managed travel ban, Trump's critics already have reason to feel vindicated.
But if the president has been everything his skeptics feared, Defense Secretary Jim Mattis has been everything they could have wished for.
When Mattis was tapped by Trump, liberals and conservatives alike hoped the retired Marine Corps general and former commander of U.S. Central Command would live down his Mad Dog sobriquet and be a sober counterweight to an erratic president. Elliot Cohen, a foreign policy expert and one of Trump's loudest conservative critics, said the general "would be a stabilizing and moderating force, preventing wildly stupid, dangerous, or illegal things from happening." The Senate agreed. After an impressive hearing in which Mattis committed to existing alliances and strongly disapproved of Russian President Vladimir Putin, he was overwhelmingly confirmed by Congress' upper body, 98-1. He even received a "we're counting on you" from fierce Trump critic Sen. Elizabeth Warren (D-Mass.).
Subscribe to The Week
Escape your echo chamber. Get the facts behind the news, plus analysis from multiple perspectives.
SUBSCRIBE & SAVE
Sign up for The Week's Free Newsletters
From our morning news briefing to a weekly Good News Newsletter, get the best of The Week delivered directly to your inbox.
From our morning news briefing to a weekly Good News Newsletter, get the best of The Week delivered directly to your inbox.
So far, that trust has not been misplaced. Mattis has already proved an effective foil to some of Trump's worst instincts.
The defense chief has strongly defied his boss on torture, which Trump still maintains "absolutely" works. But despite the president's delusions about waterboarding and other enhanced interrogation techniques, Mattis' resistance appears to be winning out; Trump said he would let the defense secretary "override" him on the issue.
Mattis has butted heads with Trump on staffing. The Wall Street Journal reports a "degree of consternation" with Mattis from the White House, in part due to his continuing efforts to install Trump critics in the Defense Department. During Secretary of State Rex Tillerson's nomination, Mattis also reportedly was a strong advocate of the former CEO because Mattis viewed him as a potential partner against the more bellicose members of the Trump team, namely Flynn.
Mattis was also apparently annoyed about Trump's executive order banning travel from seven Muslim-majority countries. After it was implemented, he apparently was instrumental in getting Iraqis who helped U.S. troops receive exemptions, a policy that will reportedly continue in the revised order, due to be released next week. "Right now, I am assured that we will take steps to allow those who have fought alongside us, for example, to be allowed into the United States," Mattis told Iraqis Monday.
Mattis has also made it a point to reassure others allies around the world who are nervous about the president's antics.
A week after his boss pulled the U.S. out of the Trans-Pacific Partnership, Mattis headed to Japan and South Korea to meet with leaders of America's two strongest allies in the region. Both countries were alarmed by the president's campaign suggestions that America should significantly downsize its military presence on their soil. But Mattis soothed their anxieties, calling the American defense commitment to South Korea "ironclad" and told Japanese Prime Minister Shinzo Abe that the U.S. stands "firmly, 100 percent shoulder to shoulder" with his country. Mattis' trip to Japan and South Korea recovered some lost goodwill in those countries, essential partners for ensuring stability in the Asia-Pacific.
Europe, likewise, was put on edge by Trump's disparagement of NATO and his fondness for Putin on the campaign trail. Calling the alliance "obsolete" and criticizing individual members' refusal to spend more on defense, the president likened NATO to a protection racket and said he'd "get along very well" with the Russian president. Again, the onus was on Mattis to clarify America's rock-solid commitment to its global partners. In a trip to Europe last week, he threaded the needle, calling on NATO members to spend more on their "common defense" but also stating unequivocally that the U.S. stands ready to defend its North Atlantic allies. And unlike Trump, Mattis is also under no illusions that the U.S. can team up with Russia; he has ruled out any cooperation with the Russian military for the foreseeable future.
Matters of military engagement, of course, ultimately reside with the commander in chief. At the end of the day, a sober-minded Cabinet can, at best, only serve as a check on Trump's worst instincts. Through one month, however, the defense secretary has effectively reined in the president on some of the most important issues under his purview.
If global chaos is to be kept at bay with Trump in the White House, Mattis is still America's best hope.

Continue reading for free
We hope you're enjoying The Week's refreshingly open-minded journalism.
Subscribed to The Week? Register your account with the same email as your subscription.