The intellectual journal of Trumpism is here
American Affairs promises to explore the meaning and shape of the president's American nationalism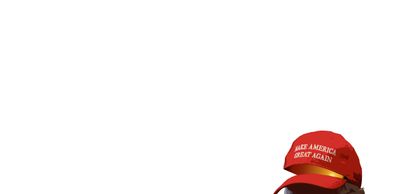 (Image credit: Illustration by Lauren Hansen | Image courtesy Mark Makela/Getty Images)
Sign up to our 10 Things You Need to Know Today newsletter
A free daily digest of the biggest news stories of the day - and the best features from our website
Thank you for signing up to TheWeek. You will receive a verification email shortly.
There was a problem. Please refresh the page and try again.
The intellectual journal of our Republican moment is here. It's called American Affairs, and it's ready to explore the meaning and shape of American nationalism in the age of Trump.
In the pages of the quarterly journal's inaugural issue, you can feel the frisson of old pieties being punctured. (The same was true at the launch party I attended on Tuesday night in New York City.) American Affairs confounds settled ideological expectations. As the editors write in the opening sentence of the journal's mission statement, "The conventional party platforms no longer address or even comprehend the most pressing challenges facing American institutions." What follows is a brisk tour of bipartisan incomprehension — on globalization, economic policy, foreign affairs, and the meritocratic assumptions that have guided so much social policy since the 1950s. (The editors describe the ideology of meritocracy as "a soothing lullaby that we sing to ourselves to avoid responsibility for … ever more rigid socioeconomic stratification." Someone get Bernie Sanders a gift subscription!) Add in a sharp takedown of "Washington's hollow sloganeering" and the "ossified intellectual orthodoxies" that prevail in our public life, and we're left with a journal that's clearly positioning itself to shake things up in a very productive way.
Or is it?
Subscribe to The Week
Escape your echo chamber. Get the facts behind the news, plus analysis from multiple perspectives.
SUBSCRIBE & SAVE
Sign up for The Week's Free Newsletters
From our morning news briefing to a weekly Good News Newsletter, get the best of The Week delivered directly to your inbox.
From our morning news briefing to a weekly Good News Newsletter, get the best of The Week delivered directly to your inbox.
The question arises precisely because of the journal's proximity to the president. If American Affairs had been launched eight, four, or even two years ago, it might have been in a position analogous to the one staked out by National Review during the 1960s or The Public Interest during the 1970s — that is, laying the ideological groundwork for a political movement that aimed to shift the parameters of discussion and debate in the nation's capital and in American political life more generally.
National Review accomplished this goal by helping to forge "fusionism" — the synthesis of economic libertarianism, moral and religious traditionalism, and hawkish anti-communism (and later American-led internationalism) that Ronald Reagan rode to power in 1980 and that has defined "the conservative movement" ever since. The Public Interest, meanwhile, built philosophical and public-policy bridges from the postwar consensus liberalism of Truman and Kennedy to the economic and social agenda advanced by the Reagan revolution.
What both magazines had in common, and what separates them from American Affairs, was an anticipatory character. They sensed a lack or ideological absence in America public life and sought to fill it with ideas and policy proposals that could win arguments and votes, and ultimately force a change of direction in Washington. When Reagan won the presidency in part by championing proposals that had first appeared and been refined in the pages of these journals, it seemed to vindicate the old-time conservative conviction that "ideas have consequences."
Things are very different this time around. For one thing, Trump has already gotten himself elected — and he did so without much of an ideology at all. What Trump had were instincts (about the yawning disconnect between Republican elites and rank-and-file voters) that turned out to be much sounder than those of just about anyone else in the party.
This means that the role of American Affairs is bound to be very different than the one played by an earlier generation of policy journals. Instead of leading the way or laying a foundation by fashioning a compelling ideology, those who publish in its pages will to some extent be playing catch-up, trying to make coherent sense of Trump's ideologically heterodox instincts.
That is likely to prove quite challenging, for numerous reasons. There is, to begin with, Trump himself, a thoroughly anti-intellectual man who lacks the patience or interest to dabble even superficially in ideas. Then there's the fact that some of his closest advisers appear to have ideological commitments that place them in opposition to core liberal democratic ideals. When those tendencies are combined with Trump's myriad ethical deficiencies and early signs of managerial incompetence, we're left with the possibility of potentially fruitful ideas for reform (and the journals that promote them) ending up permanently tarnished by their association with such a deeply flawed tribune.
But beyond Trump and his staff, two additional challenges confront the editors of American Affairs.
One has to do with the profoundly contradictory character of Trumpism as it exists (so far). If you want a coherent conservative populism, read books by David Frum or Ross Douthat and Reihan Salam. There you'll find Reaganism with populist tweaks — somewhat fewer tax cuts for the wealthy combined with child tax credits for families; lower rates of immigration combined with welfare-state programs to help workers land on their feet when they're displaced by globalizing trends.
Trumpian populism is far more ideologically unstable, even if its distinctive policy mix worked (barely) at the ballot box last November: deep tax cuts for the rich combined with hostility to immigration and free trade; draconian reductions in regulations combined with calls for massive infrastructure projects; moral tawdriness combined with unapologetic pandering to the religious right. Ideologically speaking, it's a mess. Whether the journal pushes the administration to adjust its priorities or seeks to devise a way to make sense of this tangled jumble of policies, its editors will have their work cut out for them.
The second challenge? The rest of the world.
The central paradox of the present historical moment is that nationalism is on the rise — but the trend is taking place simultaneously across the West, as a kind of byproduct or inverse of internationalism itself. Trump himself seems to understand intuitively that he's part of something bigger than himself. Hence the cheerleading for Brexit, support for the National Front's Marine Le Pen in France, criticism of Germany's Angela Merkel, praise for Russia's Vladimir Putin and other authoritarians, and more far-reaching mischief-making with regard to NATO and the European Union. Any attempt to come to terms with the disruptions of the political present needs to look beyond the United States to try and make sense of why so many countries and cultures find themselves in the throes of such similar nationalist-populist convulsions at the same time.
Until the intellectuals involved with American Affairs can provide a satisfactory explanation of the trend, there's little chance they'll be able to fashion a politically effective response.
Continue reading for free
We hope you're enjoying The Week's refreshingly open-minded journalism.
Subscribed to The Week? Register your account with the same email as your subscription.