This is everything wrong with Democratic Party policymaking
Why are D.C. Democrats getting cold feet on paid leave?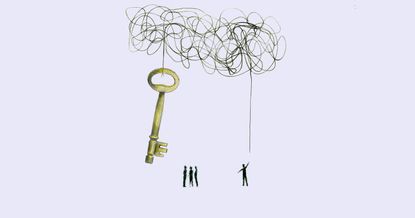 (Image credit: Ikon Images / Alamy Stock Photo)
The fact that having children in America is an incredible pain in the neck has become an increasingly urgent political priority among liberals. These days, both parents in a typical family basically have to work to make ends meet — but unlike every single other peer nation, the United States makes no provision for universal parental paid leave. New parents are forced to juggle taking unpaid time off or quitting their job, thus losing a ton of income, or paying through the nose for child care.
Blue states like California have been advancing paid leave schemes that are an improvement on the meager 12 weeks of unpaid leave for certain employees under the Family and Medical Leave Act. And so in December, Washington, D.C., set a new bar with a best-in-the-nation paid leave plan.
But now two Democrats on the D.C. City Council are trying to core out the bulk of the new program and replace it with a complicated, ObamaCare-esque shambling monstrosity. It's a microcosm of everything that's wrong with Democratic policymaking.
Subscribe to The Week
Escape your echo chamber. Get the facts behind the news, plus analysis from multiple perspectives.
SUBSCRIBE & SAVE
Sign up for The Week's Free Newsletters
From our morning news briefing to a weekly Good News Newsletter, get the best of The Week delivered directly to your inbox.
From our morning news briefing to a weekly Good News Newsletter, get the best of The Week delivered directly to your inbox.
So, here's the basic shape of the debate. The current plan, which won't be implemented until 2019, would levy a 0.62 percent payroll tax on all businesses (except the federal and D.C. government, which already have similar benefits) to fund eight weeks of paid leave for parents, giving them 90 percent of their first $900 in weekly income, and 50 percent of remaining income, up to a cap of $1,000 per week. (It also provides for six weeks of leave for people caring for ill family members, and two weeks for sick leave.) That's not nearly as good as the 16 weeks that was originally proposed, but it's still better than California's six-week program.
As an aside, it's important to note that even the D.C. plan is absurdly stingy compared to virtually any other peer nation; Sweden, for example, grants 480 days between parents.
The replacement plan, proposed by council members Mary Cheh and Jack Evans, would reduce the tax to 0.4 percent for businesses with less than 50 employees, and 0.2 percent for larger ones. Only the small businesses would get the eight weeks of government paid leave; large businesses would be mandated to provide equivalent paid leave.
This idea is flaming hot garbage.
The biggest problem is inefficiency: If D.C. were to make large businesses provide a paid leave plan, then it would have to create a bureaucracy to define what that means exactly and watch to make sure the rules are followed. This would mean making the program more expensive overall (when counting total spending by all parties) because you'd be wasting a ton of money on surveillance you could be spending on benefits. It also means massive duplication of administration, as each large employer would have to have a small, inefficient in-house process to deal with enrollment and dispensation of benefits (instead of a single agency handling everyone at once). That in turn would create no small headache for businesses who are looking to cross the 50-employee mark.
In reality, the D.C. government is already mediocre at enforcing workplace regulations, so this could easily turn into a backdoor route for large employers to just squirm out of paid leave altogether (it might have been intended as such).
Arguments for this change are also trash. One member of the D.C. Chamber of Commerce, Janene D. Jackson, complained to The Washington Post that businesses can't possibly "absorb" this tax without cutting jobs. But as Matt Bruenig explains, this reveals a fundamental misunderstanding of the incidence of the tax, which would be ultimately paid by workers. Business would formally pay it, but it would be counted as a labor expense and hence they could theoretically adjust their compensation to employees downward accordingly. Therefore, any argument about effects on business would have to hinge on this affecting their ability to attract employees. But given the small size of the tax, the location-specific nature of most businesses in D.C., and the fact employees are also getting a nice benefit, it's highly unlikely that any would pack up to Virginia or Maryland.
By the same token, complaints from D.C. Mayor Muriel Bowser that the plan unduly benefits commuters from Maryland and Virginia are nonsense. The money is ultimately coming out of those people's paychecks, so it's only fair that they also get the benefit (and it's worth noting that something like half a million people commute into D.C. every day, swelling its population by about 80 percent). What's more, while it would help a lot of commuters, it still would cover every D.C. resident without exception. And given the progressive payout design of the policy, it is low-income people working at service jobs here who will see the greatest proportional benefit.
The D.C. paid leave plan was already whittled down by half from its original starting point, and now a bunch of corporate sellouts are attempting to replace what's left with a janky, complicated mess. This is exactly the same sort of thinking, cowardice, and business capture that turned ObamaCare into such a disappointment.
If D.C. Democrats have any courage at all, they'll fight this off and stay the course. And if it goes through unchanged, after a few months it will almost certainly be such a bedrock part of city life that the only tweak under discussion will be just when and how it should be made more generous. D.C. businesses will be loudly advertising how much easier having a family is in and around the district than elsewhere.
But if they choose the path of darkness, it might just become the national template for another policy obscenity like college savings accounts or the mortgage interest deduction. Choose wisely.

Continue reading for free
We hope you're enjoying The Week's refreshingly open-minded journalism.
Subscribed to The Week? Register your account with the same email as your subscription.