A guide to Trump's puzzling employment numbers
From the misleading to the simply baffling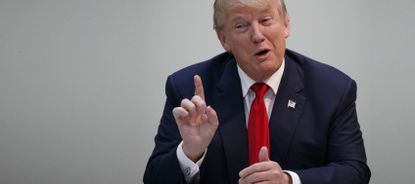 (Image credit: AP Photo/ Evan Vucci)
President Trump has a habit of throwing out big scary numbers about American employment. His address to Congress on Tuesday was no exception.
"Ninety-four million Americans are out of the labor force," Trump declared. "More than one in five people in their prime working years are not working."
The official unemployment rate, which Trump has called "phony" and "totally fiction," is 4.8 percent. But back in February 2016, he said "the number's probably 28, 29, as high as 35 — in fact, I even heard recently 42 percent."
Subscribe to The Week
Escape your echo chamber. Get the facts behind the news, plus analysis from multiple perspectives.
SUBSCRIBE & SAVE
Sign up for The Week's Free Newsletters
From our morning news briefing to a weekly Good News Newsletter, get the best of The Week delivered directly to your inbox.
From our morning news briefing to a weekly Good News Newsletter, get the best of The Week delivered directly to your inbox.
Is that true? What is he even talking about? Here's a comprehensive guide to President Trump's employment numbers, and how accurate they are. (Or aren't.)
"Forty-two percent." This is probably Trump's most dramatic number. Since the president is not one to use footnotes, it's hard to know where he found the figure. But most likely it comes from a metric put out by the Bureau of Labor Statistics (BLS) called the "employment-population ratio." It's the percentage of every American over age 16 who has a job. (And who isn't in jail, a mental health facility, the military, a nursing home, etc.) It stands now at 59.9 percent, so the portion of that population without a job is 40.1 percent.
That would appear to be the source of Trump's not-quite-precise "42 percent" claim. But it's crazy to say this is the "real" unemployment rate. That 42 percent includes retirees enjoying their golden years and students in high school and college focusing on their education. These are all people who shouldn't be working. Even in an economy overflowing with good jobs, the employment-population ratio would never get close to 100 percent.
"Ninety-four million Americans are out of the labor force." This one is a little more complicated because of the "labor force" part.
For BLS to consider you part of the labor force, you have to either have a job or have looked for work in the last month. Of all Americans over age 16, the portion that's in the labor force is called the "labor force participation rate." It's now 62.9 percent, meaning 37.1 percent are out of the labor force. The entire population over age 16 is 254 million, and sure enough, 37.1 percent of 254 million is roughly 94 million.
But this runs into the same problem as Trump's other claim. If large portions of the population shouldn't be working, then it's no tragedy that they're not.
At the same time, lots of people who are able and willing to work could still get so discouraged by a bad job market that they just give up — or at least look less often than once a month. Since the official unemployment rate of 4.8 percent is just the portion of the labor force that doesn't have a job, it really could be undercounting how many Americans the economy has left behind.
If you look at the graph above, you'll notice labor force participation peaked at 67 percent in the jobs boom of the late 1990s. Then it fell after the 2001 recession, and plummeted after the Great Recession. And it still hasn't recovered. Some portion of that trend is due to older Americans becoming a bigger share of the population. But only a part. So the depressed labor force participation really should worry us.
But getting back to the late-1990s rate (which won't happen) would only add 10.4 million people to today's labor force. So just citing "94 million out of the labor force" without context, as if all 94 million people could potentially be added back, is deeply misleading.
"One in five people in their prime working years are not working." What Trump is referring to here is called the prime age employment-population ratio. It's the percentage of all Americans between ages 25 and 54 who have a job. Since that range leaves out most students and retirees, it's a more accurate picture of our potential workforce than just labor force participation.
Today, the prime age employment-population ratio number is 78.2 percent, meaning the portion not working is 21.8 percent — which is indeed roughly one in five.
But there are still totally understandable reasons why some portion of this population wouldn't have or want a job: Maybe they're stay-at-home parents or people who provide long-term care for a sick family member.
Again, it's useful to compare our situation to the late 1990s: That was the last time the job market was really firing on all cylinders, and it came after the mass entrance of women into the workforce. The prime age employment-population ratio hit 81.9 percent then, which probably marks the highest level this number can reach. So the fact that we're below that level now is a sign of real weakness. But even if we could get back to it, 18.1 percent of Americans in this age range still wouldn't be working — which is still roughly one in five.
All those other numbers. To be perfectly honest, I have no idea where Trump got 20, 28, 29, or 35 percent as the "real" unemployment rate.
The only suspect is another BLS statistic called the underemployment rate, or the U-6 rate. It's like the official unemployment rate, but it adds everyone who doesn't have a job but looked for work in the last year. It also adds everyone who has part-time work but wants full-time work. It now stands at 9.4 percent, which definitely isn't 20 percent or 35 percent or whatever.
Now, 9.4 percent is way better than the 17 percent we hit in the worst of the 2008 crisis. But it's still not nearly as good as the 6.8 percent we hit in 2000. And the rate at which underemployment is falling has slowed down.
The lesson from all this is first that Trump doesn't seem to understand what the various measures of employment mean. He just wants to present a narrative where America is in crisis and he's Mr. Fix-It. So he throws out the biggest and scariest numbers he can find.
At the same time, some liberals and defenders of former President Obama often take a triumphalist tone about the state of the economy, as if the official 4.8 percent unemployment rate means the economy is already fixed. But if you understand how all the BLS metrics work, it's pretty obvious the job market still has a long way to go before it's healed. And people feel that weakness in their day-to-day lives.
So when Trump says 4.8 percent isn't the "real" unemployment rate, and the establishment is lying to you, lots of Americans are willing to listen.

Continue reading for free
We hope you're enjoying The Week's refreshingly open-minded journalism.
Subscribed to The Week? Register your account with the same email as your subscription.