How the establishment throttled President Trump
President Trump and other populist nationalists are finding out that an electoral victory doesn't mean carrying all before you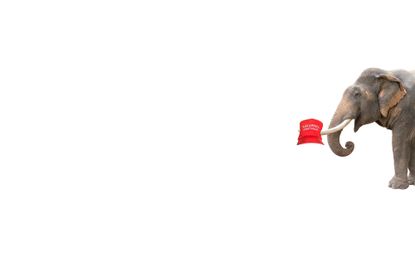 (Image credit: Illustration by Lauren Hansen | Image courtesy iStock)
The election of President Trump was considered impossible by nearly the entire political class. And this surprise inspired people to wonder at the dawn of a new order in Washington. But it seems that overturning the establishment's expectations is not exactly like overturning the establishment. President Trump and other populist nationalists are finding out that victory doesn't mean carrying all before you.
The establishment that Trump defeated in the election is still able to strike back. Part of this is just American federalism coming back to life. It was notable that America's states were able to successfully challenge the executive order travel ban. These checking institutions and powers may have been largely quiet over the last two administrations, as presidents have expanded the use of executive orders, but that wasn't a sign that they were dead.
And it turns out the establishment can still wage a defensive battle within the bureaucracy of the federal government. Even though Trump's two predecessors tried to create better relations with Moscow, intelligence agencies and media outlets seem to act in concert to make any possible improvement of U.S.-Russian relations impossible. They filled the air with Trump and Russia stories — some true, some merely speculative, or even trashy. The true stories seem to have been the undoing of Michael Flynn as national security adviser. But ones that are merely suggestive, or half-true, have plagued the administration since its inception and will act as leverage against Trump trying to lean against the Beltway's foreign policy class on this issue.
Subscribe to The Week
Escape your echo chamber. Get the facts behind the news, plus analysis from multiple perspectives.
SUBSCRIBE & SAVE
Sign up for The Week's Free Newsletters
From our morning news briefing to a weekly Good News Newsletter, get the best of The Week delivered directly to your inbox.
From our morning news briefing to a weekly Good News Newsletter, get the best of The Week delivered directly to your inbox.
And even Trump's appointed officials, like Nikki Haley as ambassador to the U.N., have tended to emphasize the continuity of America's foreign policy, rather than carry out some grand Trumpian revolution in it.
In some ways, my own worst fear about the Trump administration is coming to pass. Trump's administration has been unusually slow to staff up. The conservative movement's think tanks and other institutions haven't re-aligned under Trump and seem slow to lend the administration their talent. This could lead to further dysfunction in the executive branch and provide more opportunities for career bureaucrats to continue shrinking the space for the Trump administration to innovate or reform.
The Republican establishment has also struck back in the form of Paul Ryan's health-care bill. This is one of the least populist pieces of legislation conceivable, making it more expensive for people without insurance to obtain it and giving tax relief to the rich. It is also establishmentarian in its wonky, incrementalist style. Trump was elected because of bold promises. But his election seems not to have changed the priorities of Republican legislators as much as anticipated.
The establishment may be playing a dangerous game. When he was elected, many worried that the failure of the Trump administration to deliver on grandiose promises to constituents would sow more bitterness, division, and radicalism in the country. That's still a worry. But if Trump's presidency is seen to fail because it was undermined by those who work in the executive branch, or owe their election in part to Trump's popularity, the situation could be explosive.
It's not just the establishment in America having a few good days. There is also no evidence that anti-immigration populism across the Western world is connected in a domino theory. Some of the more esoteric cases made by intellectuals on behalf of Trump assumed that the moment invincibility was stripped away from one Western establishment, the whole system of post-1989 liberalism would collapse. That is just not the case.
In fact, it may be the threat of more populism that is reinvigorating the establishment. Geert Wilders and his Freedom Party made no significant gains in Dutch elections. And despite the implosion of Francois Fillon, France's Marine Le Pen looks likely to be defeated easily by a candidate who can unite the center and left. Emmanuel Macron is able to fundraise among the French financial set who work across the channel in London while also collecting almost all the left-leaning vote that opposes Le Pen. It is a powerful political combination. It will inspire imitators.
And perhaps that's the lesson.
While Western countries still have stable institutions, their electoral politics are still more likely to involve just incremental changes in policy, not enormous paradigm shifts, whatever candidates promise. Trump will be here for four to eight years, but the establishment might be eternal.

Continue reading for free
We hope you're enjoying The Week's refreshingly open-minded journalism.
Subscribed to The Week? Register your account with the same email as your subscription.