I have questions for Legion. Lots and lots of questions.
Does anyone know what's actually happening on this show?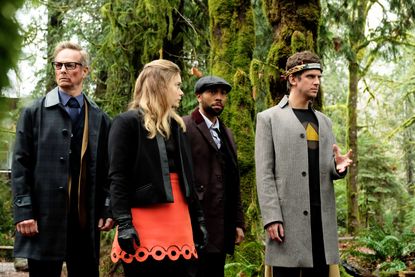 (Image credit: Michelle Faye/FX)
Sign up to our 10 Things You Need to Know Today newsletter
A free daily digest of the biggest news stories of the day - and the best features from our website
Thank you for signing up to TheWeek. You will receive a verification email shortly.
There was a problem. Please refresh the page and try again.
Exhale. Legion's confusing whirlwind of a first season is over.
Given how little the chalkboard explanation of David's origin story actually explained — and how little help that exposition gave me as I tried to make sense of the massive confusion that made the first two episodes so interesting — here are some questions I hope the show answers in season two:
1. What powers does David actually have? Initially it seemed to be telepathy and telekinesis. It appears to consist of other things now, but the scope is deeply unclear.
Subscribe to The Week
Escape your echo chamber. Get the facts behind the news, plus analysis from multiple perspectives.
SUBSCRIBE & SAVE
Sign up for The Week's Free Newsletters
From our morning news briefing to a weekly Good News Newsletter, get the best of The Week delivered directly to your inbox.
From our morning news briefing to a weekly Good News Newsletter, get the best of The Week delivered directly to your inbox.
2. How did David learn to control — let alone understand — those powers? We began with a character so frazzled from being constantly subjected to the sounds of other people's thoughts that he's constantly distracted. How does he learn to get that under control? (Or does he? It's nearly impossible to understand, at this point, which parts of this show are inside David's head and which are out of it — even Ptonomy and Syd wonder aloud which it is — and I'm not sure that confusion is as fascinating as the show thinks it is.)
3. Are we to understand that Melanie's beginner's exercise — in which she gently teaches David to listen for her voice mentally calling his name and isolate it from all the rest — is so effective and quick that he's suddenly a master telepath, able to suppress all the screaming thought-voices that have plagued him for most of his life?
4. Is telepathy actually a sense you can suppress? This is the kind of philosophical question I wish this show would sometimes pause to address. If it's anything like hearing — and that's the metaphor the show chooses when it shows David clutching his head surrounded by screaming voices — then no, you can't. That moment when Syd and David argue over whether he's allowed to listen to her thoughts was a good feint toward exploring this fascinating question, but by the end of the season, the show seems to have forgotten that this — and the questions of consent, and the pain of being subjected to the thoughts of everyone around you — was ever an issue.
5. Why would telepathy create the perspectival confusion that characterized the first couple of episodes? Remember when David was drifting into different dialogues and conversations and memories, so that his interrogation in the first episode switches suddenly to a conversation with his therapist? What was happening there? If that wasn't due to the telepathy — the "voices" that got diagnosed as schizophrenia — then what was causing it? Which powers were spinning out of control, and why?
6. If the answer is "Farouk did it," as it seems it is, then why is that something Farouk would want? Wouldn't Farouk have a lot to gain from performing total normalcy during that interview? (And wouldn't he have wanted to harness and start using David's powers a lot sooner than he apparently does?) What did Farouk have to gain by David's confusion about what's going on in the present? And why did he stop producing that confusion a few episodes in? The "fungus" explanation (as in, Farouk has infiltrated David's mind like a fungus) doesn't address any of this.
7. What exactly is the relationship between Farouk and David's alleged mental illness? It seemed the show was going to explore the question of a genuinely schizophrenic superhero. That was a fascinating idea. Then it was cool to imagine his temporary relief at discovering that the "voices" he heard were real, a superpower instead of a malady; devastating for him to subsequently discover that no, in fact, he is mentally ill. Fascinating to watch him try to hack his own brain and try to filter out the real from the hallucinatory. The "fungus" explanation for Farouk undoes a lot of that. The parasite-host territory described isn't nearly as creepy or compelling.
8. Now that we have some independent confirmation of Farouk's existence — and of his independence from David, since Aubrey Plaza, as Lenny, one of his avatars, is off joyriding with Oliver — does that mean the brain scans that showed Lenny in red and David in blue were wrong?
9. Why was David sometimes acting weird and sinister with Syd for no clear reason, smiling creepily at her?
10. Why did he change to being quizzical and puzzled in his exchanges with Oliver, constantly pursing his lips and tilting his head?
11. Why is this show continually swapping between mental illnesses? David is diagnosed as a schizophrenic, he edits that into "bipolar" during the Asylum 2.0 sequence, and in the comic he has Dissociative Identity Disorder. These are different conditions with really different problems. Why is the show adding even more confusion by swapping one in for another?
I have more questions. In honor of this confusing show, I'm going to change the format of this article and let you try to figure out why I'm doing it. Is this fun and entertaining? You tell me!
Which are Farouk's powers, and which are David's? We know Farouk likes to steer David and use his powers, but surely he has some of his own. What are they? (Besides being able to leave tarry footprints in the White Room that was sacred for a bit but then stopped being off-limits to him for reasons that are not explained.)
There was a long argument about what to do about David's resistance to his training — and how long a process it would be for him to be able to really control his powers. Melanie led us to believe it would take a long time for him to get a full handle on his abilities, and I was honestly looking forward to watching that develop. Instead, it just stopped being an issue. He's controlling people and levitating and pinning soldiers to trees without the slightest effort. Why? What changed?
Who was responsible for the swimming pool fire? What's the point of keeping that a secret for so long? WHAT ARE THE STAKES OF ANY OF THESE SECRETS?
What's Rudy's story? And if you don't quite remember who that is, a) that seems like a problem, and b) he's the guy who flicks things who ends up drooling in the Insane Asylum 2.0 and then sacrifices himself for the group.
Was Lenny ever a real person?
1. If not, how was Syd able to interact with and kill her?
2. If yes, and she died, and was subsequently absorbed somehow as a version of Farouk...
a. Why did Farouk choose her as an avatar?
b. Why isn't Syd more freaked out about the fact that the woman she killed is now governing her boyfriend's subconscious? She doesn't have any questions about this?
c. How exactly do Farouk's memory overwrites work?
d. Why — when Farouk has at least three faces at his disposal, including the Yellow-Eyed Devil, Lenny, and the Angriest Boy — would David's be the face shown in his own memories eating the tape of his sessions with the therapist?
e. Who wanted that record destroyed — Farouk or David?
f. Why?
g. Who exactly is fighting Melanie and Ptonomy when they're trying to access David's memories? Is it Farouk or is it David?
h. Why? What's being concealed? It's not like the other avatars remained invisible — the Angriest Boy and the devil with yellow eyes are visible to Syd early on. What are they hiding, and why are they hiding it?
i. If Farouk is performing those memory substitutions — which seems likely — what's the point of overwriting Benny with Lenny?
j. Why does the illusion sometimes break down? (As when Lenny turns into the Yellow-Eyed Devil while David stares at her on the floor.) Is this meant to indicate that David temporarily wins?
In stories like these, the why is always more interesting than the "how." This appeared to be a show about David's subjectivity. It felt like a kind of Being John Malkovich-style deep dive into the perspective of a disturbed mutant with powers. What makes that perspective interesting enough to follow through these distortions and twists and turns is that the show promises to say something about how pitiful human psychology works when filtered through a superhero's dysfunction. What's interesting about Farouk is not Farouk: It's whatever in David's psyche gave rise to the "Angriest Boy" avatar. This show was hinting at all kinds of interesting dark things: matricide, parricide, toxic masculinity, the way mental illness can lead sufferers to regard themselves as evil or demonic.
The trouble is that the show can't decide whether it's actually about mental illness or about a fungus mutant that infects David and can apparently — despite Lenny's great speech about "unmaking soup" — detach from him and infect someone else. There are so few baselines, so few universe rules to which Legion consistently adheres, that it's impossible to understand what any specific departure from those rules means. I guess it's bad for Cary and Kerry to be separate. Why? Who knows? Everything is a variable, and there are no controls. It seemed, given earlier explanations, that David could die from the kind of excision Lenny apparently performed. But she's with Oliver now, and it doesn't seem that David has died — nor does it seem like the excision idea is that different from the "muting" effect the headband has on him.
Speaking of Oliver: Just … what?
Don't get me wrong: One of the things I most appreciate about this show is its bananas sense of whimsy — from the weird Bollywood dance number in the first episode to the stuffed ruminant chilling behind Ptonomy as he explains what it is he does to David to Jemaine Clement's amiable nonsense as The Forgetful Genius Incubating in an Ice Cube in Something Called the Astral Plane That He Needs a Steampunk Spacesuit To Leave For Unexplained Reasons Even Though David Can Walk Through it Without One and Oliver Can Create That Whole World Since He's a God or Something.
This show is so silly so much of the time, so beautiful at others, that it makes you want to forgive it its massive plot holes. I mean, it's mostly holes. Is Syd Barrett real? If she is, what is up with her name? If she isn't, is there any reality principle at all here? Was the asylum just David's version of Oliver's ice cube? (That would explain the dance.)
This show has some of the most poetic and painterly moments television has ever produced. I just wish I could trust that they had a plot worthy of them, and that Legion has answers to even a fraction of the questions it's posed.
Continue reading for free
We hope you're enjoying The Week's refreshingly open-minded journalism.
Subscribed to The Week? Register your account with the same email as your subscription.
Sign up to our 10 Things You Need to Know Today newsletter
A free daily digest of the biggest news stories of the day - and the best features from our website
Lili Loofbourow is the culture critic at TheWeek.com. She's also a special correspondent for the Los Angeles Review of Books and an editor for Beyond Criticism, a Bloomsbury Academic series dedicated to formally experimental criticism. Her writing has appeared in a variety of venues including The Guardian, Salon, The New York Times Magazine, The New Republic, and Slate.