How Democrats sold out the transgender community in North Carolina
Beware centrist appropriation of social justice rhetoric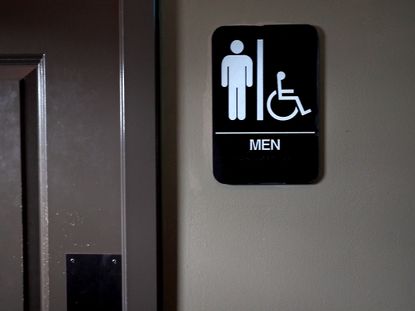 (Image credit: Sara D. Davis/Getty Images)
Until a few years ago, when Hillary Clinton finally came out in favor of gay marriage, ideas like intersectionality, social constructivism, and microaggressions were largely the province of leftist college professors and radicals, while Clintonian centrist Democrats scoffed at such social justice notions. But virtually overnight, this vocabulary became the currency of the realm among the Democratic Party elite.
These are important concepts, and it's certainly heartening to see them getting a wider airing. But centrists' true commitment to them is thin at best. For evidence, look no further than the repeal of the notorious transphobic "bathroom bill" in North Carolina, and its replacement by something nearly as bad — with the support of Democratic Gov. Roy Cooper, who owes his election to the original anti-bathroom bill backlash.
Let's review: The state's bathroom bill came in response to a city ordinance in Charlotte last year protecting LGBT people. Furious Republicans in the state legislature, pathologically obsessed with the idea of men using women's bathrooms, passed House Bill 2 (HB2) in response to Charlotte. HB2 prohibited any such local ordinances, and mandated people in public facilities (like schools and universities) use the bathroom of the gender listed on their birth certificate. It also prohibited any local regulation of minimum wages and limited damage awards for discrimination lawsuits.
Subscribe to The Week
Escape your echo chamber. Get the facts behind the news, plus analysis from multiple perspectives.
SUBSCRIBE & SAVE
Sign up for The Week's Free Newsletters
From our morning news briefing to a weekly Good News Newsletter, get the best of The Week delivered directly to your inbox.
From our morning news briefing to a weekly Good News Newsletter, get the best of The Week delivered directly to your inbox.
Incidentally, it's always amusing to see conservatives' supposed love of local communities being in charge of their own affairs — or "subsidiarity," as House Speaker Paul Ryan calls it — being thrown out the window whenever they happen to control a superior level of government. States' rights for me, preemption for thee.
HB2 caused a tremendous backlash, and many businesses promised to boycott North Carolina. The last straw came when the NCAA threatened to move its games out of the state for several years unless the bill was repealed.
And since the most conservative people in the entire country can generally be found among elected Republican officials, the broader North Carolina population was rather confused about why such a fuss was being made over bathrooms. Republican Gov. Pat McCrory's popularity tanked badly, and the bathroom bill ended up being the major item of debate during the gubernatorial election in 2016. Cooper ran hard against the bill, and it is by far the biggest reason why he narrowly beat McCrory while Trump took the state's electoral votes.
However, immense Republican district-boundary cheating still gave the GOP tremendous margins in the state legislature. So when negotiations on a repeal of HB2 began, the GOP basically just submitted a replacement that had almost everything about the original bill intact. It gets rid of the bathroom birth certificate requirement, but still prohibits local regulations of public bathrooms and private employment (like minimum wages). It also bans nondiscrimination ordinances up through 2020 — something that could easily be pushed forward as the expiration nears.
It's barely better than HB2, if at all, and LGBT rights groups were furious. But Cooper folded, signing it into law. The NCAA backed down, too.
It's hard to know whether this is cynical or merely ignorant. It could be that Cooper just wanted the appearance of bipartisanship, and didn't particularly care that he was throwing a vulnerable constituency over the side.
Cooper has not been known for defending LGBT rights in his career. He comes from the same centrist, triangulating Democratic political tradition as the Clintons, one which produced the homophobic Defense of Marriage Act, and the egregiously racist 1994 crime bill and 1996 welfare reform. As attorney general of North Carolina, he only stopped defending the state's gay marriage ban as of 2014, and only because Virginia's ban went down in federal court.
Now, Republicans in the state legislature could have overridden any veto. But had Cooper stood his ground, and loudly pointed out that the bathroom bill replacement was also awful and bigoted, the NCAA (which patently has only the thinnest possible commitment to LGBT rights) probably wouldn't have had political cover to return to the state, thus forcing Republicans back to the table. Given that standing up on this issue won him the governorship, it plausibly could have been a political winner. People tend to like a politician with backbone.
But my hunch is that ignorance is the culprit. Cooper stumbled into a powerful political weapon without really understanding what it was all about, or developing a firm belief in defense of transgender rights.
The lesson? Beware of social justice johnny-come-latelies. After all, it's a lot easier to mouth some hip new multi-syllabic jargon than it is to actually fight for and care about oppressed people.

Continue reading for free
We hope you're enjoying The Week's refreshingly open-minded journalism.
Subscribed to The Week? Register your account with the same email as your subscription.