What does Trump really think about Syria? Who knows! He sure doesn't.
Imagine Trump in the Situation Room and shudder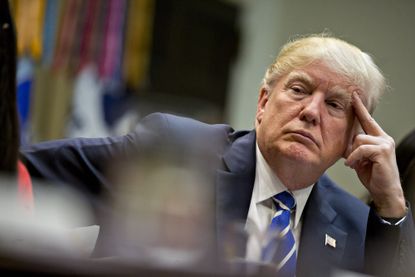 (Image credit: Andrew Harrer-Pool/Getty Images)
Sign up to our 10 Things You Need to Know Today newsletter
A free daily digest of the biggest news stories of the day - and the best features from our website
Thank you for signing up to TheWeek. You will receive a verification email shortly.
There was a problem. Please refresh the page and try again.
Picture this scene: President Donald Trump is in the Oval Office, and in march the secretary of defense, the chairman of the Joint Chiefs of Staff, the national security adviser, and a cadre of other aides. They present Trump with a series of options open to him in response to the Syrian government's horrific gas attack in the town of Khan Sheikhoun that killed scores of civilians. Trump could do nothing. He could launch some missiles at Syrian military facilities. He could begin a more extended bombing campaign. There are some other options too, of varying degrees of drama.
This is Trump's first real military decision as president. At the end of January he gave the go-ahead to a raid in Yemen that went disastrously, but that was a simple yes-or-no to a plan the military presented him with. This is a very different situation, one in which something happened in a war zone, Trump's advisers offer him a menu of options in response, and he has to pick the one he thinks will be most effective, based on his knowledge of the situation in Syria, his understanding of similar conflicts and what effects such action has, his concerns about what might be gained and what the unintended consequences might be, and his gut instincts.
And so, he decided: More than 50 missiles launched at a Syrian airfield. To those who demanded that the United States "Do something!" — well, Trump has done something.
Subscribe to The Week
Escape your echo chamber. Get the facts behind the news, plus analysis from multiple perspectives.
SUBSCRIBE & SAVE
Sign up for The Week's Free Newsletters
From our morning news briefing to a weekly Good News Newsletter, get the best of The Week delivered directly to your inbox.
From our morning news briefing to a weekly Good News Newsletter, get the best of The Week delivered directly to your inbox.
Nevertheless, we still have almost no idea of what Trump actually thinks ought to be done in Syria, particularly as it relates to Bashar al-Assad, who will surely go down as one of the great war criminals of the 21st century. We do know that just days before Assad launched this attack, Secretary of State Rex Tillerson said that "the longer-term status of President Assad will be decided by the Syrian people," while on the same day, U.N. Ambassador Nikki Haley said that "our priority is no longer to sit there and focus on getting Assad out." Whether Assad actually took those comments as a cue that he could act with impunity and that this would be a good time to demonstrate to his enemies that his ruthlessness knows no bounds, he had little reason to think that the Trump administration was interested in overthrowing him.
In that, Trump is keeping to the Obama administration's policy, but in his case it's less an expression of caution than it is a narrow view of U.S. interests. When he ran for president, Trump heaped scorn on the NATO alliance and portrayed a world in which we have no obligations to principles like democracy or human rights (indeed, he explicitly advocated torturing suspected terrorists and even killing their families), but are only out for ourselves. His dismissal of the kind of idealistic nation-building that George W. Bush advocated even convinced some leftists that he'd be a dove when it came to overseas military action and Hillary Clinton was the real war-monger.
But Trump's idea was never that we should be reluctant to drop bombs on foreign lands whose leaders displease us, only that we shouldn't bother sticking around to clean up afterward. And as he did on every policy issue, he presented military action in places like the Middle East as easy and straightforward, a simple matter of being strong and winning. He said he'd "bomb the s--t" out of ISIS, but never articulated any coherent policy toward the Syrian government.
In one of his debates with Hillary Clinton, Trump even expressed disagreement with a comment his running mate Mike Pence had made, when Pence said that America should be prepared to strike the Assad regime. "I think you have to knock out ISIS. Right now, Syria is fighting ISIS. We have people that want to fight both at the same time. But Syria is no longer Syria. Syria is Russia and it's Iran," he said. "We have to worry about ISIS before we can get too much more involved."
But then it was all hypothetical, at least as far as he was concerned. This week, President Trump picked up the paper or turned on cable news, sees all these horrible images of children who were gassed, and knew that the world was looking to him for a response. "It crossed a lot of lines for me," he said Wednesday at a press conference with Jordan's King Abdullah. "When you kill innocent children, innocent babies — babies, little babies — with a chemical gas that is so lethal — people were shocked to hear what gas it was — that crosses many, many lines, beyond a red line. Many, many lines."
That could be typical Trumpian gibberish, or it could be a sincere expression of his sentiments. But think back to that scene in the Oval Office. After being presented with the options for action, Trump could have said that our real concern is ISIS, and as terrible as what Assad has done may be, he isn't willing to be drawn into a conflict with the Syrian government. This isn't even Assad's first chemical weapon attack, not to mention the fact that he's managed to kill hundreds of thousands of his people with conventional weapons. Trump could have decided to join the rest of the world in outrage but maintain our military focus in the region on ISIS.
That would be a defensible position to take, and in line with his previous statements. But we know that Trump is a man who cares a great deal about being seen as strong and manly. The idea that people might call him weak if he refrains from military action — especially when he knows that such restraint would put him in the same position as Barack Obama — was surely on his mind.
So he went with a missile strike. Can anyone say what good this will do? The lesson for Assad seems to be that as long as he continues to kill civilians by means of ordinary bombs and bullets (or hang them by the thousands in his prisons), and forego chemical weapons, then he need not fear further interference from the United States. You can certainly criticize Barack Obama's inaction on Syria, but it's hard to argue that Assad's brutality will be any more restrained by President Trump.
And now that he has initiated military action, Trump must make a determination: What does he do now? I wouldn't be surprised if he has no idea. But he's going have to decide soon — and the consequences of his choice will be grave, no matter which direction he goes.
Continue reading for free
We hope you're enjoying The Week's refreshingly open-minded journalism.
Subscribed to The Week? Register your account with the same email as your subscription.
Sign up to our 10 Things You Need to Know Today newsletter
A free daily digest of the biggest news stories of the day - and the best features from our website
Paul Waldman is a senior writer with The American Prospect magazine and a blogger for The Washington Post. His writing has appeared in dozens of newspapers, magazines, and web sites, and he is the author or co-author of four books on media and politics.