How Democrats will take revenge on Republicans for their health-care abomination
No more procedural niceties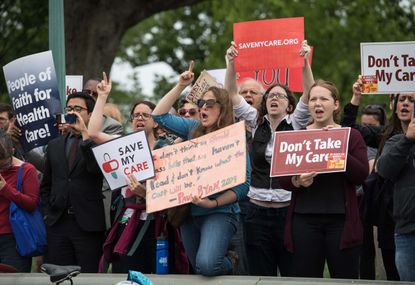 (Image credit: Getty Images)
Sign up to our 10 Things You Need to Know Today newsletter
A free daily digest of the biggest news stories of the day - and the best features from our website
Thank you for signing up to TheWeek. You will receive a verification email shortly.
There was a problem. Please refresh the page and try again.
It was one of the most vulgar scenes we've seen in Washington in a long time. Republicans, having just narrowly passed a bill through the House that would take away health coverage from tens of millions of people and threaten coverage for tens of millions more, literally brought in cases of beer so they could celebrate their victory with the appropriate mirth.
We don't have to detail here all the appalling things their bill does (I assembled a list here if you're interested). In the coming days, polls will tell us just how unpopular it is, but given that the first version got the support of only 17 percent of the public, then they made it even more awful by removing protections for people with pre-existing conditions, it probably won't score too well.
The bill's ultimate fate is uncertain. This version is essentially dead on arrival in the Senate, which has a couple of options. Senate Majority Leader Mitch McConnell could just bring the House's bill up for a vote, watch it go down in defeat, and then declare the whole effort at an end. Or Senate Republicans could write their own version and see if a compromise with the House can be reached. It won't be easy, because a bill moderate enough to win the support of Republicans in the Senate probably won't satisfy the ultra-conservatives in the House, while a bill harsh enough to please House Republicans won't satisfy the somewhat less radical group in the Senate. But it's also possible that Republicans in both houses, seeing it as their last and only chance to repeal the Affordable Care Act, would vote for something that none of them are completely satisfied with.
Subscribe to The Week
Escape your echo chamber. Get the facts behind the news, plus analysis from multiple perspectives.
SUBSCRIBE & SAVE
Sign up for The Week's Free Newsletters
From our morning news briefing to a weekly Good News Newsletter, get the best of The Week delivered directly to your inbox.
From our morning news briefing to a weekly Good News Newsletter, get the best of The Week delivered directly to your inbox.
Either way, the political backlash will be intense. The broad electorate will be disgusted, and the Democratic base will be enraged. You thought there was already an explosion of leftist activism in the wake of Donald Trump getting elected? Just you wait.
So what happens then? Let me map out a scenario that ends in Democrats exacting sweet revenge on Republicans for what they just did and what they may do from this point on.
It starts with Democrats taking over the House in 2018 in a "wave" election, an outcome that just became significantly more likely. At that point, they'd be able to stop any significant Republican legislation in its tracks, severely limiting the progress the Trump administration could make on any of its priorities. Taking over the Senate in 2018 is much less likely, because Democrats will be defending a whopping 25 seats, while Republicans will only be defending eight. Even in a Democratic wave year, almost the best they can hope for is to not lose any ground in the upper chamber.
That's because the senators up for re-election in 2018 are those that got elected in 2012, which was a big year for Democrats. But in 2020, the senators who were elected in 2014 — a Republican wave — will be up for re-election. That means that 22 Republicans will be defending their seats, while only 11 Democrats will join them.
And 2020, of course, is a presidential year, when the electorate is more Democratic overall than in midterms. So it isn't hard at all to imagine a still-unpopular President Trump being defeated while Democrats take control of the Senate, leaving them in the same position Republicans are now, with total control of both the executive and legislative branches.
That's when they get to take their revenge.
To be clear, I don't mean that they'll do it just out of spite. But I'm pretty sure that Democrats would decide that the time for procedural niceties had passed. So why not sit down and craft a bill that really gives them what they want on health care? Not a clunky compromise like the ACA was, but some simple yet profound changes that help the public and put us on a direct path to the day when Americans have the same health security that the citizens of every other advanced country enjoy?
For instance: How about that public option Democrats used to talk about? A government program that would compete with private insurers on the exchanges (if they still exist) and even in the group market. If conservatives are right that the government can't do anything right, then no one will choose to get their insurance from it. But if liberals who look at the success of Medicaid and Medicare are right that government health insurance can be efficient, effective, and popular with those who use it, then it will flourish.
And speaking of Medicare, how about a Medicare buy-in? What about allowing people over the age of 50 to get Medicare if they want it, and pay full premiums like they would with any other insurer? Maybe Democrats could also consider ways to expand Medicaid that could get around the resistance of Republican governors and state legislators who have shown that they quite literally would rather see their own poor citizens go without health insurance than see them get it from a government program.
Would all that be politically easy? Of course not. But they can do all of it through the "reconciliation" process, meaning they'd only need 50 votes in the Senate. And if the horrific Republican health-care bill actually becomes law, the entire system will be in chaos, which will open the space for radical reforms.
And yes, those reforms could look a lot like a movement toward a single-payer system, or at least the kind of hybrid system that has been successful in other countries like France. It could be a complex transition, and it would be controversial. But if Democrats get the chance, they shouldn't waste it.
Continue reading for free
We hope you're enjoying The Week's refreshingly open-minded journalism.
Subscribed to The Week? Register your account with the same email as your subscription.
Sign up to our 10 Things You Need to Know Today newsletter
A free daily digest of the biggest news stories of the day - and the best features from our website
Paul Waldman is a senior writer with The American Prospect magazine and a blogger for The Washington Post. His writing has appeared in dozens of newspapers, magazines, and web sites, and he is the author or co-author of four books on media and politics.