It's time to start talking about Trump's mental health
There's just no denying it: Trump seems addled, befuddled, and unwell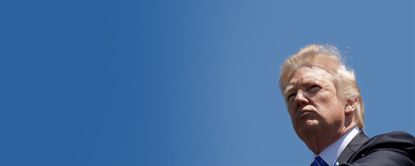 (Image credit: REUTERS/Kevin Lamarque)
For many Americans, one of the defining features of the Trump presidency is checking the news after a couple hours offline and finding out that you've missed some jaw-dropping story of insane, reckless, and/or idiotic behavior from our nation's 45th president. On Monday, it was the Washington Post scoop that President Trump had shared highly classified intelligence about ISIS with the Russian ambassador and foreign minister — potentially compromising delicate intelligence-sharing arrangements, and raising the possibility that the Russians would be able to reverse-engineer the source.
National Security Adviser H.R. McMaster gave a carefully-worded non-denial trying to dispute the story, but Trump himself stepped all over that on Twitter Tuesday morning, boorishly admitting he had done it and trying to justify himself.
It's time to start talking about President Trump's mental health.
Subscribe to The Week
Escape your echo chamber. Get the facts behind the news, plus analysis from multiple perspectives.
SUBSCRIBE & SAVE
Sign up for The Week's Free Newsletters
From our morning news briefing to a weekly Good News Newsletter, get the best of The Week delivered directly to your inbox.
From our morning news briefing to a weekly Good News Newsletter, get the best of The Week delivered directly to your inbox.
Trump is correct that his terrifyingly expansive powers as president allow him to reveal whatever classified material he wants. But it's still baffling why he would do such a thing. Intelligence sharing is generally supposed to be done after careful discussion, and between intelligence agencies, not civilian leaders. You have to be very careful with language, so as to not reveal more than intended — and especially not to the Russians, given that American forces are at odds with them in Syria and several other global hotspots.
If you're at all familiar with the way Trump tends to ramble and boast, a simple explanation presents itself: He just got carried away and started running his mouth. That is unquestionably the most probable explanation.
Of course, that in and of itself does not mean that America's president is mentally unwell. There is, however, so much more.
As Kevin Drum points out, Trump has been showing many other signs of mental decline over the past year, especially since he took office. He has bursts of temper, forgets people's names, mixes up the names of countries he's bombing, and forgets to finish simple tasks.
Perhaps most tellingly, Trump's speech patterns are vastly different now than they were years ago. All the above might be excused if they were single instances — healthy people occasionally mix up names or get disoriented, too. However, Trump did not used to be like this. Compare a few minutes at random from this 1990 interview to this AP interview from last month:
The themes are generally similar — complaints about media unfairness, boasts about his own competence and popularity, and so on. But today, Trump is manifestly less there. He uses simpler words and repeats himself constantly (using the word "great" 31 times in the AP interview), and he flits from subject to subject. While before he could stick to a line of argument, and string together reasonably clear sentences, now he's all over the place.
A study on Alzheimer's disease once compared the word use at unscripted press conferences of President Reagan, who was so diagnosed, to President George H.W. Bush, who was not. It found precisely this sort of decline in vocabulary and increase in generic words and hesitation.
Now, I am not a doctor. This is not an actual diagnosis, of course. And Trump is not totally incoherent. He can still have a conversation.
But imagine your own father or grandfather acting this way. You would probably urge your loved one to make an appointment to get a brain scan.
Now imagine this loved one could drop nuclear weapons anywhere on Earth at a few minutes' notice.
Unfortunately for the American people and the world as a whole, so long as Trump can be persuaded to scrawl something approximating a signature at the bottom of a bill to steal health care from the poor, Republican lawmakers will not admit what is abundantly clear: Something is going on with President Trump. He is not well.

Continue reading for free
We hope you're enjoying The Week's refreshingly open-minded journalism.
Subscribed to The Week? Register your account with the same email as your subscription.