America's free speech wars
America's universities are being roiled by violent protests over "offensive" speech that students say should be silenced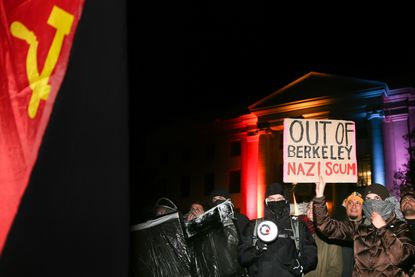 (Image credit: Elijah Nouvelage/Getty Images)
Sign up to our 10 Things You Need to Know Today newsletter
A free daily digest of the biggest news stories of the day - and the best features from our website
Thank you for signing up to TheWeek. You will receive a verification email shortly.
There was a problem. Please refresh the page and try again.
America's universities are being roiled by violent protests over "offensive" speech that students say should be silenced. Here's everything you need to know:
What are the protests about?
They center on whether students should be able to prevent guest speakers whom they find offensive from appearing on campus. In January, police at the University of California, Berkeley, had to cancel a talk by right-wing provocateur Milo Yiannopoulos after "antifa" — anti-fascist — activists stormed police barricades, causing $100,000 worth of damage. Two months later, Berkeley said it couldn't guarantee the safety of an event involving conservative commentator Ann Coulter, leading to its cancellation. At a talk at Middlebury, the liberal arts college in Vermont, the controversial social scientist Charles Murray was shouted down by students and chased out of town. Conservatives and many liberals have decried these and other protests as a dangerous impingement on free speech. But some left-wing students and academics believe bigoted speech is a form of oppression — and thus shouldn't be tolerated. "We won't put up with the violent rhetoric of Milo, Trump, or the fascistic alt-right," said one protester at Berkeley. "We are willing to resist by any means necessary."
Subscribe to The Week
Escape your echo chamber. Get the facts behind the news, plus analysis from multiple perspectives.
SUBSCRIBE & SAVE
Sign up for The Week's Free Newsletters
From our morning news briefing to a weekly Good News Newsletter, get the best of The Week delivered directly to your inbox.
From our morning news briefing to a weekly Good News Newsletter, get the best of The Week delivered directly to your inbox.
How long has this been going on?
Over the past decade, many universities have accepted the argument that they have a responsibility to protect students from material that makes them uncomfortable. Professors provide "trigger warnings" before discussing books or historical events that deal with racism or rape, to avoid "retraumatizing" people who have been affected by those issues. (See below.) Activists are also demanding to be shielded from "microaggressions" — words or phrases that convey subtle racism, sexism, or some other put-down of groups that have suffered discrimination. If a white American asks an Asian-American, "Where do you come from?" that is a microaggression. Students have also vehemently objected to a number of commencement speakers — among them former Secretary of State Condoleezza Rice and International Monetary Fund chief Christine Lagarde — on political grounds, resulting in their being disinvited. Many students now want their entire campus to be a "safe space," free of any speech that might be considered racist, sexist, homophobic, transphobic, or offensive in any way.
What is their justification?
"Social justice" activists argue that certain kinds of speech reinforce hierarchies and power structures that oppress vulnerable groups. They say that when a white, conservative male like Yiannopoulos mocks Muslims or transgender people, it isn't just an opinion — it is an assault by a member of a privileged class on a less powerful group. This theory essentially holds that words aren't just words; they are also tools of oppression. The right of free speech, says New York University professor Ulrich Baer, "should not mean that someone's humanity, or their right to participate in political speech as political agents, can be freely attacked, demeaned, or questioned." Many left-wing academics and students subscribe to the theory of "intersectionality," in which nearly all human interactions have an implicit power and status dynamic. A white male has an advantage over a white female, who has an advantage over a black female, who has an advantage over a black gay female, who has an advantage over a black trans female. In this worldview, people with privileged social rank can use speech to render other people "invisible."
What is the counterargument?
Conservatives and traditional liberals argue that our Constitution enshrines free speech as one of our most basic rights, and that it especially protects words and ideas deemed offensive or forbidden. They say that no one should be given a "heckler's veto" over views he or she doesn't like, and that the best response to "bad" speech is more "good" speech. "If somebody has a bad or offensive idea, prove it wrong," said former President Barack Obama at a graduation speech last year. "Engage it. Debate it. Stand up for what you believe in." Free speech advocates believe that people learn best when their beliefs are challenged and have to be defended. They also argue that safe spaces provide inadequate preparation for the real world; conservatives in particular mock today's students as "Generation Snowflake" — so emotionally fragile they melt whenever they're offended, which is often.
Why is all this happening now?
There are several factors. Some social scientists believe that Baby Boomer parents who grew up in the turbulent, high-crime era of the 1960s and '70s protected and "coddled" their children, making them more susceptible to offense. Political polarization has increased the rancor between people of different views, so that they see their opponents not as merely wrong but as evil. Social media has made it easier for people to share offensive material, and for activists to foment and organize opposition to it. And with the rising cost of tuition, universities are increasingly treating their students like customers — and thus are more willing to yield to protests. All of this has left academics deeply worried about the future of free speech. "If we can't get [this] right at our elite universities," says Nicholas Christakis, a Yale professor who was caught up in a fiery debate over Halloween costumes in 2015, "we're doomed."
Warning students about 'triggers'
The rise of trigger warnings and microaggression theory has prompted widespread mockery. Literature that has been deemed "triggering" includes Virginia Woolf's Mrs. Dalloway (suicide) and even Ovid's Metamorphoses (sexual assault). In 2015, a faculty training guide at the University of California warned that the phrase "America is a land of opportunity" could upset people whose race makes it harder for them to succeed. Other expressions deemed verboten on campuses include "hey guys" and "man up" (sexist) and "crazy" ("ableist"). Yet activists say the use of trigger warnings, in particular, has been blown out of proportion. Fewer than 1 percent of colleges and universities have a policy requiring them, according to a 2015 study by the National Coalition Against Censorship. And most courses — in the sciences, math, engineering — have little or no need for them. Kate Manne, an assistant professor of philosophy at Cornell University, describes trigger warnings as a "basic courtesy" for students who have experienced extreme trauma. "They're a pretty small kindness," she says, "in a pretty small range of subjects."
Continue reading for free
We hope you're enjoying The Week's refreshingly open-minded journalism.
Subscribed to The Week? Register your account with the same email as your subscription.
Sign up to our 10 Things You Need to Know Today newsletter
A free daily digest of the biggest news stories of the day - and the best features from our website