Trump's pathological obsession with being laughed at
So far it has come out in ways more comical than serious — but that may not always be true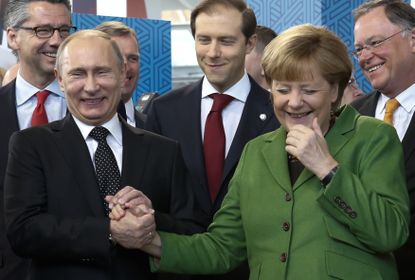 (Image credit: REUTERS/Fabrizio Bensch)
Send President Trump abroad to rub shoulders with a bunch of foreigners, and chances are somewhere around 100 percent that he'll come back thinking about whether anyone is laughing at us. "Russian officials must be laughing at the U.S. & how a lame excuse for why the Dems lost the election has taken over the Fake News," the president tweeted on Tuesday morning.
If you've been paying any attention at all over the last couple of years, you know this is a topic he returns to again and again. Search Trump's Twitter feed and you'll find that who's laughing at whom is an obsession for him, with the United States usually the target of the laughter. "The world is laughing at us." China is "laughing at USA!" Iran is "laughing at Kerry & Obama!" "ISIS & all others laughing!" "Mexican leadership has been laughing at us for many years." "Everybody is laughing at Jeb Bush." "Putin is laughing at Obama." "OPEC is laughing at how stupid we are." "Dopey, nobody is laughing at me!" I could go on (and on, and on), but I'll spare you.
This is nothing new for Trump; he's been talking about us being laughed at for his entire career in public life. In his first major foray into politics in 1987, he spent nearly $100,000 to buy full-page ads in The New York Times, The Washington Post, and The Boston Globe, lamenting the fact that America helped defend countries like Japan without getting enough in return (sound familiar?). The last line of the ad was, "Let's not let our great country be laughed at anymore."
Subscribe to The Week
Escape your echo chamber. Get the facts behind the news, plus analysis from multiple perspectives.
SUBSCRIBE & SAVE
Sign up for The Week's Free Newsletters
From our morning news briefing to a weekly Good News Newsletter, get the best of The Week delivered directly to your inbox.
From our morning news briefing to a weekly Good News Newsletter, get the best of The Week delivered directly to your inbox.
It is Trump's gift to future biographers that he makes so little attempt to hide his psychological issues, but the desire to avoid being laughed at truly stands out. Perhaps there was some childhood trauma that led to this obsession, a schoolyard incident in which a bully pulled down Donny's short pants to the guffaws of the other tots (particularly the girls!). It would be only fitting if Trump, the world's foremost avatar of anxious masculinity, lived in terror of women's laughter, but he seems concerned with everyone's laughter, whether it comes from people or governments. As much as he cares about winning and getting the better of someone, defeat is marked by the ultimate humiliation of being laughed at.
Yet ironically, no president in history has ever been laughed at as much as Trump. Long before he ran for the White House he was considered a cretinous buffoon, one of the world's least serious people trying to convince everyone how serious he is. Even Trump's cartoonish hair, which looks like what you'd get if you put three separate comb-overs into the Large Hadron Collider and smashed them together at the speed of light, seems to be in large part an effort to avoid being laughed at for being bald.
And today there is without a doubt not a single human being on planet Earth who is laughed at more than Donald J. Trump. He's laughed at by ordinary people and by other politicians, by the rich and the poor, by Americans and residents of other nations, by Christians, Muslims, and Jews, by one and all. The Center for Media and Public Affairs, which has tracked the jokes in late-night monologues for years, found that in his first 100 days Trump was the target of over 1,000 jokes from Fallon, Kimmel, Colbert, et al, on pace to easily surpass the record set in 1998 when in the midst of the irresistibly salacious Lewinsky scandal the hosts told 1,700 jokes about Bill Clinton. Comedy Central even commissioned a weekly show starring a Trump impersonator, so viewers can laugh at him for an entire half hour at a time.
Not every politician is equally mockable — Barack Obama's reserved cool made him harder to mock than did George W. Bush's goofy cluelessness or Clinton's omnivorous smarm. But everything about Trump invites derisive laughter, from his spray-tanned skin to his overlong ties to his TV-watching habits to his Russian-mobster taste in decor to his overcompensating for his insecurities to his general stupidity and ignorance. If anything, Trump is hard to satirize because the actual person is so absurd to begin with that exaggerating his foibles is nearly impossible.
I doubt that Donald Trump would meet the diagnostic criteria for gelotophobia, or fear of being laughed at, mostly because those who suffer from it become socially withdrawn, while Trump seems to overcompensate by making himself as much of a loudmouth bully as possible (though I would note that in one study, "Americans living in Florida were the least likely of anyone in the world to say they [feared looking] ridiculous while dancing," which may say something about the atmosphere at Mar-a-Lago). But what does it mean to have a president who plainly spends so much time thinking about how others are viewing him?
It's a kind of exaggerated version of what's true of every politician, that in their professional need to be liked they can't avoid spending a great deal of mental energy considering themselves through the eyes of others. But like so much else, Trump takes it to an almost pathological degree. So far it has come out in ways more comical than serious — his endless insistence that he's incredibly popular and he had the biggest inauguration crowd in history, for instance — but that may not always be true.
There comes a time for every president when they have to choose between doing the right thing and doing what will make them look good. If you have a powerful fear of being laughed at, your decisions will be shaped by avoiding the thing that scares you. The results may not be funny at all.

Continue reading for free
We hope you're enjoying The Week's refreshingly open-minded journalism.
Subscribed to The Week? Register your account with the same email as your subscription.