Comfortable suburbanites will not save the Democratic Party
Time to quit coddling the upper middle class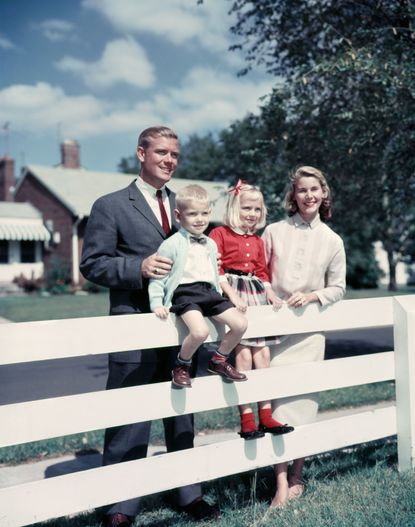 (Image credit: ClassicStock / Alamy Stock Photo)
Sign up to our 10 Things You Need to Know Today newsletter
A free daily digest of the biggest news stories of the day - and the best features from our website
Thank you for signing up to TheWeek. You will receive a verification email shortly.
There was a problem. Please refresh the page and try again.
The Democratic Party just can't quit the upper middle class. As Thomas Frank writes, it has become in large part a party by and for comfortable white-collar professionals, seasoned with just a little bit of heavily means-tested welfare programs so as to assuage liberal guilt. Thus, former Hillary Clinton adviser Jesse Ferguson writes at Politico, Democrats should pursue Romney voters — that is, comfortable suburban professionals, mostly white, who are supposedly appalled by President Trump's antics — to win elections in the future.
This is a crock.
Democrats don't need to abandon the upper middle class, but they must start aiming their politics squarely at the working class. Fortunately, all but the very rich would benefit — but to get there, Democrats must ditch the upper middle class' shibboleths.
Subscribe to The Week
Escape your echo chamber. Get the facts behind the news, plus analysis from multiple perspectives.
SUBSCRIBE & SAVE
Sign up for The Week's Free Newsletters
From our morning news briefing to a weekly Good News Newsletter, get the best of The Week delivered directly to your inbox.
From our morning news briefing to a weekly Good News Newsletter, get the best of The Week delivered directly to your inbox.
First and most importantly, a strong egalitarian agenda is an urgent moral necessity. The last several decades of neoliberal deregulation and austerity have been, in retrospect, a huge disaster. The United States has shamefully high poverty, large racial and gender inequality, a huge monopoly problem, virtually no parenthood assistance, and wretchedly low-quality infrastructure. A comprehensive policy agenda to tackle these problems is decades overdue. It's long since time we broke up monopolist businesses, attacked social inequalities, invested in reasonably priced infrastructure, and completed the welfare state, so it provides health care, education through college, a basic standard of living, and paid leave to all.
What that means, first and foremost, is a massive increase in taxes and spending. But what does the upper middle class hate when it comes to budget policy? You guessed it. The upper class is made up of mostly natural austerians who are entranced by the boneheaded analogy between a sovereign government's finances and a household bank account and prize pointless deficit reduction above jobs. In Ferguson's words, they're "fiscally responsible."
Pitching one's campaign at anxious white suburbanites with catastrophically mistaken notions about government financing rules out actually fixing most of the crises facing the country. It means running on fiddly little tax credits and pointlessly means-tested small-bore programs, just like Hillary Clinton did.
A real working-class program would be more politically popular than complicated, means-tested programs like ObamaCare. Now, one should not overthink such things. In an age when polls are notoriously unreliable and opinion is shifting rapidly, politicians and advocates would be wise to simply advocate for a strong, defensible agenda rather than try to stay ahead of the opinion curve and "play it safe." Indeed, in such uncertain times people may be attracted to confident leadership as such — witness Jeremy Corbyn, whose Labour Party has closed almost all of a 24-point polling gap in the U.K. in just a few weeks through a bold anti-austerity manifesto and a barnstorming campaign.
Nevertheless, one can't avoid at least some tactical considerations. The bizarre thing about arguments like Ferguson's is that Clinton just ran exactly the sort of campaign he is advocating for, and lost. It's true that the election was close, and shifting a few tens of thousands of votes in a few key states would have tipped it to her. Without the Comey letter, she might plausibly be president today.
But then again, the fact that it was close at all against literally the most unpopular opponent in the history of presidential polling does not bode well for the fundamental appeal of this sort of politics. It should have been a 10-point blowout against a candidate as horrendous as Trump, but instead it was a nail-biter, in part because working-class people of all races and young people were so unenthusiastic about her candidacy and her message. As famed Democratic pollster Stan Greenberg argues, Democrats have a working-class problem — of all races, not just whites.
This brings me back to the upper middle class. While Bernie Sanders did run on a program of higher taxes and soaking the rich, as Tom Edsall notes, he would also distribute benefits to everyone, both to simplify administration and to solidify their political support. So while the upper middle class would be paying much more in taxes, they'd also be receiving huge benefits — particularly in the form of zeroed out health insurance premiums. Given how bad inequality is, only the top 5-10 percent would be net losers in terms of take-home money, and even they would still have the psychological benefit of having guaranteed health insurance, paid leave, and so on, no matter what bad luck they run into.
I believe this would be a gigantic relief even for comfortable suburbanites with good jobs. But to get there, the Democrats must return to their working-class roots.
Continue reading for free
We hope you're enjoying The Week's refreshingly open-minded journalism.
Subscribed to The Week? Register your account with the same email as your subscription.
Sign up to our 10 Things You Need to Know Today newsletter
A free daily digest of the biggest news stories of the day - and the best features from our website
Ryan Cooper is a national correspondent at TheWeek.com. His work has appeared in the Washington Monthly, The New Republic, and the Washington Post.