Where are all the missing leftist voters?
Maybe they're not voters at all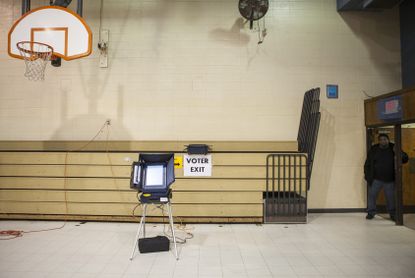 (Image credit: REUTERS/Sara Stathas)
Sign up to our 10 Things You Need to Know Today newsletter
A free daily digest of the biggest news stories of the day - and the best features from our website
Thank you for signing up to TheWeek. You will receive a verification email shortly.
There was a problem. Please refresh the page and try again.
If there's one thing that members of the American left believe as an article of unshakable faith, it's that they constitute the country's true silent majority.
You can hear a profession of this faith every time a mainstream Democrat disappoints at the ballot box: "If only socialist Bernie Sanders had been the nominee in 2016, he would have beaten Donald Trump." "If only the corrupt, plutocratic, consultant-heavy, and overly cautious DNC had run true progressives in this year's special elections instead of civility-mongering centrists, the party could have capitalized on the self-evident awfulness of the GOP."
More sophisticated analysts might concede that all of the special election contests in 2017 have been longshots for Democratic pick-ups. Still, many presume that in narrower races, the trick to flipping Congress, capturing the White House, and winning back Obama voters who switched to Trump in 2016 is to run Sanders-like socialists who forthrightly embrace such policies as Medicare-for-all, free college tuition, and sharp tax hikes for the wealthy.
Subscribe to The Week
Escape your echo chamber. Get the facts behind the news, plus analysis from multiple perspectives.
SUBSCRIBE & SAVE
Sign up for The Week's Free Newsletters
From our morning news briefing to a weekly Good News Newsletter, get the best of The Week delivered directly to your inbox.
From our morning news briefing to a weekly Good News Newsletter, get the best of The Week delivered directly to your inbox.
But is it true?
The case would be more convincing if those making the claim were able to marshal compelling evidence in its favor. But far too often, like those Republicans who ran in 2016 presuming a plurality of voters craved a "true conservative" alternative to wishy-washy compromisers with the liberal status quo, they can't. In fact, the strongest empirical evidence points in other directions.
The most recent bit of such evidence is an important study based on a survey of voters in the 2016 election. It shows that while a good number of people who voted for Trump may well be reachable by progressives on economic issues, many of them are also likely to be put off by the left's uniform hostility to any kind of cultural conservatism, whether on social/religious issues or immigration. Apparently, the overwhelming majority of voters on the left combine economic progressivism with strong support for open borders and no-questions-asked abortion-on-demand — a mixture of positions that is likely to remain a deal-breaker for many middle-of-the-road Americans who don't already vote for liberals.
This would seem to imply that the most electorally formidable leftist candidate would combine Bernie Sanders' economic populism with modest immigration restrictions (Socialism for Citizens) and Bill-Clinton-style moderation on social issues (keeping abortion "safe, legal, and rare"). But given the attachment of left-leaning voters to strongly progressive positions on these social issues, a candidate who staked out such a socially moderate position and made gains among Trump voters could well inspire otherwise motivated Hillary Clinton voters to stay home in 2018 and 2020.
The left appears to be stuck in a zero-sum trap, maxed out on votes and falling just shy of what it needs to prevail in national elections.
Except for one crucially important consideration: This recent study, like most others, is based on the attitudes of voters — those who show up on Election Day. But the U.S. is notorious for its low rates of voting. Just 60.2 percent of eligible voters cast ballots in the 2016 presidential election, meaning that tens of millions of people who could have voted decided not to. While numerous studies have sought to determine why so many choose not to vote, little is known about the political views of those who don't participate in elections. Do their views mirror those of more engaged citizens? Or might they choose not to vote because none of the available candidates promise to pursue policies they support?
Either way, the best chance for the American left might be for it to look for additional voters among the currently disengaged. Even if non-voters hold views similar to those who do vote, and even if they lean right or libertarian, there must still be many millions who would be willing to support leftist candidates — if only these potential voters could be reached and motivated to cast ballots on Election Day.
In that case, the ongoing rancorous debate among Democrats about whether and how to reach out to Trump voters might be a distraction from a far more pressing and challenging concern: figuring out how to turn potential left-leaning voters into actual ones.
And here the demonic anti-democratic genius of Republican efforts at vote suppression begins to become clear. By raising obstacles to voting in areas dominated by populations that tend to support Democrats — minorities, the poor — the GOP depresses turnout among those who are already inclined to vote for the left and makes efforts to rally the disengaged even more difficult than it would otherwise be.
Where are the missing leftist voters? Maybe they're right there in America's cities, riding the bus to work, glaring out the window in disgust at the five-hour line snaking out the door of an under-staffed, over-burdened polling place.
Continue reading for free
We hope you're enjoying The Week's refreshingly open-minded journalism.
Subscribed to The Week? Register your account with the same email as your subscription.
Sign up to our 10 Things You Need to Know Today newsletter
A free daily digest of the biggest news stories of the day - and the best features from our website
Damon Linker is a senior correspondent at TheWeek.com. He is also a former contributing editor at The New Republic and the author of The Theocons and The Religious Test.