Trump's Iowa speech was extremely entertaining. It was also an admission of failure.
The president traveled to Iowa and bragged about all the promises he's broken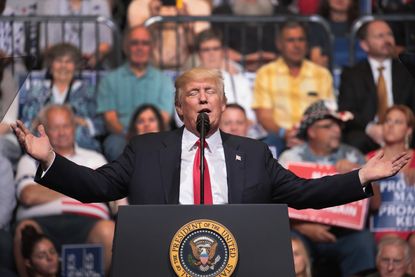 (Image credit: Scott Olson/Getty Images)
President Trump's speech in Iowa on Wednesday night was fantastic, in the way that an Eddie Money concert at a county fair in Kentucky is fantastic.
I don't just mean that it was a great excuse for drinking beer, though it was. There were no lame surprise attempts to play the bad new stuff: He stuck to the greatest hits, and the crowd loved it. Like somebody's mustached uncle reliving his misspent youth while raising a lighter to "Take Me Home Tonight," I had almost forgotten how much I loved listening to Trump's extemporized dithyrambs to "toughness" and "beautiful coal" and rooting against my own team when he berates the press.
I'm not sure I could be persuaded to venture a guess as to how many copies of Can't Hold Back Evan McMullin owns on vinyl. But I'm positive that the former CIA operative and House staffer and erstwhile standard bearer of Real Conservative Principles must have loved the speech too, albeit for very different reasons. If the fever dreams of Beltway consultants had come true, and McMuffin had somehow been elected by the House of Representatives late last year, he might be going around the country as I write this giving boring versions of the same speech.
Subscribe to The Week
Escape your echo chamber. Get the facts behind the news, plus analysis from multiple perspectives.
SUBSCRIBE & SAVE
Sign up for The Week's Free Newsletters
From our morning news briefing to a weekly Good News Newsletter, get the best of The Week delivered directly to your inbox.
From our morning news briefing to a weekly Good News Newsletter, get the best of The Week delivered directly to your inbox.
Put aside the hallmarks of Trump's delivery style (I almost fell out of my chair when he called Terry Branstad "a legend") and focus on the content. There was almost nothing in his remarks to suggest that he is not a conservative in the mold of Mitt Romney, just as there is nothing Trump has done in the first six months of his presidency that is unacceptable to ordinary yellow-tie-wearing, evangelical suburban GOP voters. They might wince at the style, but they did that with George W. Bush too.
It is difficult to imagine that Trump himself is proud of his first six months in office. A man whose campaign was pitched on solidarity with the working class picked a gazillionare Magritte collector to run the Department of Commerce and the former chairman of the foreclosure machine OneWest to head up the Treasury; he even had the cheek to suggest that the CEO of Carls Jr. should run the Department of Labor. Trump used to dump on Hillary Clinton for her ties to Goldman Sachs, but his Cabinet looks like one of their board meetings.
And now he is bragging about it. "'Why did you appoint a rich person to be in charge of the economy?'" he asked contemptuously, in that trademark second-person mode that reminds us that our president is a man who has a lot of one-sided conversations with himself. "In those particular positions, I just don't want a poor person. Does that make sense?"
Perversely, yes, Mr. President. But I wonder what GM retirees in Michigan or single mothers working three temp gigs to afford formula in Youngstown, Ohio, think. "Jobs are just about the best they've ever been," Trump said. I suppose he's right that unemployment is low(er), continuing a trend that began under President Obama, but so are wages and union membership. "We've created about four trillion dollars in wealth if you look at your stock values." Great news for the 80 percent of Americans who together own only 8 percent of all stocks. And there are also tax cuts on the way and a health-care bill that he gave the impression of knowing nothing about and we are going to stop wasting money in the Middle East by, err, bombing Syria some more. Is this what he ran on?
Indulge me for a minute in assuming that Trump actually believed at least 20 percent of what he was saying during the 2016 election. His pro-union, anti-free-trade rhetoric and contempt for libertarian absolutism on taxes and the welfare state were always going to founder in the murky waters of the Potomac. Anyone who thought he would have an easy time governing the way he campaigned was off his rocker: The GOP is too obtuse, the Democrats too cynical. Many of the unlikely Republican voters who put Trump in the White House are now so accustomed to misery and deprivation that they are willing to wait for him to deliver on things that actually matter. The question is for how long.
In Iowa we learned that he's already thrown in the towel.

Continue reading for free
We hope you're enjoying The Week's refreshingly open-minded journalism.
Subscribed to The Week? Register your account with the same email as your subscription.