Pregnancy is not a disease
Every birth is a miracle. Every child is made beautifully in the image of God. It's as simple as that.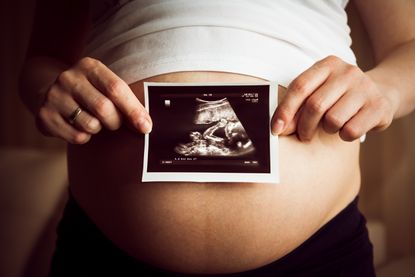 (Image credit: iStock)
Sign up to our 10 Things You Need to Know Today newsletter
A free daily digest of the biggest news stories of the day - and the best features from our website
Thank you for signing up to TheWeek. You will receive a verification email shortly.
There was a problem. Please refresh the page and try again.
About once a week, I have to dump a half gallon of cold water on my face and remind myself that in this country pregnancy is considered a disease.
Only seven years ago, this grotesque perspective was maintained by health insurance companies, who were free to deny coverage to expectant mothers or "women likely to become pregnant" (whatever that means) with impunity the way they would a heavy smoker. It's nice to know that the Republican paste-up job revision of the Affordable Care Act will probably not set us back in this regard.
Senate Majority Leader Mitch McConnell's unwillingness to participate in the legal fiction that what we call "health insurance" is, like flood or auto insurance, some kind of scheme that guarantees compensation in the event of a catastrophe rather than the only way millions of people are able to receive care, is most welcome. It even looks possible that women who would not have been eligible for treatment under Medicaid before the Obama-era expansion will be able to hold on to their coverage. Yay.
Subscribe to The Week
Escape your echo chamber. Get the facts behind the news, plus analysis from multiple perspectives.
SUBSCRIBE & SAVE
Sign up for The Week's Free Newsletters
From our morning news briefing to a weekly Good News Newsletter, get the best of The Week delivered directly to your inbox.
From our morning news briefing to a weekly Good News Newsletter, get the best of The Week delivered directly to your inbox.
But the necessary — I will not stoop to calling a step so blinkeringly obvious and morally necessary "humane" — revision of the law governing the provision of medical insurance has not changed the view of Americans on the right and the left, who see the miracle of birth as at best an unfortunate if not quite wholly unjustifiable expense and at worst an easily preventable illness.
You see this on the right whenever the subject of "single mothers" (which is nearly always code for "unmarried women of color living in urban areas") is raised. If only, these bowtied pundits argue, poor women could be prevented from reproducing somehow, we might spare ourselves the considerable cost of having to provide for their ill-fated offspring, who will only be more of a drag on the taxpayer's purse as their uniformly miserable lives continue. This was the argument of the loathsome authors of Freakonomics in their chapter about how Roe v. Wade lowered crime rates. It is strange to think that a book that makes David Duke look woke is not only a bestseller but a textbook for basic economics courses in high schools and colleges throughout this country, but there we are.
The left, despite its support for a generous welfare state, is even worse. For the emotional teenagers of the Democratic Socialists of America, abortion is a human right, comparable to, well, the right to live with access to food, water, housing, and medical care. Pregnancy, meanwhile, is a burden ostensibly imposed on women by patriarchy and, ultimately, capital, something our would-be socialists maintain despite the fact that corporations for two decades have wanted nothing more than a chemically infertile female workforce willing to work for low wages and blithely uninterested in maternity leave.
But, predictably, the most wicked voices chiming in on this question are those of the illusionless, non-ideological commonsense data-driven center. To the end of my days I will never forget it: one of the most loathsome comments made by a mainstream opinion columnist in my lifetime. "Attn: Chris Christie," The New York Times' Nick Kristof wrote casually on Twitter, as if it were the least controversial thing in the world. "One Planned Parenthood IUD costs $500. One Medicaid childbirth costs $14,000. You're not saving government money." Well then. Of course you're right, Nick, that if randy poors could just embrace the iron discipline of the pill or agree to have a device shoved between their unclosable legs we wouldn't have any more Medicaid births — are those different in some way from regular PPO BlueCross-type births, by the way?
Even the Congressional Budget Office goes in for this sort of nonsense. The first and last time I ever read a CBO report was a few months ago when I saw one breathlessly written up in The Washington Post under the headline: "CBO: Defunding Planned Parenthood will lead to thousands more births." Yes, when babies are not killed, they generally do live if they have access to medical care in the 21st-century developed world. Surely, I thought, these lame wonks can't be as bad as their interpreters. But they are. "To the extent that there would be reductions in access to care under the legislation, they would affect services that help women avert pregnancies."
Are pregnancies something one "averts," a kind of sinister aberration like a home invasion or a car accident? Isn't pregnancy the end toward which the sexual act is oriented, and isn't this a fact of nature as obvious as gravity? Is the phrase "additional births stemming from … reduced access" meant to make it sound as if poor people are not people but some kind of weed or fungus that needs to be kept from spreading across the clean lawns of America with regular applications of the right sort of sprays?
Every birth is a miracle. Every child is made beautifully in the image of God. It's as simple as that.