5 great movies about America
These films will teach you about America as it is, in all of its moral and historical complexity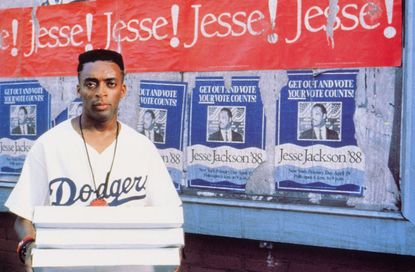 (Image credit: Pictorial Press Ltd / Alamy Stock Photo)
Sign up to our 10 Things You Need to Know Today newsletter
A free daily digest of the biggest news stories of the day - and the best features from our website
Thank you for signing up to TheWeek. You will receive a verification email shortly.
There was a problem. Please refresh the page and try again.
I love my country. But I want to love it truthfully, thoughtfully — for what it is, in all of its moral and historical complexity, not as a purified object of imagined perfection.
The best way to seek out this understanding is through reading history. But other forms of creative expression can be helpful, too. Fiction, poetry, theater, song — and of course the modern age's most viscerally powerful and technologically advanced form of creative expression: film.
Picking just a handful movies that shine a revealing light on the meaning and struggles of American life can be a challenge. But here are five that fit the bill. All are enduring works of art, and all would make excellent selections for inclusion at a Fourth of July film festival for thoughtful patriots.
Subscribe to The Week
Escape your echo chamber. Get the facts behind the news, plus analysis from multiple perspectives.
SUBSCRIBE & SAVE
Sign up for The Week's Free Newsletters
From our morning news briefing to a weekly Good News Newsletter, get the best of The Week delivered directly to your inbox.
From our morning news briefing to a weekly Good News Newsletter, get the best of The Week delivered directly to your inbox.
1. Born on the Fourth of July (1989)
Oliver Stone doesn't do subtlety, and this is very much an Oliver Stone film. But it's also his best work — the movie in which his technical skills, trademark bluntness, and anti-establishment vitriol are most effectively deployed, producing an emotionally wrenching, tightly scripted epic about the Vietnam War and its effects on a man and a nation. Unlike Stone's first Vietnam film, the overly didactic Platoon (1986), Born takes place mostly stateside, with the battle scenes adding up to barely 20 minutes of screen time.
We see the young Ron Kovic (Tom Cruise, in the strongest performance of his career) growing up on Long Island, volunteering for the Marines in part to prove his manhood, and then returning home after a spinal cord injury has left him paralyzed from the mid-chest down. Like an amped-up, post-therapeutic-revolution reboot of the classic 1946 film The Best Years of Our Lives, the movie examines Kovic's searing efforts to come to terms with the physical and emotional traumas of war (very much including their effects on his patriotism and sense of his own masculinity), all the while the country's Cold War consensus unravels around him, dissolving into bitter arguments and violent protests. When Kovic finally reaches rock bottom, he speaks in some ways for every American who lived through those scalding times, asking rhetorically, "Do you remember things that made sense, before we all got so lost?" By the movie's final moments, Kovic has found renewed resolution as an anti-war activist, and Jimmy Carter is on the verge of receiving the Democratic Party's nomination for president. That's Oliver Stone's idea of a happy ending.
2. The Deer Hunter (1978)
There's no happy ending to The Deer Hunter, which gives what might be anachronistically described as the Trump voter's perspective on the Vietnam War. Three Russian-American steel workers from a small community in western Pennsylvania (played by Robert De Niro, John Savage, and Christopher Walken) work and drink together with a larger group of friends. One of them (Savage's character Steven) gets married. They celebrate at a reception captured in a long, chaotic scene. They go hunting and bicker with one another. Then the three friends depart for Vietnam, where they end up imprisoned together in a POW camp, forced by their Viet Cong captors to play Russian roulette for their lives. It was a wildly audacious, even reckless, metaphor for Cimino to employ — one that he pulls off, just barely, using it to convey with unforgettable, visceral power the war's senseless, sanity-shattering violence, which was at once thrust on the country by circumstance and self inflicted.
Like Born on the Fourth of July, much of The Deer Hunter deals with the devastating aftermath of the war. But whereas Born focuses on the country as a whole as seen through the lens of its central character's personal ordeals, Cimino's masterpiece uses a formidable ensemble (including Meryl Streep in one of her first roles, and John Cazale in his last before dying from lung cancer) to explore the agonizing effects of the war on one tightly knit community. That the film ends with the surviving friends singing "God Bless America" in their wounded mourning is a truly beautiful touch in a truly great American movie.
3. Do The Right Thing (1989)
Anyone who hopes to understand America needs to grapple seriously with race. And Spike Lee's Do The Right Thing may well be the greatest cinematic treatment of the subject — at least in an urban, post-civil-rights-movement setting. The film was released 28 years ago, but its subject and themes (mutual incomprehension and hatred across the racial divide; the violence that lurks just beneath that divide and threatens to erupt at any time; disputes within the black community about how best to respond to pervasive injustice) are as timely today as they were in the late 1980s. Perhaps even more so. Yes, in the intervening years the country voted twice for a black president. That's something. But when it comes to race in America, every something ends up succeeded by something else entirely. And so Barack Obama was followed by Donald Trump — and as we were reminded just two weeks ago, a white police officer who was filmed murdering a fully compliant black citizen at a routine traffic stop can still get off without serving a day in jail.
That's why Lee's film remains so vital. It tells the story of a single swelteringly hot day and evening in the heavily African American Brooklyn neighborhood of Bedford-Stuyvesant (rendered by the production designer in highly stylized form, using intense red and orange paint to underline the simmering heat). Italian-American Sal (Danny Aiello) owns a pizza shop where his two sons (played by John Turturro and Richard Edson) work, along with pizza delivery man Mookie (played by Lee himself). Over the course of the day, racial tensions flair on both sides, ultimately leaving a black character dead at the hands of the police and the pizza parlor destroyed by rioters from the neighborhood. It's a familiar and tragic American story, and one we seem doomed to repeat interminably. But it's told exceptionally well, and with real insight, in Do The Right Thing.
4. The New World (2005)
Mutual incomprehension also haunts Terrence Malick's The New World, a dream-like, hauntingly beautiful meditation on the earliest encounters between the Western European colonists who founded the Jamestown, Virginia settlement and the native populations they found there. Each is a "new world" to the other, and Malick delights in exploring the linguistic, conceptual, and spiritual chasms that separate them, as well as the possibility of achieving understanding. He does so primarily through the social and erotic encounters between Powhatan princess Pocahontas (Q'orianka Kilcher) and Captain John Smith (Colin Farrell), and then later through her negotiation of a romantic relationship with (and eventual marriage to) another settler, John Rolfe (Christian Bale).
Writing about Malick's intensely visual filmmaking is notoriously difficult, and that's especially true in the case of The New World, which exists in three different cuts, ranging in length from 135 to 172 minutes. Each highlights distinct dimensions of the story, but they all convey a wonder and mystery at deep, profound difference that is quite difficult to imagine in our age of overflowing information, all-pervasive technology, and instantaneous communication. Malick reminds us of a time, at the true founding of America, when human worlds were genuinely comprehensive and closed to one another, each containing its own distinctive norms, practices, and beliefs about everything from eating and drinking to sex, marriage, war, and worship of the gods. And yet, somehow, understanding between these closed and comprehensive worlds became possible. That is Malick's subject in The New World, and it is one that couldn't be more pertinent today, at a time when political disagreements so often seem to harden into tribal self-certainty.
5. The Godfather Part II (1974)
The Godfather saga, a story about America? I know I'm not the first to suggest as much, but it's also true that Francis Ford Coppola's tour de force gangster saga about the Corleone crime family is far more often treated as a straightforward movie about the mob and Italian-American culture. It is both of those, of course. But it is also, especially in the sprawling Part II, a story of American promise and corruption. The film is famously divided between the story of the struggles of Michael Corleone (Al Pacino) to lead his family during the late 1950s and extended flashbacks to the early life of his father, Vito (played as an adult by Robert De Niro). We see Vito's horrifying childhood experience of mob violence in Sicily, his arrival as an orphan in the United States (including moving scenes of the Statue of Liberty and quarantine at Ellis Island), and humble life raising a family in a tenement on the Lower East Side of Manhattan. When he finally embraces violence himself, Vito does so in order to defend his family against the extortions of a mobster prowling the streets of Little Italy, and then to avenge a horrible injustice against his parents and brother.
Decades later, his son Michael tries to follow Vito's example. But lacking roots in the Old World, he's much more of an individualist. The original Godfather ended with Michael taking the life on his own brother-in-law, leaving his sister a widow. In Part II, Michael goes much further in unleashing deadly violence against his own family. A mobster defines justice as helping friends and harming enemies. For an American mobster, anyone can be an enemy, even one's own brother, and no one at all is a reliable friend.
Continue reading for free
We hope you're enjoying The Week's refreshingly open-minded journalism.
Subscribed to The Week? Register your account with the same email as your subscription.
Sign up to our 10 Things You Need to Know Today newsletter
A free daily digest of the biggest news stories of the day - and the best features from our website
Damon Linker is a senior correspondent at TheWeek.com. He is also a former contributing editor at The New Republic and the author of The Theocons and The Religious Test.