Trump is destroying the idol of the presidency. That's a good thing.
It's okay to hate the president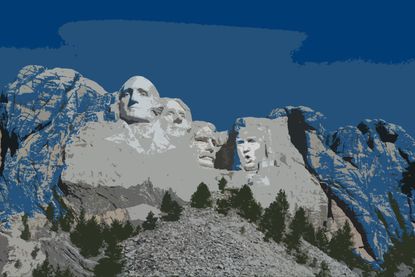 (Image credit: Illustration by Lauren Hansen | Images courtesy Ethan Miller/Getty Images, iStock)
Sign up to our 10 Things You Need to Know Today newsletter
A free daily digest of the biggest news stories of the day - and the best features from our website
Thank you for signing up to TheWeek. You will receive a verification email shortly.
There was a problem. Please refresh the page and try again.
President Trump is not doing a good job.
Every campaign promise that he has not explicitly abandoned he has shown himself too clumsy to deliver on regardless of his willingness. We bombed Syria. The auto industry is still in decline. ObamaCare is not going to be repealed any time soon. When you let yourself be outfoxed by Rand Paul, who has compared health care to "slavery," you have no business talking about your deal-making prowess.
And yet, in at least one sense, Trump's presidency has moved the country in a very positive direction: He is helping America smash the idol of the presidency.
Subscribe to The Week
Escape your echo chamber. Get the facts behind the news, plus analysis from multiple perspectives.
SUBSCRIBE & SAVE
Sign up for The Week's Free Newsletters
From our morning news briefing to a weekly Good News Newsletter, get the best of The Week delivered directly to your inbox.
From our morning news briefing to a weekly Good News Newsletter, get the best of The Week delivered directly to your inbox.
This is the best thing about Trump's presidency. He has woken millions of American — left, right, and tedious center — from their collective childlike slumber, in which sugar-plum fairies dance about the feet of Lincoln and tickle the cavernous noses of Mt. Rushmore before flitting off to tend the gardens of Monticello.
Donald Trump has helped us remember that it's okay to hate the president.
Even under George W. Bush and Barack Obama, for all the partisan hatred their tenures at 1600 Pennsylvania Ave. occasioned, the idol of the presidency was still widely given homage. "He's the president of this free country, young man!" is what my shrewish computer-science teacher said when I wore my homemade "Who the hell is George W. Bush?" T-shirt to school on my first day of high school. And Democrats caromed off one another in the rush to compose the most flatulent paeans to the high and noble office of the commander-in-chief after Rep. Joe Wilson (R-S.C.) lobbed an ill-considered insult at Obama during an address to Congress in 2009.
Millions of Americans hated Bush. Millions of others hated Obama. But they were often shamed for it. To hate the president was widely seen as just plain wrong.
Why do we invest so much emotional energy in the presidency? Why do we find this office worthy of unconditional reverence? Why do we insist on giving the president his due even if we think he is a liar or a cretin or a tyrant or even just boring? Why — most important — do we pretend that our opponents are being gauche when they insist on not sticking strictly to the letter of the hazily defined rubrics of public piety we were ourselves happy to ignore only a few years ago?
I am not, either by principle or temperament, much taken with the idea of elections and representative government. Asking ordinary people to care about the vain words and idle promises of politicians strikes me as coercive and cruel. Let them focus on God and their lives and families instead. It would be a far, far better world if we had a kindly senescent king or queen from a long line, whose main hobbies were stamp collecting or lepidoptery, presiding over a generous welfare state, cities full of mustachioed cyclists delivering milk, and a countryside dotted with beautiful churches and environmentally friendly ironworks.
But these are idle dreams.
Given that we have democratic self-government, it would seem to be obvious that the best thing about it is that we don't have to like or care about or even pay attention to — much less esteem — our head of state. This has been the most admirable thing about the Trump presidency — until yesterday.
President Trump was in Poland giving a speech about foreign policy. By his standards, it was on point and not wholly lacking in interest. But it was still just pretty standard Trump fare.
But to read the responses from conservative commentators, you would think that it was an occasion of Periclean grandeur. "Wow," said National Review's Rich Lowry, who found it "moving" and "beautiful," full of "robust language." (This is a guy whose magazine devoted an entire issue to why this man should never be president.) The Weekly Standard's Bill Kristol, who backed an unknown former House staffer and spook whose hapless campaign is still buried in debt rather than endorse the Republican nominee, called Trump's speech "eloquent." Ben Domenech, editor of The Federalist, suggested that Trump's speech "could've been given by [former Sen. Rick] Santorum," which, for all five of us who admire the Pennsylvania conservative and look back fondly on his anti-contraception, pro-manufacturing presidential platform, is high praise indeed.
I understand that opinions change when the facts do, but gushing like this in the face of so much alarm over Trump's every nod and gesture strikes me as the desperate attempt of people who know better trying to polish a golden calf.
Not feeling compelled to like the president is the best thing about America. Let's not forget it.
Continue reading for free
We hope you're enjoying The Week's refreshingly open-minded journalism.
Subscribed to The Week? Register your account with the same email as your subscription.
Sign up to our 10 Things You Need to Know Today newsletter
A free daily digest of the biggest news stories of the day - and the best features from our website
Matthew Walther is a national correspondent at The Week. His work has also appeared in First Things, The Spectator of London, The Catholic Herald, National Review, and other publications. He is currently writing a biography of the Rev. Montague Summers. He is also a Robert Novak Journalism Fellow.