Pity Ted Cruz
He's really not as bad as everyone says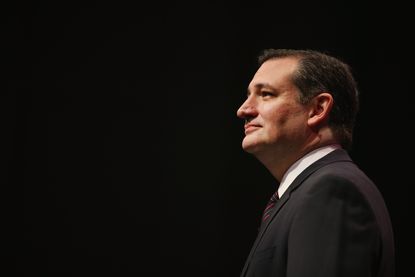 (Image credit: Scott Olson/Getty Images)
Sign up to our 10 Things You Need to Know Today newsletter
A free daily digest of the biggest news stories of the day - and the best features from our website
Thank you for signing up to TheWeek. You will receive a verification email shortly.
There was a problem. Please refresh the page and try again.
Can Ted Cruz catch a break?
No, no he cannot. Many Americans, Republicans and Democrats alike, would consider that a small measure of justice in our fallen world; few would lose much sleep over it, in any case.
The Texas senator is, after all, the sort of man who inspired an entire chapter in Al Franken's book about how loathsome Cruz supposedly is. And hating Cruz is hardly a partisan thing. Cruz's fellow Republican Sen. Lindsey Graham once joked, "If you killed Ted Cruz on the floor of the Senate, and the trial was in the Senate, nobody would convict you."
Subscribe to The Week
Escape your echo chamber. Get the facts behind the news, plus analysis from multiple perspectives.
SUBSCRIBE & SAVE
Sign up for The Week's Free Newsletters
From our morning news briefing to a weekly Good News Newsletter, get the best of The Week delivered directly to your inbox.
From our morning news briefing to a weekly Good News Newsletter, get the best of The Week delivered directly to your inbox.
It is true that Cruz has been a thorn in the side of his own party since Texans sent him to the Senate in 2012. But his guilt in that regard is not his alone; antagonizing Washington is, in a sense, what Texans elected Cruz to do.
Many political observers sneer that they disdain Cruz because he eventually and cynically endorsed Donald Trump, after notoriously making an honorable stand and refusing to do so at the Republican National Convention last July. Well, shoot. He seemed, at least, judiciously miserable about his decision to finally back Trump. And unlike most of the Republicans who thus sold their souls, he successfully convinced Trump to give him something in the deal. Cruz added ten names to Trump's list of potential Supreme Court picks, and secured his promise to pick only from the list; Neil Gorsuch was one of the jurists Cruz proposed.
All in all, Cruz is not nearly as bad as everyone says. To elaborate, since that's a low bar: He's smart. He's thoughtful. His "dad jokes" are pretty good. And contrary to the conventional Beltway wisdom, he doesn't just care about himself; there is some evidence that he cares about Texans, too — and look, someone has to.
And there's another thing: He might be crucial to Republican hopes of rescuing the party's attempt at health-care reform.
On Thursday, the Senate is planning to unveil a retooled version of the Better Care Reconciliation Act, the health-care bill Republican leaders awkwardly pulled down before the July 4 recess as it became clear that they would not be able to muster the votes necessary for its passage. Better Care 2.0 is, as of yet, a bit of a mystery; the bill is "a work in progress," allowed John Cornyn, the Senate majority whip, a few days ago. But it is likely to include some version of an amendment proposed by Cruz, which would allow insurers participating in the ObamaCare exchanges to offer some insurance plans that are not compliant with the provisions of the Affordable Care Act as long as they also offer at least one that is.
The path to passage is narrow, with at least seven of the 52 Republicans in the Senate having withheld support from the original version of the bill. The inclusion of Cruz's proposal would likely help Senate Majority Leader Mitch McConnell win over two of them, Cruz himself and Mike Lee, and possibly Ron Johnson and Rand Paul as well. Nor would it preclude McConnell from concurrently announcing revisions designed to address the concerns raised by the moderate holdouts — Susan Collins, Dean Heller, Shelley Moore Capito, and Lisa Murkowski — who have balked at Better Care's projected reductions in Medicaid spending.
In other words, Cruz's proposal might be the key for Republicans who still hope to pass a successful repeal-and-replace measure, as they have been vowing to do since the olden days when Russia was widely seen as a hostile foreign power, and Donald Trump as a joke. And when Cruz first floated the proposal, it was widely received quite well. "It might knock over the dominoes necessary for a deal," wrote Vox's Dylan Scott on June 29, "starting with regulations, moving to tax subsidies, and ending up with more cash for Medicaid and fewer tax cuts for the rich."
It's interesting — and too bad — that the tide of public opinion has turned so decisively against Cruz's efforts to broker a compromise. He spent the recess as he has spent a fair amount of the past year: with lots of people yelling at him. And he returned to Washington to find his proposal being described in rather harsher terms. According to Vox's Sarah Kliff, for example, Cruz's Consumer Choice Amendment "sets up a cruel reality for Americans who are sick and poor," by doing, well, precisely what it sets out to. By allowing healthy Americans to opt into cheaper plans, it "takes away another source of funding for sicker people: the premiums of healthy individual market enrollees."
A cynic might suspect that such criticisms are ideologically motivated. A journalist based in Texas might add that they are almost certainly imbued with suspicions specific to Cruz, who has been an unusually if not uniquely polarizing figure since his election to the Senate in the first place, nearly five years ago.
It's difficult, regardless, to fault Democrats for taking advantage of the political opening the GOP has given them here. Republicans control Congress, and the president has made it clear he expects them to repeal ObamaCare and replace it with something better. But no one seems able to agree on what "better" even means, the GOP's margins in both chambers are comparatively narrow, the president's credibility is crumbling, and widespread opposition to the Better Care act clearly has a number of Republican incumbents wavering. Already McConnell has conceded that he would be willing to working with Democrats to stabilize insurance markets, if nothing else ("no action is not an alternative"); on Tuesday, he delayed the August recess by two weeks to continue working on the bill.
Cruz's efforts to be involved in this year's debate over health-care reform raised some eyebrows at first, given that his opposition to the Affordable Care Act itself is well known. But his proposal is consistent with his criticism that the individual mandate, as conceived, creates a disproportionate burden on young workers — the ones whose premiums can be described, as Kliff did, as a "source of funding" flowing into the broader risk pool.
Don't look now, but Ted Cruz might just be able to salvage the GOP's health-care trainwreck. And that would be something worth applauding him for.
Continue reading for free
We hope you're enjoying The Week's refreshingly open-minded journalism.
Subscribed to The Week? Register your account with the same email as your subscription.
Sign up to our 10 Things You Need to Know Today newsletter
A free daily digest of the biggest news stories of the day - and the best features from our website