What happens if Trump fires Mueller?
Would giving Mueller the axe change anything? Or would congressional Republicans continue to look away?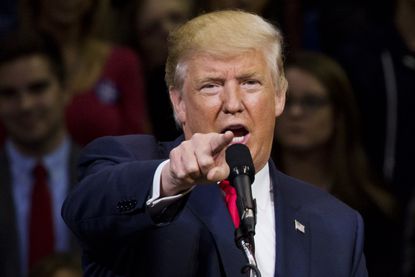 (Image credit: Getty Images)
Sign up to our 10 Things You Need to Know Today newsletter
A free daily digest of the biggest news stories of the day - and the best features from our website
Thank you for signing up to TheWeek. You will receive a verification email shortly.
There was a problem. Please refresh the page and try again.
President Trump has spent his tenure in office shattering norms of presidential conduct, and his disdain for legal restraints may be about to reach another level. The possibility that Trump will fire Special Counsel Robert Mueller is becoming very real, and there's no doubt that, at the very least, Trump is actively trying to undermine Mueller's investigation. The fact that an unprecedentedly corrupt president is interfering with a critical investigation into his own financial practices and his campaign's apparent collusion with Russia in the 2016 elections constitutes a major threat to the rule of law. But we should remember that the Constitution provides a remedy that could address Trump's lawlessness. The problem is that congressional Republicans are abdicating their oversight responsibilities for partisan reasons.
The threat that Trump might fire Muller is clear. In a remarkable interview with The New York Times last week, Trump said that "a special counsel should never have been appointed." More strikingly, he said that if Attorney General Jeff Sessions "was going to recuse himself, he should have told me before he took the job, and I would have picked somebody else." The belief that the attorney general owes personal loyalty to the president demonstrates the difference between a president who respects the rule of law and one who does not. And given that Trump has already fired FBI Director James Comey to obstruct the investigation into Russia's electoral interference, it's not a huge stretch to think that Mueller might be next.
And despite the (not actually true) cliché that "it's the coverup, not the crime," it's nearly certain that Trump is engaging in a coverup because he's guilty of serious wrongdoing. It's telling that Trump's most strenuous objections have come after Mueller's team started to look into Trump's financial transactions. There's a reason Trump violated longstanding norms by refusing to release his tax returns, and it's certainly not because he has nothing to hide.
Subscribe to The Week
Escape your echo chamber. Get the facts behind the news, plus analysis from multiple perspectives.
SUBSCRIBE & SAVE
Sign up for The Week's Free Newsletters
From our morning news briefing to a weekly Good News Newsletter, get the best of The Week delivered directly to your inbox.
From our morning news briefing to a weekly Good News Newsletter, get the best of The Week delivered directly to your inbox.
So we have a president who may well be guilty of serious offenses, and these offenses may have involved colluding with a foreign power's interference into an election. And yet, Trump can probably fire Mueller and get away with it, at least in the short term. How?
In some respects, America's Constitution might allow Trump to evade accountability. The American people saw enough problems with Trump to reject him at the ballot box, but the Electoral College installed the popular vote loser. And one prominent mechanism that can now allow Trump and his associates to evade punishment is also in the Constitution. While there's serious question about whether Trump can pardon himself, the president is right that he has an absolute power to pardon anyone, and he can pre-emptively pardon anyone who might be implicated in illegal activity on behalf of Trump himself.
But the Constitution does have one remedy: the impeachment power. Trump would be much less likely to fire Mueller if there was a credible threat to remove Trump from office. Nixon's decision to fire Special Prosecutor Archibald Cox helped create a bipartisan consensus that Nixon had committed impeachable offenses. When Nixon was told that support among Senate Republicans was collapsing, he pre-emptively resigned. If the Republican congressional leadership made it clear that firing Mueller was unacceptable, Trump might be dissuaded, and if he went ahead anyway he could potentially be held accountable at an impeachment trial.
But all indications remain that Republicans will do no such thing. After all, evidence of Trump's corruption was clear before the election, and his disregarding of norms and use of the office for his own material benefit has, if anything, exceeded the fears of his critics. And yet, congressional Republicans have been notably unwilling to exercise their oversight authority. There's an implicit deal: Getting Republican-nominated judicial and executive branch appointments confirmed and a Republican signature for legislation that a Republican Congress can pass means that Trump can be as corrupt as he wants.
Would firing Muller change anything? Almost certainly not. Republican members of Congress might ritually express that they're "troubled" or "concerned," but they will almost certainly then do nothing while Trump continues to undermine the rule of law.
Assuming Trump fires Mueller, and Republicans continue to look away, can anything be done? Maybe. Mueller is almost certainly documenting his findings, and will have information to provide if called to testify by the current or future Congress. It's also possible that state attorneys general, most notably New York's Eric Schneiderman, could continue investigations into Trump's finances if he does fire Mueller.
Still, not one of these alternatives is fully satisfactory. The rule of law is under threat because Republicans are putting their extremely unpopular policy agenda ahead of the interests of the country. Ultimately, the remedy for Trump's misconduct might have to come from the ballot box.
Continue reading for free
We hope you're enjoying The Week's refreshingly open-minded journalism.
Subscribed to The Week? Register your account with the same email as your subscription.
Sign up to our 10 Things You Need to Know Today newsletter
A free daily digest of the biggest news stories of the day - and the best features from our website
Scott Lemieux is a professor of political science at the College of Saint Rose in Albany, N.Y., with a focus on the Supreme Court and constitutional law. He is a frequent contributor to the American Prospect and blogs for Lawyers, Guns and Money.