I despise Jeff Sessions. Trump still shouldn't fire him over Russia.
Jeff Sessions is pretty close to the worst. And yet, I find myself feeling genuinely sorry for him.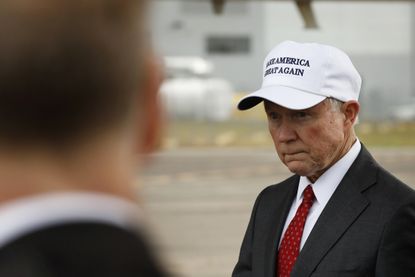 (Image credit: REUTERS/Lucas Jackson)
Sign up to our 10 Things You Need to Know Today newsletter
A free daily digest of the biggest news stories of the day - and the best features from our website
Thank you for signing up to TheWeek. You will receive a verification email shortly.
There was a problem. Please refresh the page and try again.
Sympathy for Jeff Sessions is not an emotion I ever expected to feel.
After all, the attorney general went from being a uniquely terrible politician — distinguished for such ignoble achievements as losing an appointment to a federal judgeship following accusations of racist comments in the workplace, generally opposing both legal immigration and basic civil liberties at every possible turn, and constantly supporting legislation based on long-debunked drug war mythology — to a uniquely terrible Cabinet member.
In the less than half a calendar year he's been attorney general, Sessions has essentially re-ignited the war on drugs by asking congressional leaders for their blessing to allow him to crack down on states with legalized medicinal marijuana. Sessions has also done away with an Obama-era Justice Department memo ordering prosecutors to use discretion in drug cases and avoid reflexively over-charging defendants so as to trigger mandatory minimums.
Subscribe to The Week
Escape your echo chamber. Get the facts behind the news, plus analysis from multiple perspectives.
SUBSCRIBE & SAVE
Sign up for The Week's Free Newsletters
From our morning news briefing to a weekly Good News Newsletter, get the best of The Week delivered directly to your inbox.
From our morning news briefing to a weekly Good News Newsletter, get the best of The Week delivered directly to your inbox.
Perhaps to drive home the point that Sessions is an authority-worshipping prohibitionist who lives in the past, he has proposed reviving the anti-drug education program D.A.R.E., a relic of Nancy Reagan's 1980s "Just Say No" propaganda, which proved about as effective as a placebo in keeping kids off drugs.
The attorney general has also ordered a review of all consent decrees entered into by local law enforcement agencies and the federal government. It is crucial to note here that a consent decree is no small matter. It generally takes years of demonstrable abuse by local police and insufficient oversight for a department to run afoul of the feds. But to Sessions, such agreements ordering law enforcement to comply with the laws they are trusted with enforcing are just "War on Cops" tactics, leaving our police besieged by pointy-headed bureaucrats and our citizens vulnerable to hordes of bad people such as marijuana smokers and the "filth" of undocumented immigrants. Sessions places such faith in his own worldview that he dismissed a DOJ report on civil rights abuses in Ferguson without even reading it.
Sessions recently even infuriated members of his own party by doubling down on his long-standing support for armed robbery-by-government (a.k.a. civil asset forfeiture). In reviving the Orwellianly named Equitable Sharing Program, Sessions has brought back the practice of local and state law enforcement agencies seizing the property of people they suspect of having committed a crime, which they then hand over to the federal government, which kicks back 80 percent of the value of the seized assets to the local authorities. No due process required, no presumption of innocence granted. The mafia couldn't have conceived of a more efficient racket to prey on the weak. So vile is this Sessions-directed initiative that no less a law and order Trumpist than Rep. Darrell Issa (R-Calif.) condemned it, saying, "This is a troubling decision for the due-process protections afforded to us under the Fourth Amendment as well as the growing consensus we've seen nationwide on this issue."
So yeah, Jeff Sessions is pretty close to the worst.
And yet — because his boss is such an unstable, unethical, ignorant, thin-skinned thug — I find myself feeling genuinely sorry for Sessions, a vicious man living in his own fevered imagination of "American carnage" with a profoundly frightening amount of authority.
I know I shouldn't be shocked by anything anymore — I mean, the Chicago Cubs won the World Series and Donald Trump is president, after all — but when a national crisis of law and order reveals Jeff Sessions to be unequivocally the good guy, one is reminded of the pessimistic maxim that it literally can always get worse.
In the past few weeks, President Trump has hung Sessions out to dry, telling the New York Times in an interview that he would have never appointed Sessions if he knew his attorney general would recuse himself from any investigation into alleged collusion between members of Trump's campaign team and the Russian government.
As a campaign surrogate — and one who was found to have omitted contact with the Russians during his Senate confirmation hearing — Sessions recusing himself from the investigation was the obvious, reasonable, and responsible decision to avoid the perception of conflicts of interest and to preserve the integrity of both the investigation and the Justice Department. By maintaining this basic ethical norm, Sessions has earned the ire of the most powerful man in the world, so much so that the elderly insomniac in the White House tweeted this at 6:12 a.m. yesterday:
Trump went on to slag Sessions in a Wall Street Journal interview and in a White House press conference.
Call me old-fashioned, but shouldn't Trump just fire Sessions quietly and not blare over social media that he would like the Justice Department to engage in politically motivated investigations of vanquished rivals and "leakers"? The attorney general serves at the pleasure of the president, and with the recent resignation of Sean Spicer and reports of Secretary of State Rex Tillerson seriously considering jumping ship, now would be as good a week to clean house as any.
Sessions was the first U.S. senator to endorse Trump and the only senator to do so until Trump had essentially locked up the 2016 Republican nomination. Surely he's earned more loyalty than to have the president publicly expressing regret at having appointed him to the job, much less to leave him twisting in the wind for more than a week of daily reports that his days as attorney general are numbered. Then again, "It's not like a great loyal thing about the endorsement," Trump said in an interview with the Journal.
A chief executive publicly savaging his own attorney general would be an eye-popping irregularity at any point in American history, but the circumstances under which Trump is apparently trying to badger his own "top cop" into quitting are extraordinary. If Trump's objective, as some have speculated, is to enable Sessions' resignation and replace him with an AG who will subsequently fire Justice Department Special Counsel Robert Mueller — and thus potentially end what the president has called a "witch hunt" against him over his campaign's dealings with Russia — he's certainly telegraphing his punches.
I'm no adherent to the "cult of the presidency." You won't find me lamenting the loss of the dignity of the office. But I am a human being, as is Jeff Sessions, who in his short time in power has created policies which literally destroy the lives of innocent Americans. Yet with his flagrant disregard for the rule of law and his basic accountability, President Trump has actually made me feel bad for Sessions. At least a little.
Continue reading for free
We hope you're enjoying The Week's refreshingly open-minded journalism.
Subscribed to The Week? Register your account with the same email as your subscription.
Sign up to our 10 Things You Need to Know Today newsletter
A free daily digest of the biggest news stories of the day - and the best features from our website
Anthony L. Fisher is a journalist and filmmaker in New York with work also appearing at Vox, The Daily Beast, Reason, New York Daily News, Huffington Post, Newsweek, CNN, Fox News Channel, Sundance Channel, and Comedy Central. He also wrote and directed the feature film Sidewalk Traffic, available on major VOD platforms.