It's alive: Inside Mitch McConnell's fiendish plot to zap a new health-care bill to life
The Republicans are now in full Doctor Frankenstein mode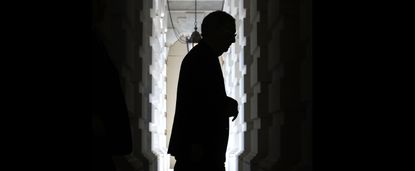 (Image credit: Mark Wilson/Getty Images))
Sign up to our 10 Things You Need to Know Today newsletter
A free daily digest of the biggest news stories of the day - and the best features from our website
Thank you for signing up to TheWeek. You will receive a verification email shortly.
There was a problem. Please refresh the page and try again.
Quick: What's in the latest Republican health-care bill?
If you don't know the answer, you're not alone.
The Senate voted Tuesday to move forward with the TrumpCare bill that passed the House, but no one expected it to be the final product. It's simply a placeholder. Instead, Republicans gave themselves 20 legislative hours (as opposed to actual hours) to debate health care on the Senate floor. First, on Tuesday, they tried to pass the Senate's previous version of TrumpCare. They failed. Then on Wednesday, they tried a straightforward ObamaCare repeal with no replacement. That blew up, too. Once they've burned through the remaining hours, a free-for-all begins where senators will propose amendments that must be passed with 51 votes — up to and including replacing the entire contents of the bill.
Subscribe to The Week
Escape your echo chamber. Get the facts behind the news, plus analysis from multiple perspectives.
SUBSCRIBE & SAVE
Sign up for The Week's Free Newsletters
From our morning news briefing to a weekly Good News Newsletter, get the best of The Week delivered directly to your inbox.
From our morning news briefing to a weekly Good News Newsletter, get the best of The Week delivered directly to your inbox.
Eventually, McConnell will decide enough is enough, and call for a final vote on whatever jury-rigged bill results from this madcap process. They'll only need 50 votes to pass it because Vice President Mike Pence can supply the tie-breaking 51st vote.
Essentially, McConnell has launched a desperate legislative mad lib. He and the other Republicans are just going to jam lots of different health-care policy ideas together, trying to come up with something, anything, that can pass.
Can McConnell pull it off? Anything's possible. But there are a number of reasons to think it's doomed.
The biggest problem is that every approach the Republicans have tried so far has been reviled by the public. Americans hated the pre-ObamaCare status quo, so simply repealing Obama's signature achievement without a replacement was never a viable option politically. Moreover, all the things Americans dislike about ObamaCare itself — higher premiums, higher deductibles, skimpier plans — are the things that Republicans' preferences for less regulation and lower spending would make worse.
So the party's moderate and hardcore conservative wings are having a devil of a time even agreeing to a general approach to replacing ObamaCare. And that problem lands with greatest force in the Senate, where the Republicans can afford to lose all of two votes from their own ranks.
This is truer now than ever. By pushing the bill through to a debate, McConnell didn't resolve the central contradiction in his party. He's just managed to delay the final moment of truth for a few more days. He's relying on the drama of a limited time window, the peer pressure to pass anything the GOP can sell as "repealing ObamaCare," and the hope that throwing everything at the wall to see what sticks could yield a last-minute breakthrough.
But if anything, McConnell's situation is worse than it was before Monday.
To avoid dealing with any Democrats, the Republicans are relying on a procedural gambit called reconciliation. It allows them to skip the filibuster in the Senate, which is why they can pass this bill and its amendments through the chamber with a simple 51-vote majority.
The catch is that the whole package must limit itself to substantive changes to fiscal policy. But many of the right-wing objections to ObamaCare rest on its regulations as much as its taxing and spending. And both the version of TrumpCare that passed the House and the one the Senate was considering relied on regulatory changes to keep hard-line conservatives happy.
Until recently, the Senate parliamentarian, Elizabeth MacDonough, hadn't ruled on which parts of these bills could pass muster under reconciliation. But in the last few days she began handing down decisions, nixing things like defunding Planned Parenthood and the deregulation of premiums based on age.
These are potential death blows to McConnell's ability to keep the conservative ideologues in his party in line. The attempt on Tuesday to pass the Senate version of TrumpCare fell apart because MacDonough's rulings forced Republicans to seek 60 votes for it. As soon as it was apparent that no single GOP senator could be blamed for killing the bill, the number of Republican dissenters increased: The bill failed 43 to 57, with a staggering nine Republicans in opposition. Then Wednesday's effort to pass a "clean" ObamaCare repeal with no replacement died with seven Republican deserters.
And MacDonough still hasn't even ruled on some of the most politically critical aspects of the bills.
Ultimately, McConnell will probably settle for what's being called the "lowest common denominator" or "skinny repeal" bill: Scrap the tax penalty that enforces ObamaCare's individual mandate, slash its taxes, and then cut however much spending they must to avoid increasing the deficit. (Another limit imposed by reconciliation.) This too would be a placeholder, to be eventually replaced by whatever the Senate can negotiate wth the House. But we already know what sort of bill the House GOP was able to coalesce around, and it wasn't this one. Even if they did settle for it, such a bill would destroy the insurance markets: Fifteen million Americans would lose their coverage just from eliminating the mandate, and premiums for individual insurance plans could jump by 20 percent.
Whatever you may think of ObamaCare's merits, Democrats clearly cared about the policy substance. In the run up to passing it, the party, their think tanks, and their supporters spent years pouring over the details of health policy, coming to grips with the mechanics and the tradeoffs. Actually writing the legislation took a year and went through countless public hearings and debates. Even before this week's votes, the Republicans' replacement bills were jokes, thrown together in mere months with little or no debate or hearings at all.
It's been clear for a long time that the Republican effort to overturn ObamaCare has had far more to do with ideology and tribalism than any substantive ideas for a better health-care system. More than anything, the project was motivated by hatred of taxes on the wealthy, a contempt for government aid to the poor, and an abstract small-government ideology that Republicans themselves rarely seem to know how to translate into actual policy.
This latest turn simply does away with all remaining pretext: The Republicans are in full Dr. Frankenstein mode, stitching together whatever policy body parts they can get their hands on. It would all be pathetic and laughable were it not for the terrifying possibility that the resulting monster could actually be zapped to life.
Continue reading for free
We hope you're enjoying The Week's refreshingly open-minded journalism.
Subscribed to The Week? Register your account with the same email as your subscription.
Sign up to our 10 Things You Need to Know Today newsletter
A free daily digest of the biggest news stories of the day - and the best features from our website
Jeff Spross was the economics and business correspondent at TheWeek.com. He was previously a reporter at ThinkProgress.