The Russia investigation will probably not end well
Don't expect a Kumbaya moment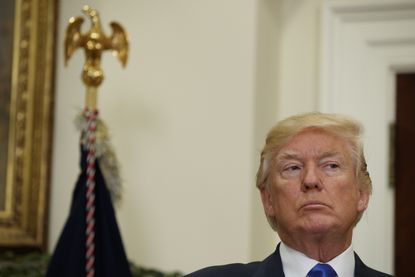 (Image credit: AP Photo/Evan Vucci)
President Trump is vexed and annoyed, irritated and infuriated, miffed and maddened by the ongoing investigation into his campaign's potential collusion with Russia. It's all fake news, a witch hunt, a made-up deal, or as he told a crowd of supporters in West Virginia on Thursday, it's "a total fabrication," this "totally made-up Russia story." And yet, Special Counsel Robert Mueller continues to investigate, almost as though he doesn't care what the president tweets or says at a rally. The nerve!
But one day, that investigation will come to a close. What happens when it does? Well then we could be in for some real trouble.
Let's start by considering where the investigation is so far. Mueller has impaneled a grand jury in Washington, which is issuing subpoenas for documents and testimony from a variety of Trump associates, not only about matters directly related to campaign collusion. As part of his broad mandate, Mueller can investigate any potentially criminal action he encounters in the course of his probe, which means that in addition to Russia, he'll almost certainly be looking at Trump's finances.
Subscribe to The Week
Escape your echo chamber. Get the facts behind the news, plus analysis from multiple perspectives.
SUBSCRIBE & SAVE
Sign up for The Week's Free Newsletters
From our morning news briefing to a weekly Good News Newsletter, get the best of The Week delivered directly to your inbox.
From our morning news briefing to a weekly Good News Newsletter, get the best of The Week delivered directly to your inbox.
And there is so, so much there to look at. While Trump regularly says that he has no investments in Russia, Russia certainly has investments in him — at least a rotating cast of oligarchs and mobsters do. As Craig Unger recently reported:
Trump could have been blissfully unaware of all that. But Mueller and his team of prosecutors will be scrutinizing all those arrangements carefully, and doing so will probably require a look at the tax returns Trump has been so emphatic about keeping from public view. Even if they aren't released to the public, chances are there are some tidbits within them that will send investigators in even more interesting directions.
That's not to mention the fact that there may be Trump associates who cooperate in order to avoid their own legal jeopardy. Michael Flynn is a possibility, but my money's on Paul Manafort, who could emerge as the nexus of this entire scandal. Manafort worked as chair of the Trump campaign, and we already know that his firm received $17 million in fees from a Ukrainian political party with strong ties to the Kremlin — but maybe that's just a coincidence.
It could also be a coincidence that, as CNN reported this week, the FBI "turned up intercepted communications appearing to show efforts by Russian operatives to coordinate with Trump associates on damaging Hillary Clinton's election prospects, officials said. CNN has learned those communications included references to campaign chairman Paul Manafort." Perhaps they were just expressing their admiration from afar.
The point is that so far we've barely scratched the surface of what could potentially be found, both about cooperation between the Trump campaign and Russia, and about the magical wonderland that is Donald Trump's finances.
Even though it may take months if not years, eventually Mueller's investigation will conclude, possibly with indictments and almost certainly with a report detailing misdeeds. If there are indictments — or even a move toward impeachment — it's safe to say that President Trump's most avid supporters will lose their everloving minds.
Let's just say that as a group, Trump's strongest supporters haven't exactly shown themselves to be models of calm deliberation and equanimity. If it looks like they might indeed have their glorious hero taken from them, they will react fiercely to defend him.
Right now they're getting their information from the president himself and from Fox News and talk radio, where they're told over and over again that this is all phony, and it's just an effort by Democrats to undo the results of the 2016 election. In other words, the message they're getting isn't just that Mueller's investigation won't find anything incriminating, but that it is inherently illegitimate. Despite the fact that Mueller is a Republican who commands almost universal respect in Washington as a serious, sober, committed public servant, Trump's fans have been primed to view him as a hack who's out to destroy their guy. Doesn't he represent the essence of that sinister "establishment" they've been taught to hate? If Mueller submits a damning report, they aren't going say, "Gee, this is some pretty awful stuff." They're going to decide that it's all a bunch of nefarious lies.
And at that moment, Sean Hannity and Rush Limbaugh and the rest of their ilk — who even in the calmest of times use outrage as the foundation of their programs — would whip Trump supporters into a frenzy, encouraging them to become as angry as possible.
There's no way to know how far the reaction will go. But don't think it wouldn't be ugly.

Continue reading for free
We hope you're enjoying The Week's refreshingly open-minded journalism.
Subscribed to The Week? Register your account with the same email as your subscription.