Trump's narcissism is poisoning America
The president's emotional void imperils the country's fragile bonds of community and fellowship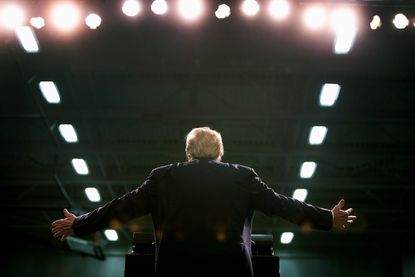 (Image credit: Getty Images)
Seven full months into his presidency, President Trump has been historically, possibly uniquely dreadful at stewarding legislation through a friendly Congress. Having failed to sign a single significant bill since his inauguration, having alienated his own congressional allies to the point that they aren't speaking to him, and having blown through his honeymoon-period political capital like he's on tilt at a poker table, the president might be the most politically isolated chief executive since Andrew Johnson.
But there is something that President Trump is actually worse at than governing.
Unlike in many other democratic countries, the U.S. president is both the executor of the laws and the public face of his or her political party as well as the ceremonial leader of all the people. In the U.K., that last job is delegated to the queen, and in Germany, to a president with largely symbolic powers who plays the role of nonpartisan unifier. In the United States, the president must govern, often in ways that press partisan advantages, but also know when to put politics and personal grievance aside for the greater good. From throwing out the first pitch at a baseball game to rallying hopeless citizens in the aftermath of disaster, one of the president's most critical tasks is mustering eloquence and public spirit in the service of shared ideals.
Subscribe to The Week
Escape your echo chamber. Get the facts behind the news, plus analysis from multiple perspectives.
SUBSCRIBE & SAVE
Sign up for The Week's Free Newsletters
From our morning news briefing to a weekly Good News Newsletter, get the best of The Week delivered directly to your inbox.
From our morning news briefing to a weekly Good News Newsletter, get the best of The Week delivered directly to your inbox.
When the country suffers a calamity or a tragedy, the president must work carefully both to convey a sense of the situation's gravity as well as to express optimism and hope for those who need it in their most desperate moments. The three presidents who preceded Trump were all particularly gifted at this kind of expressive leadership. Not everyone thought it was genuine, but Bill Clinton was so able to emote on cue that "feeling the nation's pain" became a kind of shorthand for his outsized empathy and emotional capacity.
George W. Bush, despite his missteps during Hurricane Katrina, capably represented the nation's pain and resolve after 9/11 and in the aftermath of tragedies like the Virginia Tech massacre. "And on this terrible day of mourning, it's hard to imagine that a time will come when life at Virginia Tech will return to normal," Bush said after the shooting. "But such a day will come." He most certainly did not follow these remarks with some errant grenade-throwing at The New York Times or Democrats. And Barack Obama gave a long series of wearied and emotional speeches in the aftermath of the seemingly endless succession of mass casualty shootings during his presidency, a task that clearly took a toll on him over the course of his eight years in office.
The best way to be competent at the presidency's ceremonial functions is to not be a pathological narcissist. The kind of emotional intelligence required to respond to a national crisis is something that many functioning adults possess almost instinctively. It's how you instantly mobilize to help a family member in need, or how you surround the sick or the grieving with love, run their errands and cook their meals. Most people know, without being told, not to respond to crisis by starting fights, reopening old wounds, or making someone else's tragedy about them.
President Trump is not most people. He is a narcissist. He's the kind of person who starts wailing inconsolably when your mom dies. He's the sort of friend who descends into self-pitying coldness when you get a promotion. These kinds of poisonous people suck up all of the emotional energy in the room by turning everything into a maelstrom of selfishness and performance and rage. Everyone is, by happenstance or poor decision-making, stuck with a handful of people like this in their lives, but over time we find ways to minimize their presence, and to distance ourselves from their worst outbursts.
President Trump's leadership during the Hurricane Harvey nightmare is a microcosm of everything he is incapable of as a human being: sustained empathy, determined focus, and the ability to put aside one's short-term needs and desires for the sake of people who need help. He put the dark abyss of his soul on display for everyone to see.
It wasn't just his revolting "What a turnout, what a crowd" moment when he visited Texas. It was conducting his Oceania-Eurasia war with the media while people were still fleeing disaster and trying not to drown. It was using the hurricane to execute his inexcusable pardon of the unapologetic sadist Joe Arpaio and then claiming he had done it to increase the "ratings." Amazingly, this pampered billionaire who failed up into the world's most prestigious and coveted job spent his time feeling sorry for himself rather than caring for the vulnerable citizens who are his responsibility.
It's not just that he couldn't muster the right tone when he was in front of the cameras — White House reporters noted that, even in private, the president expressed no sympathy for the suffering. And while this provided ample fodder for sarcastic Twitter takedowns, the president's persistent emotional void imperils the fragile bonds of community and fellowship that are the only things holding this country together.
These are not political failings, things which President Trump possesses in almost biblical abundance. They are, instead, the pathologies of a deeply broken man, a person so devoid of feeling for his fellow humans that he reliably has exactly the wrong reaction to every single event that captures the public's attention. And while such people are, in some cases, deserving of a certain kind of sympathy, they have no business being in charge of the world's most critical symbolic job.
They are toxic. And we are stuck with one of these hapless egomaniacs as our president.

Continue reading for free
We hope you're enjoying The Week's refreshingly open-minded journalism.
Subscribed to The Week? Register your account with the same email as your subscription.