Trump's 'deals' are going to kill us all
Just what kind of negotiation does the president think he's pursuing with North Korea?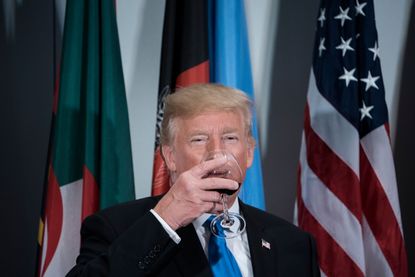 (Image credit: BRENDAN SMIALOWSKI/AFP/Getty Images)
A quarter-century ago, a certain New York real estate investor took an interest in negotiations between the United States and the Soviet Union over nuclear weapons. Apparently he believed that if he got in a room with the Russians, he could end the Cold War with his awe-inspiring negotiating skills. As Bruce Blair reported last year, upon meeting one of the diplomats negotiating the Strategic Arms Reduction Treaty, Donald Trump told the gentleman, Richard Burt, that he knew just how to cut a "terrific" deal with the Soviets. "Trump told Burt to arrive late to the next negotiating session, walk into the room where his fuming counterpart sits waiting impatiently, remain standing and looking down at him, stick his finger into his chest, and say 'F--k you!'"
On Tuesday, President Trump brought that unique nuclear negotiating acumen to the United Nations for his first address to the General Assembly. It wasn't much better.
By now you may have heard about Trump's bellicose speech, in which he said, "The United States has great strength and patience, but if it is forced to defend itself or its allies, we will have no choice but to totally destroy North Korea. Rocket Man is on a suicide mission for himself." I suspect that Kim Jong Un probably thinks "Rocket Man" is a cool nickname, but Trump's promise to kill the North Korean leader and his 25 million citizens is not exactly a subtle piece of diplomacy.
Subscribe to The Week
Escape your echo chamber. Get the facts behind the news, plus analysis from multiple perspectives.
SUBSCRIBE & SAVE
Sign up for The Week's Free Newsletters
From our morning news briefing to a weekly Good News Newsletter, get the best of The Week delivered directly to your inbox.
From our morning news briefing to a weekly Good News Newsletter, get the best of The Week delivered directly to your inbox.
Nevertheless, something tells me that as Trump walked off the stage, he said to himself, "Nailed it!"
Among the many reasons that Trump can't understand international diplomacy, few are more important than the way he thinks of everything in terms of "deals." Not just deals in general, as in agreements people arrive at with each other in order to further their separate or mutual interests — that would be fine. It's Trump's particular understanding of the deal as a zero-sum contest in which one person gets the better of the other that's the problem.
It has become obvious that Trump can't think of deals any other way. And he always starts with the assumption that in every deal that happened before he came along, the United States got screwed — yet he doesn't bother to figure out whether that's actually true.
For instance, you've surely heard Trump complain about NAFTA, which he has threatened to pull out of. But have you ever heard him say what specifically about NAFTA he thinks is bad? What provision he'd like to revisit, what change he'd like to make to the agreement? You haven't. All he says is that we got hosed, Mexico took all our jobs, and we need to scrap the whole thing.
The same is true of the Trans-Pacific Partnership, which Trump pulled out of. It isn't that there aren't valid criticisms to be made of these agreements, because there are. It's that Trump seems to have no idea what they might be.
That's also true of the Paris climate accord, and the Iran nuclear deal, which Trump never fails to refer to as the worst deal in history. That came up as well in New York, when Trump said, "The Iran deal was one of the worst and most one-sided transactions the United States has ever entered into. Frankly, that deal was an embarrassment to the United States, and I don't think you've heard the last of it, believe me."
Those following the Iran agreement will tell you that in reality, the Iranians are upholding their end of the bargain and are not pursuing nuclear weapons. So what's Trump's problem with it? The only thing he'll offer in support of the idea that it was so terrible is misleading statements about all the money we supposedly "gave" Iran, for nothing in return. In fact, the funds in question belonged to Iran; they had been frozen in Western banks, and as part of the agreement they were unfrozen. And what we got was a halt to Iran's nuclear program, which was the whole point of the agreement. Most importantly, the agreement is working. We're getting what we want out of it. But Trump fumes every time it's brought up; maybe it has something to do with the fact that it was the Obama administration that negotiated it.
So he threatens over and over to pull out, on the assumption that if he does so, some deal more advantageous to the United States might be negotiated — the same thing he says about Paris. There are some situations in which that might be an effective negotiating tactic — like when you have something the other side desperately wants. But that's not the situation with this nuclear deal, where it took months of painstaking negotiations between Iran, the U.S., Russia, China, Great Britain, France, and the European Union to achieve the agreement they did. If it collapses, there will be no renegotiation. That's even less likely on the Paris accord, which nearly every country on Earth agreed to.
It's also unclear just what kind of negotiation he thinks he's pursuing with North Korea. Is he making it more likely they'll want to sit down at the table and sign an agreement that includes giving up their nuclear weapons? No. In fact, he's making it much less likely. Kim Jong Un has no doubt concluded that his nuclear weapons are the only thing keeping the United States from bombing his country to dust.
Meanwhile, Trump hasn't convinced China to give back all our jobs (remember when he was going to do that?), hasn't negotiated any great new trade deals, and America's image in the world has taken a nose-dive (everywhere but Russia; go figure). What countries are going to trust Trump enough to make a deal with him? On anything?
We'll find out over the next three years. But the way things are looking, the president who constantly touts his dealmaking prowess is going to wind up with few deals to his name, because he turned out to understand nothing about how dealmaking in the political world works.

Continue reading for free
We hope you're enjoying The Week's refreshingly open-minded journalism.
Subscribed to The Week? Register your account with the same email as your subscription.
Sign up to our 10 Things You Need to Know Today newsletter
A free daily digest of the biggest news stories of the day - and the best features from our website
Paul Waldman is a senior writer with The American Prospect magazine and a blogger for The Washington Post. His writing has appeared in dozens of newspapers, magazines, and web sites, and he is the author or co-author of four books on media and politics.