The echoes of Jim Crow in Trump's invective against black athletes
It's something out of the 1920s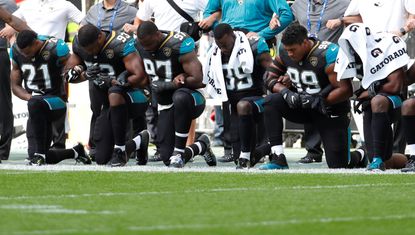 (Image credit: Action Images via Reuters/Paul Childs)
As a devastated Puerto Rico remained almost entirely without cell phone, water, or electricity service this weekend, President Trump continued his feud with black athletes who choose to kneel quietly during the national anthem before a game. Clearly referring to unemployed quarterback Colin Kaepernick, Trump said: "Wouldn't you love to see one of these NFL owners, when somebody disrespects our flag, to say, 'Get that son of a bitch off the field right now?'" He later started another feud with Steph Curry and the Golden State Warriors, who decided not to visit the White House for a championship celebration, prompting Trump to withdraw the invitation. (You can't fire me, I quit!)
There are many points to make about this. But perhaps the most striking aspect of the situation is how cleanly it fits into the old racist grooves about black entertainers. Trump's foul tirade could easily have come out of the mouth of any white Jim Crow mayor in the 1920s.
Colin Kaepernick is a solid quarterback. As this FiveThirtyEight analysis shows, it is virtually unprecedented for someone as good as he is to remain unemployed for so long. Markedly worse quarterbacks are immediately snapped up. He has, very obviously, been blackballed from the NFL at the prime of his life because the team owners disagree with his politics — and in particular, how he uses his fame to promote those politics.
Subscribe to The Week
Escape your echo chamber. Get the facts behind the news, plus analysis from multiple perspectives.
SUBSCRIBE & SAVE
Sign up for The Week's Free Newsletters
From our morning news briefing to a weekly Good News Newsletter, get the best of The Week delivered directly to your inbox.
From our morning news briefing to a weekly Good News Newsletter, get the best of The Week delivered directly to your inbox.
Back in Jim Crow days, there was a consistent demand for black entertainers — to play music, to dance, to sing, and, importantly, to reinforce the racial caste system. Talented black performers were allowed to succeed only insofar as they meekly and deferentially submitted to white supremacist domination and reinforced black stereotypes.
To do otherwise was not just to guarantee career failure, but to take your life in your hands. Jim Crow kept black people down through a constant thrumming current of terrorism and the threat of terrorism — the internalized knowledge that any black person (but especially men) who stepped out of place would be instantly beaten or killed. Thus the career of Lincoln Perry, better known as "Stepin Fetchit," who gained wide success in the 1930s playing a succession of stereotyped lazy black men. (Though one should note that a recent biography argues that Perry also slyly undermined Jim Crow as part of a longstanding slave tradition of labor protest through shirking work.)
As late as 1957 that system was alive and well, as Louis Armstrong — who had been well-known for mostly avoiding politics up to that point — discovered when he spoke out to a reporter about the fights over segregation then happening in Little Rock, Arkansas.
Trump's fantasy of not just firing an un-submissive "son of a bitch," but having him forcibly removed from the field at that very moment, is part and parcel of this line of thought. Docilely caper for the amusement of the old white ruling class, and riches may follow. But criticize that ruling class, and you shall receive both economic and bodily punishment.
Today, of course, Jim Crow is long dead. But black people are still very far from obtaining a full measure of justice in this country — from poverty, to unemployment, to the return of school segregation, to the endless stream of black people being killed by police, and so on. It's not so surprising that black pro athletes — who make up a disproportionately large share of the total number of athletes — try to draw attention to these facts, and won't just sit back and enjoy their brief burst of fame and money. (Particularly not football players, whose bodies and brains are often completely wrecked by the game.)
And it's not so surprising either that the old resentment of "ungrateful" black athletes and performers should continue when they refuse to stop exercising their freedom of speech — especially if their quiet dissent interferes even slightly with the orgy of nationalist agitprop that saturates every football game. As Kaepernick shows, even quite wealthy and influential black people still risk coordinated punishment if they do so.
American professional sports allow regular people in the world's most out-of-shape country to participate vicariously in the pinnacle of world athleticism. By rights, it is the fans who ought to be thanking the players on bended knee for the privilege — and none more so than Trump, an old, heavily overweight white man, with a hairpiece and a half-inch of makeup and spray tan who could not survive 10 seconds of any professional sport. It takes bone-deep prejudice for such a person to think he has a right to tell pro athletes what they're allowed to do during pre-game ceremonies.

Continue reading for free
We hope you're enjoying The Week's refreshingly open-minded journalism.
Subscribed to The Week? Register your account with the same email as your subscription.