How the dangers of Trump's presidency normalized treason
Do not cheer the coup-ish insurgency in the White House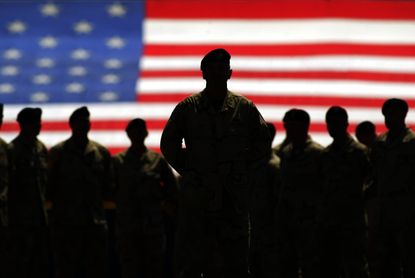 (Image credit: Ronald Martinez/Getty Images)
How bad have things become less than a year into the Trump administration? So bad that serious, responsible citizens — perhaps including you, Dear Reader — have begun to not-so-secretly pine for a military coup.
It's rarely called that. But that is plainly what people are talking about when they describe "the generals" in senior administration positions (Chief of Staff John Kelly, National Security Adviser H.R. McMaster, and Secretary of Defense James Mattis) as the "adults in the room" who are protecting the country from President Trump's worst impulses.
The threat of Trump is undeniably real. The nation is led by an ignorant, impetuous, tantrum-prone, pathologically insecure, narcissistically deformed man with the emotional maturity of a spoiled pre-schooler. Not only does this man possess the capacity to poison our public life with an endless series of vindictive, polarizing tweets that frequently display flagrantly authoritarian instincts and ambitions — he also holds the power to single-handedly launch a nuclear first strike that could incinerate millions and spark a conflagration that engulfs large swaths of the globe.
Subscribe to The Week
Escape your echo chamber. Get the facts behind the news, plus analysis from multiple perspectives.
SUBSCRIBE & SAVE
Sign up for The Week's Free Newsletters
From our morning news briefing to a weekly Good News Newsletter, get the best of The Week delivered directly to your inbox.
From our morning news briefing to a weekly Good News Newsletter, get the best of The Week delivered directly to your inbox.
Given the enormous stakes, it's understandable that informed, level-headed Americans would look to the highly intelligent, experienced, disciplined military men surrounding the president as a bulwark against a cataclysmic disaster. But we should be absolutely clear about what this means. It means that civilian command and control of the military is in serious jeopardy in this country, and therefore that American liberal democracy is as well. This doesn't mean our form of government is set to be extinguished. But it does mean that it may well be under threat of interruption.
That should deeply trouble every citizen of the United States — because history shows us that once representatives of a nation's military (or other unelected officials) intervene to disrupt or overturn civilian-democratic command and control, future interventions become far easier to envision and more likely to take place. In these cases, the military becomes the guarantor of order and stability, and a potential veto over the outcome of democratic elections.
The danger comes from two directions.
The first is from within the White House itself, where our toddler-in-chief spews ill-informed vitriol and tweets out blustery threats against North Korea while senior advisers scramble to contain the damage by, among other things, managing who can speak to the president and what information and intelligence he receives. That in itself is hardly unusual. All senior White House advisers make decisions about what to tell the president, no matter who he is. Making that determination is a key component of the job, with the chief of staff and national security adviser often making the final calls.
What's different in this case is that the motive is less to prevent the president from getting sidetracked from the clearly enunciated policy goals of the administration as it is the desire to insulate the president from information likely to provoke an impulsive and dangerous response. But there is a very fine, and perhaps invisible, line between such prudential efforts and actively manipulating the man elected to serve as the head of the executive branch and commander in chief of the armed forces.
Just who is running the show? The man being given a highly curated version of information flowing into the White House? Or the men doing the curating?
The difference between those two options is what separates responsible from outrightly coup-ish behavior.
The second threat is the danger flowing from how such questionable acts are being treated by leading public figures and the journalists who cover them. With one Republican senator saying that the generals are all that "separate our country from chaos" and warning ominously about the danger of the president blundering his way into World War III, and with others joking darkly about Kelly and Mattis physically tackling the president to prevent him from grabbing the nuclear football, we've entered extremely hazardous territory.
It's territory from which previously unthinkable, blatantly treasonous acts suddenly appear to be not only thinkable but perhaps even a little heroic. For powerful members of the political establishment, such extra-democratic and extra-constitutional thoughts have begun to serve as a sort of comfort and consolation, promising a way out of a genuinely perilous situation. Recognizing that it was American democracy that got us into this mess in the first place, they have begun to wonder if we may need something other than democracy to get us out of it — something like a public-spirited power-grab on the part of a former general or three.
And that, Dear Reader, is how today's flagrantly coup-ish behavior could easily end up turning into tomorrow's all-too-real thing.

Continue reading for free
We hope you're enjoying The Week's refreshingly open-minded journalism.
Subscribed to The Week? Register your account with the same email as your subscription.