Democrats keep waiting for the GOP to destroy itself. This is a huge mistake.
By hoping Bannon will blow the whole thing up, Democrats are playing with fire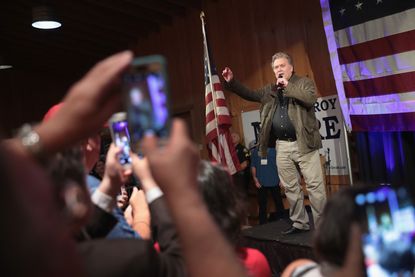 (Image credit: Scott Olson/Getty Images)
Many Democrats watched last year's GOP presidential primaries with a combination of abject horror and secret, lurid satisfaction. The Republican Party, Democrats thought, might finally be hoisted on the petard of its own irresponsible rhetoric by nominating a clueless cable news junkie as their candidate. Donald Trump, many people (including me) believed, could not only lose the election badly, but also sink GOP candidates up and down the ballot and finally erase the GOP's congressional majorities. The hemorrhagic fever that has gripped Republicans since the election of Barack Obama might break, and the country could be delivered back to some semblance of normalcy.
We all know how that worked out.
Thanks to the media's Salem Emails Trial, Hillary Clinton's campaign missteps, and the baffling, last-minute intervention of former FBI Director James Comey, Donald Trump was narrowly elected president, and carried GOP majorities in both houses of Congress into office with him. Those of us who wanted to face off against Trump and deliver to the Republicans their Waterloo were left with feelings of eternal shame and regret. It would have been far better to lose to a man like John Kasich than to live through four years of the poorly stage-managed circus that has taken over Washington.
Subscribe to The Week
Escape your echo chamber. Get the facts behind the news, plus analysis from multiple perspectives.
SUBSCRIBE & SAVE
Sign up for The Week's Free Newsletters
From our morning news briefing to a weekly Good News Newsletter, get the best of The Week delivered directly to your inbox.
From our morning news briefing to a weekly Good News Newsletter, get the best of The Week delivered directly to your inbox.
Yet less than a year later, some Democrats can barely disguise their glee that Breibart executive and former chief strategy adviser to President Trump Stephen Bannon is planning on running a slate of ghoulish fanatics against sitting Republican senators in upcoming primaries for the 2018 elections, to punish them for a set of imagined crimes against the party's new ethno-nationalist "conservatism." Newsweek's Matthew Cooper notes that "Democrats are salivating" at the prospect of facing off against a slate of Roy Moore clones next year. Some Democrats are even talking about dumping jet fuel on the GOP inferno by actively helping these candidates unseat the Republican establishment. As Politico reports, "Democrats involved in the Senate campaigns are searching for ways to nudge their opponents into a race to the right."
This is a huge mistake.
The evidence that nominating extreme or unhinged candidates damages the GOP in general elections is based on a handful of cases from the recent past — outcomes that may have depended more on poorly timed gaffes than on some broad law of politics. Most of these candidates were destroyed not by their extreme policy positions but rather by off-the-cuff remarks that revealed the full scope of their lunacy to low-information voters and otherwise committed partisans for whom their indecency was a bridge too far. This seems to be what happened to Missouri's Todd Akin (who won a primary to face off against incumbent Democrat Claire McCaskill) and Indiana's Richard Mourdock (who defeated incumbent Republican Sen. Richard Luger in a primary) in 2012, both of whom lost winnable races by making bizarre, off-the-cuff remarks about rape.
It is worth remembering that before Mourdock claimed that a pregnancy resulting from rape was "something that God intended to happen," he was favored to beat Democrat Joe Donnelly. Before his genuinely horrifying comment in August 2012 that in cases of what he called "legitimate rape," women's bodies have a special mechanism to avoid pregnancy, Akin also enjoyed a consistently healthy lead over McCaskill. These men didn't lose because they were too conservative; they lost because they couldn't keep their mouths shut.
Furthermore, the discursive norms transgressed by Akin and Mourdock have taken a number of direct torpedo hits in the past two years and are listing badly portside. In a world in which the president of the United States can refer publicly to the Republican chair of the Senate Foreign Relations Committee as "Liddle Bob Corker," repeatedly dismiss one of his chief critics as "Pocahontas," and threaten the First Amendment rights of news organizations that criticize him, all seemingly without paying any penalty at all, are a few stray crazy comments enough to do a candidate in next year?
The president also spent time during the campaign last fall explaining that many of the women accusing him of sexual assault were too ugly to rape, one of a seemingly endless series of rhetorical outrages that in the past would have extinguished his electoral aspirations. He won anyway. So it's no longer obvious that Republican candidates for elected office can say or do anything that might disqualify them in the eyes of their most fervent supporters, especially when the #MAGA Media will defend basically anything in the service of prosecuting the right's Snowflake Kulturkampf against women, minorities, NFL players, "Happy Holidays"-wishers, and coastal elites.
A look at the history of successful primary challenges to incumbent senators also shows that they often win the general election anyway. John Sununu unseated New Hampshire Republican Sen. Bob Smith in a 2002 primary, and despite being considered more conservative in a swing state was able to win the general election. Mike Lee, who unseated sitting Sen. Bob Bennett in a complicated 2010 Utah primary process, coasted to victory. And when sitting senators who lose primaries run as independents in the general election, they tend to win, including Democrat Joe Lieberman in 2006 and Republican Lisa Murkowski in 2010.
It is certainly true that some of the more "colorful" (read: "clinically deranged people who make you want to leave a perfectly enjoyable party just to get away from them") GOP insurgents who won open-seat primaries in recent years for the GOP did not fare well. In Nevada, Sharron Angle lost to Senate Majority Leader Harry Reid in 2010 after a string of strange claims, including that Dearborn, Michigan, was ruled by Sharia law, and that she would consider "Second Amendment remedies" to the existence of Reid should he win re-election.
In 2010, Christine O'Donnell beat the popular Delaware Republican Mike Castle in a primary only to be sunk by past comments about how she had "dabbled in witchcraft" and a debate performance in which she seemed unaware that the First Amendment enshrines the separation of church and state. She lost to Democrat Chris Coons by 17 points. Tea Partier Ken Buck also went down in Colorado that year after winning a heated GOP primary.
But other Tea Party-affiliated candidates like Ted Cruz, Marco Rubio, and Rand Paul all did just fine in their general elections, and have helped normalize their brand of toxicity by carrying it to the very center of our politics. And while President Trump and the GOP look highly vulnerable at the moment, we should also have learned two things from the past year: First, unwelcome last-minute events can shift voter preferences even days from an election. Second, even someone who commits a literal crime in front of journalists (Montana's Greg Gianforte body-slammed a Guardian reporter the day before a House special election) can win anyway thanks to the increasingly strong gravity of partisanship and the president's assault on informational legitimacy.
Sure, if Bannon and his allies succeed in knocking off Jeff Flake (R-Ariz.) and Dean Heller (R-Nev.) in primaries, those races might become more competitive for Democrats. But because they will mostly be running in red states, most of Bannon's insurrectionists will probably win, dragging an already reactionary caucus even further off the ideological map.
Rather than quietly cheering for more ruthless and unhinged candidates to win GOP primaries, Democrats should hope that the embarrassing spectacle of government-by-Breitbart will be enough to convince voters to make a change next year by turning even normal-seeming Republicans out of office. These "mainstream" officials have mostly behaved with contemptible cowardice, willing to countenance the president's bottomless vulgarity, reckless brinksmanship, and opportunistic divisiveness because he might sign a tax reform bill sometime in the near future. The best thing for Democrats, and for the long-term health of American politics, is if all voters have a chance to reject these scoundrels once and for all.

Continue reading for free
We hope you're enjoying The Week's refreshingly open-minded journalism.
Subscribed to The Week? Register your account with the same email as your subscription.