These two upcoming gubernatorial races could spell disaster for Republicans
Races in New Jersey and Virginia next month will serve as a test of the GOP's political strength in the age of Trump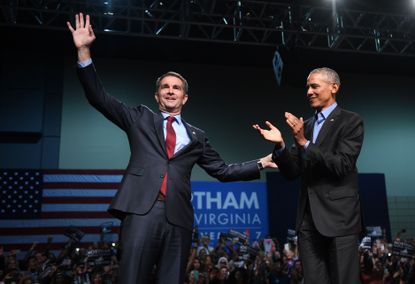 (Image credit: JIM WATSON/AFP/Getty Images)
Thanks to the inability of President Trump's PR team to issue an apology or to even once acknowledge the tiniest, most obvious wrongdoing, the public's attention remains focused on precisely which gobsmackingly insensitive thing the president allegedly said to the widow of a fallen soldier last week instead of on the elections that are just two weeks away. Given how those battles are shaping up for the GOP, the grief-stricken people Trump might need to incompetently comfort next month are the leaders of his own party.
While off-year political contests lack the ratings-ready glitz of presidential or congressional races, this year's elections are far more important than is commonly understood. In particular, gubernatorial races in New Jersey and Virginia next month will have far-reaching impact and serve as an early test of the GOP's political strength in the age of Trump.
The left often underestimates the importance of state and local races, but control of statehouses is critical. Republican dominance of the Virginia legislature is holding up progressive solutions to everything from early childhood education to fixing the state's racist voter ID and felon disenfranchisement laws. In that state, Democrats have a chance not just to hold on to the governor's seat currently occupied by term-limited Terry McAuliffe, but also to retake the heavily gerrymandered Virginia House of Delegates (the state Senate is elected separately in 2019), where Hillary Clinton beat Donald Trump in 51 out of 100 districts.
Subscribe to The Week
Escape your echo chamber. Get the facts behind the news, plus analysis from multiple perspectives.
SUBSCRIBE & SAVE
Sign up for The Week's Free Newsletters
From our morning news briefing to a weekly Good News Newsletter, get the best of The Week delivered directly to your inbox.
From our morning news briefing to a weekly Good News Newsletter, get the best of The Week delivered directly to your inbox.
The governor's race is particularly critical, since it will give Democrats at least a seat at the table the next time Virginia's districts for the national House of Representatives are drawn after the 2020 census. Despite the Democrats' advantage in statewide elections, Republicans had total control of redistricting in 2010 and as a result, Virginia now sends seven Republicans and four Democrats to the House, one of a handful of states whose outrageous gerrymandering has contributed to the GOP's mortal lock on the chamber. It is no exaggeration to say that for Democrats, winning this governor's race could be worth two to three House seats alone in 2022.
In New Jersey, districts are drawn by a bipartisan commission whose critical, tie-breaking 13th member is chosen by the New Jersey Supreme Court. That court's makeup is particularly vulnerable to partisan machinations — it is a "tradition" but not a law that governors reappoint justices after their initial seven-year terms are up. And in 2010, newly elected Republican Gov. Chris Christie refused to renominate Democrat John Wallace, touching off a six-year judicial war with the state Senate that was only resolved last April.
We also will learn something important about the national mood from these two races. President Trump has not spent a single day in office with a favorability rating over 50 percent in the Real Clear Politics polling average, and seems destined to be the first president never to even briefly attain the support of a majority of Americans in the benchmark Gallup survey. To make matters worse, the Republican-controlled Congress appears to be almost completely paralyzed and incapable of passing any legislation at all. The public policies that the GOP can't quite find the votes for are also toxically unpopular with voters.
In an increasingly polarized America, the president's numbers should have an important effect on gubernatorial and state legislative races. In fact, since 1900, three-quarters of all presidents have seen their party take overall losses in gubernatorial elections during their terms. In a 1998 study, Thomas Carsey and Gerald Wright analyzed years of data and found that "presidential evaluations have a steady and highly significant impact on gubernatorial vote choice." In the two intervening decades since their article was written, partisan attitudes on both sides have only hardened, meaning presidential approval is probably more important than ever.
In Virginia, the perception right now is that Democrats are facing a closer-than-expected battle between Democratic Lieutenant Gov. Ralph Northam and Republican Ed Gillespie. The state, which has tilted increasingly Democratic since Barack Obama won it in 2008, is nevertheless still a contested battleground that Hillary Clinton won by only five points. With Democrats overperforming expected numbers in special elections at the state and federal level all year, the relative closeness of the race is starting to concern the national party. And while Northam has held a consistent lead since the primaries, one recent poll even had Gillespie in the lead.
In many ways, the Gillespie campaign is a test of whether President Trump's dark, angry racial politics has legs in a swing state. Gillespie has recently embraced his inner Trump by trying to tie Northam to sanctuary cities and the MS-13 gang bogeyman, even though Democratic Gov. Terry McAuliffe vetoed a sanctuary cities bill. Gillespie also opposes removing Confederate monuments.
If Northam manages to throw away this race in a Democratic-leaning state amidst the ugly carnival of the Trump presidency, it means Democrats should not take gains in the 2018 midterms for granted and that activists will have more evidence to support their contention that center-left candidates are riskier than full-throated progressives.
The path for Democrats looks easier in New Jersey, where a left-leaning state appears to have had it with Republican misrule after two-term Republican Gov. and early Trump Dignity Wraith Chris Christie has embroiled himself in scandal. Christie is sitting on a 15 percent approval rating that is equal parts the Bridgegate scandal, his dalliance with and then humiliation by Donald Trump, and a genuinely mystifying gaffe this summer when he and his family were photographed sullenly sunning themselves on an empty beach that the state had closed due to a government shutdown. New Jersey has reliably alternated between Democratic and Republican governors in its recent history, so even apart from Christie's radioactivity, the GOP would have an uphill climb there this cycle.
The voters are set to deliver a decisive victory to Democrat Phil Murphy over his Republican challenger Kim Guadagno. In 14 public polls taken this year, Murphy has never led by fewer than 11 points. But in a state with the highest property taxes in the nation and a habit of seeing politicians felled by corruption scandals, Democrats have had trouble holding the governor's mansion for more than two terms at a clip. They should not get too confident about the long-term effects of their likely win.
According to the Partisan Voting Index, New Jersey's Democratic lean is +7 and Virginia's is +1. With both Democratic candidates set to exceed that margin according to current polling averages, Republicans should be very worried about their fortunes next year even if Northam only wins by a few points. Overall, 2017 feels much like 2005, when Democrats won both the Virginia and New Jersey races amid the cratering popularity of President George W. Bush and his reckless Iraq War.
Those races served as a prelude to a Democratic wave election in 2006, when the party picked up six governors' seats as well as control of both houses of Congress. Unless the president suddenly discovers how to exert some self-control, or Republicans embark on an entirely different and popularly supported governing agenda, history is likely to repeat itself.

Continue reading for free
We hope you're enjoying The Week's refreshingly open-minded journalism.
Subscribed to The Week? Register your account with the same email as your subscription.