Why driverless cars will be the next battlefield in the culture war
This is going to make gun control look like Kumbaya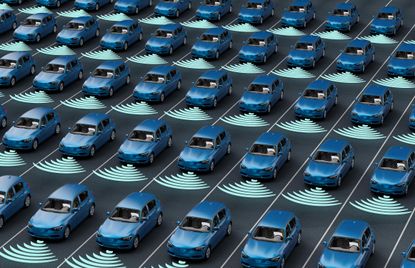 (Image credit: the lightwriter / Alamy Stock Photo)
Sign up to our 10 Things You Need to Know Today newsletter
A free daily digest of the biggest news stories of the day - and the best features from our website
Thank you for signing up to TheWeek. You will receive a verification email shortly.
There was a problem. Please refresh the page and try again.
Investors and companies globally have sunk nearly $100 billion into developing self-driving vehicles over the past few years. And with good reason: Self-driving cars are real, they're going to be spectacular, and they're going to happen a lot sooner than you think.
Just last week, Waymo, the driverless car subsidiary of Google-parent Alphabet, announced it would begin a robo-taxi service in Phoenix. The city has been a hotbed of autonomous vehicle testing due to its regulatory friendliness and predictably pleasant weather.
Of course this doesn't mean highways will soon be filled with swarming packs of autonomous vehicles zooming along at 80 miles per hour, just inches from each other's bumper. It's one thing to be able to purchase a fully autonomous car (maybe within a few years) that works in certain places under certain conditions; it's quite another for many or most cars on the road to be driverless (maybe a few decades) anywhere, anytime. One recent gone-viral prediction comes from Bob Lutz, a former top executive and design guru at General Motors. In an essay for Automotive News, Lutz wrote that "in 15 to 20 years — at the latest — human-driven vehicles will be legislated off the highways."
Subscribe to The Week
Escape your echo chamber. Get the facts behind the news, plus analysis from multiple perspectives.
SUBSCRIBE & SAVE
Sign up for The Week's Free Newsletters
From our morning news briefing to a weekly Good News Newsletter, get the best of The Week delivered directly to your inbox.
From our morning news briefing to a weekly Good News Newsletter, get the best of The Week delivered directly to your inbox.
And that forecast, whatever its accuracy, may have inadvertently predicted the next great battleground of America's culture wars.
Some social media users were thrilled by Lutz's prediction, commenting on the technology's potential safety aspects and how it could make commuting easier. But plenty of others were horrified at the prospect. Lots of "… from my cold, dead hands" tweets, for instance, a reference to the well-known National Rifle Association slogan. For these people, such knee-jerk opposition to driverless cars is all about maintaining personal autonomy and withstanding yet another elite assault on their lifestyle.
So you can see how this is going to play out, right? Just wait until Fox & Friends notices this issue, which means it will immediately land on President Trump's radar. And then the tweets will begin. Maybe something like: "First guns, now the elites want to rip the steering wheel from your hands! Banning human drivers is wacko! I WON'T LET THEM!"
Of course it's unlikely this issue will become legislatively relevant during Trump's presidency. But that might not stop the Trumpopulists from trying to preemptively turn it into a wedge issue, one potentially even more powerful than gun control given the mythopoetic place of cars in American postwar culture. Much of Bruce Springsteen's oeuvre, for instance, is built around the idea of the car as a vehicle of escape for working-class woes. And those folks are the hardcore Trumpers.
Will it work? Of course there's no constitutional right to manually drive your car, unlike the right to bear arms. So the freedom argument might not be as compelling as with guns. And the dream of hitting the open road in a new car for parts unknown is probably far from the minds of most drivers slogging their way home after work through heavy traffic. Plus driving, or even merely getting a driver's license, apparently isn't so important to millennials. Universal driverless car sharing might be a lot more appealing to them than their parents or grandparents. They'd probably rather Instagram the car than drive it.
Then there's the tremendous upside to driverless cars. Not everyone may personally know a gun victim, but who hasn't been in a nasty car accident or doesn't know someone who has? Widespread adoption of autonomous driving tech could reduce roadway deaths by at least 90 percent — saving some one million lives a year globally — making it one of the great public health achievements in human history. Now factor in enhanced mobility for the disabled and elderly, shorter commute times, and an end to all those wasted hours staring at the brake lights right in front of you. The potential economic benefits outweigh those of any tax bill that might come out of Congress. (Don't worry, the truck drivers will be fine.)
But those are just the obvious first order effects. There are others, which while important are less predictable. For instance: Tech analyst Benedict Evans points out that gas stations will be going bye bye, just like the combustion engine. And that means big changes in American smoking habits since half of U.S. tobacco sales happen at gas stations, and are often impulse buys. "Car crashes kill 35,000 people a year in the U.S.A., but tobacco kills 500,000," Evans writes.
So the evidence and data support moving to driverless cars ASAP, even if that means only the robots get to drive. No wonder it might be an unexpectedly tough sell in the Age of Trump.
Continue reading for free
We hope you're enjoying The Week's refreshingly open-minded journalism.
Subscribed to The Week? Register your account with the same email as your subscription.
Sign up to our 10 Things You Need to Know Today newsletter
A free daily digest of the biggest news stories of the day - and the best features from our website
James Pethokoukis is the DeWitt Wallace Fellow at the American Enterprise Institute where he runs the AEIdeas blog. He has also written for The New York Times, National Review, Commentary, The Weekly Standard, and other places.