How Republicans are ambushing America with their tax bill
The Republican tax bill is a nightmare — which is why they're working so hard to keep the public from understanding it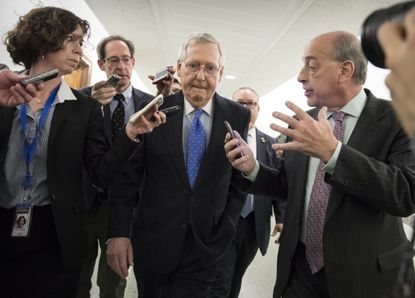 (Image credit: AP Photo/J. Scott Applewhite)
A political consultant once told me that if you're running for office, it's best to avoid putting out position papers. Why? Because people are just going to read them and find things they don't like. Who needs the trouble?
A similar principle seems to guide Republicans as they hurtle toward passage of an absolutely mammoth tax bill, one with consequences for just about every American. If you let folks know what's actually in it, before you know it, they'll realize it's something they don't want at all. On Friday, the Senate will likely pass its version of the bill. There may never have been a piece of legislation this consequential that was this hidden from the public.
One can't help but remember that Republicans so often complained that the Affordable Care Act was "rammed through" Congress, calling it a terrible offense against democracy itself. Of course, the truth was that the ACA was debated for an entire year and was the subject of dozens of hearings in both houses featuring testimony from hundreds of witnesses, not to mention bipartisan forums and a floor debate that went on for weeks. Or if you want to just talk about tax reform, as Michael Tomasky points out, the last time Congress did a major overhaul of the tax system, "The House Ways and Means Committee held hearings for months and took testimony from 450 witnesses. The Senate Finance Committee held a full month of hearings." The whole process took a year and a half — which is what you'd expect when Congress tries to do something so complicated.
Subscribe to The Week
Escape your echo chamber. Get the facts behind the news, plus analysis from multiple perspectives.
SUBSCRIBE & SAVE
Sign up for The Week's Free Newsletters
From our morning news briefing to a weekly Good News Newsletter, get the best of The Week delivered directly to your inbox.
From our morning news briefing to a weekly Good News Newsletter, get the best of The Week delivered directly to your inbox.
But if you want to see a bill rammed through, right now Republicans are showing us how it's done.
Know how many hearings they held on this tax bill? Zero. That's right, zero. And how many experts did they hear from? One — the chief of staff of the Joint Committee on Taxation, Congress' official scorer of tax legislation, testified at the beginning of the Senate Finance Committee's markup process (where amendments are considered). And the whole process has proceeded at breakneck speed, with a bill of enormous complexity being frantically written and rewritten behind closed doors, all so it could be voted on before the opposition had enough time to gain momentum.
There are two essential reasons why. The first is that they'd prefer people not understand what's in the bill, a series of changes that will do enormous harm to millions of Americans. The second is that the more scrutiny there is, the more people will understand that all the claims Republicans are making are utterly bogus.
And what is that harm? The first element is that tens of millions of people will see a tax increase. According to the latest Congressional Budget Office analysis of the Senate bill, by 2027, all income groups below $75,000 a year will find their taxes go up, so that wealthy people and corporations can get a huge cut. Millions will lose health coverage because of the end of the individual health insurance mandate, and millions more will see their premiums rise. And the elimination of the deduction for state and local taxes will make it harder to raise those taxes in the states. The result, as The New York Times put it, "is a behemoth piece of legislation that could widen American economic inequality while diminishing the power of local communities to marshal relief for vulnerable people."
In addition, the bill will increase the deficit by $1 trillion, which, because of congressional rules, will trigger automatic cuts to a broad range of federal programs, including $25 billion taken from Medicare. Congress might act to stave off those cuts, but don't worry — in short order, they'll be using the now-larger deficit as the justification for an attack on the safety net.
Meanwhile, just about everything Republicans are saying about the bill is disingenuous. They claim that it's meant to help the middle class, but most of the benefits go to the wealthy and corporations. President Trump claims that the bill "is going to cost me a fortune," which is an absolutely laughable idea — he'll reap a windfall (though exactly how many millions of dollars he'll get, we don't know, since he refuses to release his tax returns).
And of course, the whole thing is predicated on a theory that has about as much support as phrenology: that when you lard benefits on corporations, they'll turn around and deliver all that money right to workers. "Frankly, I think they are bonkers," said one unusually candid CEO. "It really doesn't work that way. No CEO sits there and says, 'When my tax rate goes down, I'm going to hire more people and pay them more.'" Other companies have been open about what any economist could have told you: When corporations (which are already earning near-record profits) get a big tax cut, they're going to use the money for stock buybacks and dividends.
The public gets this in a general way — in polls, majorities have long said that the wealthy and corporations should pay more, not less, in taxes, and this bill turns out to be the least popular tax cut in polling history. But that won't stop Republicans from passing versions through both houses, in large part because opposition to the bill never reached a pitch that members of Congress found sufficiently threatening. Which was exactly the plan all along.

Continue reading for free
We hope you're enjoying The Week's refreshingly open-minded journalism.
Subscribed to The Week? Register your account with the same email as your subscription.