Why The Last Jedi has divided Star Wars fans
The mixed reaction to the franchise's latest film reminds us there's no such thing as a "true" Star Wars fan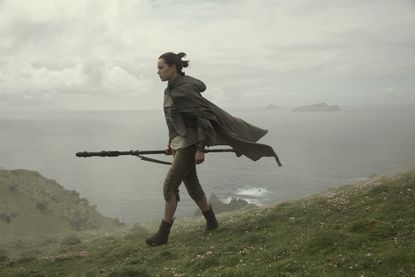 (Image credit: David James / Lucasfilm Ltd.)
While Rian Johnson's The Last Jedi may have been a hit among critics, fan reactions have been divided. Intriguingly so. Some Star Wars viewers (myself included) are delighted to see the narrative emphasis on the Skywalker bloodline dissipate; the narrow, overtly aristocratic concern for a few Chosen Ones while billions of lives went unmourned never sat right with me. But another faction resents this "populist" turn in the Star Wars universe. The revelation that Rey's parents, one of whom was long rumored to be a Skywalker, were "nobodies" rankles. They reject Luke's disillusionment with the Jedi order, his whole new account of the Force, and his grand finale. And — here's the point I want to make — they're not wrong.
Without changing anybody's mind, I want to track how these models of narrative destiny compete, because the disagreement tells us something crucial about Star Wars fandom: namely, that it's a lot more diverse than we think.
For many people who didn't like The Last Jedi, the fact that Johnson's Star Wars was more "democratic" — and consequently indifferent to the aristocratic Skywalker bloodline or its transmission — means, paradoxically, that it's also less interested in the rituals of samurai training that made Star Wars so satisfying. Becoming a great Jedi warrior used to be serious work; it demanded talent and skill and time. Later it seemed to require an aristocratic bloodline as well (what with the midi-chlorians, etc.). Now it just demands talent and no study — Yoda even burned down the Jedi library! (Yes, I know Rey saved the books.) If you loved the Skywalker legend, then the news that the Force is independent of Skywalker-ness isn't a relief. If you loved the training element, that's gone. The new democracy also means that anyone (like Rey) can just come along and be better at the Force for no apparent reason. What was the point of Yoda? Do the sages have nothing to tell us? Did they ever?
Subscribe to The Week
Escape your echo chamber. Get the facts behind the news, plus analysis from multiple perspectives.
SUBSCRIBE & SAVE
Sign up for The Week's Free Newsletters
From our morning news briefing to a weekly Good News Newsletter, get the best of The Week delivered directly to your inbox.
From our morning news briefing to a weekly Good News Newsletter, get the best of The Week delivered directly to your inbox.
Rey seems to be a genius. For some fans, that's completely thrilling. For others, it ruins a lot of what was exciting about Star Wars.
The idea of destiny that used to power Star Wars was kind of monastic and straightforward: Basically, there were Chosen People who were destined for great things. There were masters who were dedicated to training that younger generation of Chosen People. Those facts — coupled with the easy bifurcation of the world into dark and light, and the father-and-son mythos that I always found pretty hokey — genuinely spoke to people. The Last Jedi doesn't just get rid of the teacher-student thing; it kind of savages the usefulness of teachers. That's a gigantic risk and — if you're invested in those things — a major loss. I understand why this group of fans is disappointed; I even share some of that disappointment.
That's why I'm going to state something amazingly obvious: Different people love Star Wars for different reasons. That's worth saying explicitly because a pop culture juggernaut like this one tends to get people talking in fake universals and projecting their particular fandom onto others. That causes problems and impairs conversations about Star Wars that would otherwise be interesting because there's a basic lack of clarity about how many different kinds of fans there are.
For as long as Star Wars has been around, I've read take after take that narrates the author's investment in the franchise as if it were obviously mine too, and it's just not. I, for example, couldn't care less about the lightsaber battles; what interested me was telekinesis (and Jedi mind tricks). My indifference to Luke Skywalker bordered on dislike, and I despised Han Solo. Chewie made me impatient; Leia was boring. But the Falcon was cool, I liked C3PO and I loved Yoda. I thrilled to the whole concept of Jedi training — it reminded me of practicing piano — and the idea of slow effortful improvement under an all-knowing master was so appealing to me that I went on to become a pianist and a graduate student. To the extent that I attached to Star Wars, it was because it believed so earnestly in effort — if discipline and training can take down Darth Vader, sign me up. I liked the intergenerational aspect too, by which old people perfected by time imparted their wisdom. The notion that age translates to mastery rather than decrepitude is wildly hopeful in ways that speak to me.
Other people loved Star Wars because it captured something true about adolescent angst, or because it had good fight scenes, or because they thought Han Solo was cool. But one reason I wrote about loving Ewok Adventure as much as I did as a kid is because a) it's true, and b) there's a tendency, within this particular fandom, to let childhood nostalgia license a very particular kind of film snobbery. And I think that's more than tiresome; frankly, it makes it hard to talk intelligently about what Star Wars did and does. Star Wars has different kinds of fans, but the one thing they almost all share is that they started young, long before they had the critical faculties they deploy in fan forums. Your nostalgic cathexis was just as silly as mine, and that's okay.
I stopped enjoying the franchise as it slowly drifted away from the concerns that appealed to me — monasticism, discipline, philosophy, rigor, teaching. From my perspective, the franchise got less thoughtful, less careful, and way less rigorous. Its death count shot up and its interest in harm-reduction flew out the window. It invested in celebrities at the expense of the system. To me, that felt like a betrayal, so I stopped caring. Rogue One was a startling and welcome return to a serious reckoning of life and death. The Last Jedi re-opened a universe that had gotten claustrophobic with famous Skywalkers and explained that the whole experiment had been a failure. That, to me, felt right.
But I understand and respect how, to others, these things felt wrong. They got attached to the franchise for other reasons and turned to it for other feelings. Maybe it's about male bonding, or father-son connections, or the welcome illusion that you are the center of the universe and matter more than a billion nameless deaths.
The role of "critic" is fuzzy when it comes to discussions of properties this popular and this contested; that goes double for Star Wars, which is old and beloved and rich in experts. But equally contentious is the role of "fan." As a critic who deeply respects fandoms, I've been reading various fan forums as people hash out the merits and flaws of The Last Jedi. I've made some useful notes — like the fact that a commenter's fondness for The Force Awakens tends to exist in inverse proportion to their feelings for The Last Jedi — but the most interesting discovery is the predictable way fans and critics of The Last Jedi clash. In each dispute, I've watched the exchange approach an impasse — a place where both sides realize there's simply no agreeing because the pleasure they take in Star Wars is so different. Each resents the other for suggesting they're not a "real" fan, and it all strikes me as kind of tragic, because both so clearly are.
Yes, the fact that so many people love a thing suggests that there ought to be a consensus about what they love about it. But there isn't. Especially not for Star Wars. And the sooner we can admit that different kinds of fans exist and scrap the expectation of conformity — maybe we could even sort them, like the houses in Harry Potter — the more interesting those discussions will be. We're going to be talking about a new Star Wars movie every year for the next decade. Let's get better at it.

Continue reading for free
We hope you're enjoying The Week's refreshingly open-minded journalism.
Subscribed to The Week? Register your account with the same email as your subscription.