The GOP passed tax reform. Now what?
Republicans need a new dream. Hopefully this one will actually help people.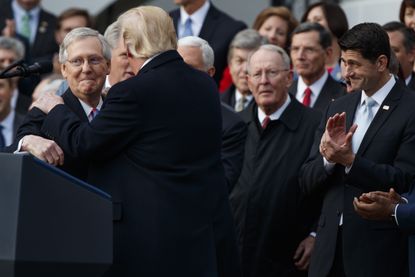 (Image credit: AP Photo/Evan Vucci)
"God made Republicans to cut taxes," Rep. Tom Cole (R-Okla.) told reporters earlier this week in advance of a final vote on the party's much-maligned tax bill.
Like all good jokes, this is funny because in a sense it seems true. The creator of Heaven and Earth does seem to have made an entire race of pasty flag pin-clad college-educated suburbanites whose raison d'être is turning certain integers into slightly smaller ones that end in 5 or 0. The question is whether He made them for any other purpose.
It is certainly difficult to recall a time when Republicans seemed aware, however dimly, of any other species-wide aspiration. In 2008 and 2012, there was even a GOP presidential candidate who wanted all the numbers to be 0; he did not win, perhaps in part because his dreams, if realized would have made the party redundant, spoiling everybody's fun, to say nothing of destroying the country. Even the hated ObamaCare was bad largely because, as the Supreme Court told us in 2012, it was a tax. Now the individual mandate, long unenforced, is gone, and so is the lower taxes imperative. House Speaker Paul Ryan, who has wandered the halls of the Capitol in a kind of trance imagining what lower taxes looked like since he was practically a teenager, must feel rather like Dr. Grant in Jurassic Park when he realizes that paleontology is irrelevant now that we have real-life dinosaurs.
Subscribe to The Week
Escape your echo chamber. Get the facts behind the news, plus analysis from multiple perspectives.
SUBSCRIBE & SAVE
Sign up for The Week's Free Newsletters
From our morning news briefing to a weekly Good News Newsletter, get the best of The Week delivered directly to your inbox.
From our morning news briefing to a weekly Good News Newsletter, get the best of The Week delivered directly to your inbox.
One of Republicans' other hobbies used to be worrying about the deficit, a fleeting avocation that has given them no small share of trouble this year, as the entire GOP caucus had to remind itself periodically that certain provisions of their various tax bills violated accounting rules they had enacted half a decade ago out of boredom.
I hope it is not deficits to which they decide to turn their attention in 2018. Doing so can only mean one thing: cutting spending. Even if we eliminated all those ridiculous departments that exist to fund the staging of dog-themed adaptations of Hamlet and studies of whether text messages reminding alcoholics not to drink lead to fewer automobile accidents, we would be saving taxpayers pennies. Perhaps they are worth saving, but then what? Medicare, Medicaid, and Social Security aren't going anywhere because they are popular and successful programs, to say nothing of the moral question.
Republicans need a new dream, one that is not premised on the idea that the business of governing is fundamentally ugly or sordid. They need to accept that it is possible, occasionally, for the government to do something halfway decent, like bringing electricity to the people of the Deep South or higher wages and basic workplace protections to laborers or simple and humane accommodations, such as wheelchair ramps, for the disabled.
George W. Bush used to believe in something like this before he got the absurd idea of giving the Social Security Trust Fund to Wall Street, where it would all have been lost in the crash that came a few years later; he called it "compassionate conservatism," which might explain why in practice it rarely rose above the level of a vague commitment to being nice. So did his father, who, as recently as 1980, heaped scorn on tax cutting and compared it to the occult. One occasionally gets the sense that Sen. Marco Rubio (R-Fla.) has intuited that there is more to politics than creating ideal conditions for the flourishing of major corporations.
Lower taxes are not going to improve the lives of most Americans. We live in a chaos of junk food, pornography, vapid entertainment, environmental desolation, and cheap consumer goods built upon usury and the exploitation of foreign wage slaves whose lives are a mystery to us. More people have died of drug overdoses in this country in the last 10 years than were lost in our adventures in Vietnam, Afghanistan, and Iraq combined. It is practically impossible for those who are not millionaires to purchase homes in most of our major metropolitan areas, and even renting something that can accommodate more than one or two children comfortably is a pipe dream for many families. American engineers have built tiny mobile phones with more processing power than the average home computer available only a decade ago, but we cannot even build workable trains that run faster than 70 miles per hour — and when we do, they are expensive, delay-ridden, grimy messes.
Sometime early next year, Republican leaders should retire to a hunting lodge somewhere in the wilds of Alaska, drink scotch, maybe bag a few grizzlies, and think about life. In the evenings they might watch some relaxing vintage children's television and ask themselves why for so many young people, and not a few adults, Mister Rodgers' Neighborhood and Shining Time Station seem like such a jolly, life-enhancing places in comparison with strip malls and fake brick suburban plazas full of casual dining chains. Could it be that Lindsey Graham has never considered his passion for the magic of locomotives? Is it possible that somewhere within the black heart of Mitch McConnell there lingers a valve quietly in awe of glaciers? What if instead of punishing graduate students for being insufferable, as most of them no doubt are, they gave the best ones the funding they need to cure cancer?
The GOP needs to understand that there is more in Heaven and Earth than are dreamed of in a philosophy that ultimately amounts to little more than a game of arithmetic limbo.

Continue reading for free
We hope you're enjoying The Week's refreshingly open-minded journalism.
Subscribed to The Week? Register your account with the same email as your subscription.