America's Polanyi moment
Why 2018 might be the year we really push back against slavish devotion to the free market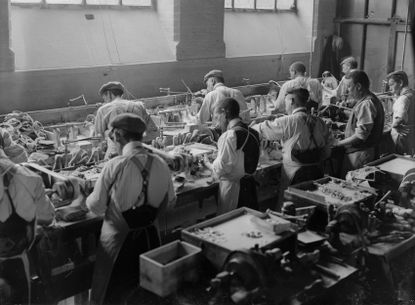 (Image credit: Topical Press Agency/Getty Images)
Americans would do well to revisit The Great Transformation, by the political economist Karl Polanyi. It might hold the key to all of our futures.
Polanyi's topic was the rise of "market society." By itself, a market is just a system of self-regulating price signals in which goods and services are exchanged. For most of human history, markets were a small and limited part of human life. The "great transformation" of Polanyi's title came when markets became the dominant organizing force for virtually all of human life.
There are plenty of consumer goods and services that can be organized and distributed by markets without much fuss. But certain key buildings blocks of human social life, like jobs and land (probably better thought of as housing in our time), can, when subject entirely to price signals and market forces, rip up communities and inflict damage on countless human lives. Think of the massive worker dislocation and immiseration that came with the industrial revolution; or of America's working-class communities flung to the winds by globalism and trade.
Subscribe to The Week
Escape your echo chamber. Get the facts behind the news, plus analysis from multiple perspectives.
SUBSCRIBE & SAVE
Sign up for The Week's Free Newsletters
From our morning news briefing to a weekly Good News Newsletter, get the best of The Week delivered directly to your inbox.
From our morning news briefing to a weekly Good News Newsletter, get the best of The Week delivered directly to your inbox.
To Polanyi, the push for total market society was deranged utopianism. Political communities would inevitably organize and try to fight back. Then free market ideologues would declare these efforts fundamentally illegitimate. (Markets must not be interfered with!) Eventually, market-obsessed societies would descend into fascism, which Polanyi saw as a kind of psychotic break at the national level. Caught in an impossible contradiction, the body politic would resolve the tension by bringing everything under authoritarian rule — often destroying itself in the process.
Polanyi published The Great Transformation in 1944. He had spent his life watching the runaway free market ideology of the early 1900s undermine one Western nation after another, leading to rival nationalisms and World War I, and then finally culminating in the global catastrophe of the Great Depression and the rise of Nazism. In our own time, the global turn towards neoliberalism in the 1980s unchained capital to amass enormous market power and roam freely across the globe, taking jobs with it. Regulatory and welfare state protection were rolled back, while governments turned to austerity and tight money policy.
The result was decades of rising inequality, job dislocation, and wage stagnation, ending in yet another global economic collapse in 2008. Polanyi would not be surprised to see Trumpism and European ethno-nationalism ascendant in the aftermath.
The good news is that societies don't inevitably destroy themselves in reaction to market society's contradictions. Sometimes, they successfully beat back the reach of markets, build social protections, and de-commodify key parts of human life. Polanyi called it the "double movement." After World War II, Europe built large and generous welfare states, made unions nearly ubiquitous, and codified worker rights and bargaining power into law. America responded with the New Deal: Social Security, Medicare, another (albeit smaller) rise in unionization, antitrust law, regulation, and mass public investment.
Those efforts have been rolled back and undercut in the last few decades. But they have not been undone. President Trump is clearly a nascent authoritarian, but political resistance from America's institutions and organized voters have curtailed Trumpism's worst impulses. Now there's a real possibility the 2018 midterms will sweep Democrats back into power throughout Congress and state governments.
But to fully capitalize on this opportunity, Democrats need a clear strategy for what to campaign on, and what to do once they're in office. Polanyi's diagnosis provides a roadmap.
A strong welfare state — though a universal child allowance, expanded Medicaid, or even single-payer health care and a universal basic income — would help de-commodify labor, and shield workers from the market's demands. But policymakers should also embrace the government's role as the public option for job creation, and an alternative to the market. That means massive public investment in infrastructure, child care, and community rebuilding, and ideally a permanent return to New Deal-style job programs.
To de-commodify housing, we could revamp public housing on a large scale, and massively expand cash aid for housing costs. America could also look to more ambitious solutions, like public land trusts or even a national land value tax. The country also probably needs some sort of organized program to write down and forgive housing debt.
But how will we pay for it?! Simple: Democrats should embrace the federal government's freedom to deficit spend as a tool for the public good, and demand democratic reforms to how monetary policy is run.
This certainly isn't an exhaustive list. But the point is that 2018 could turn out to be America's "Polanyi moment," when the double movement reasserts itself, and our nation finally begins to abandon its slavish devotion to free market ideology.

Continue reading for free
We hope you're enjoying The Week's refreshingly open-minded journalism.
Subscribed to The Week? Register your account with the same email as your subscription.